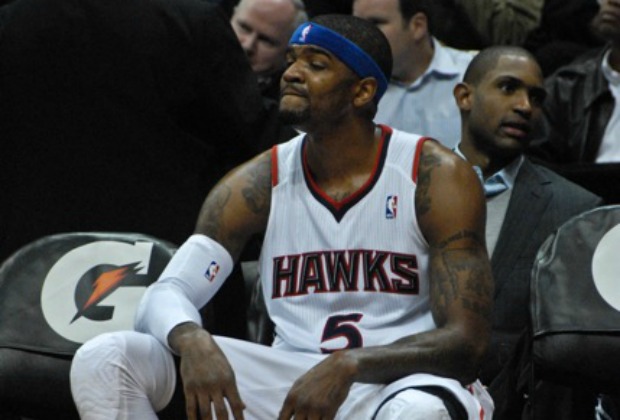 Jon Barash
Recent tampering allegations aside…(an employee at the team's ticket office fired off an email naming free-agents-to-be Chris Paul and Atlanta native Dwight Howard as potential team targets to season ticket holders and potential buyers. A clear no-no that was definitely noticed by the league office.) , the Atlanta Hawks go into this summer in what can be considered the best position to improve the team in seven seasons.
The team has hired a new head coach, long time San Antonio Spurs assistant Mike Budenholzer to run things alongside second year General manager and former Spur Danny Ferry. The "Coach Bud" era begins following the finals between his Spurs and the defending champion Miami Heat, and in my opinion cannot begin soon enough. Here's what the off-season has in store for the Hawks and their new head man.
DRAFT PICKS GALORE……
The Hawks come into this years draft, to be held on June 27 at the Barclay's Center in Brooklyn, New York, with two first round picks (17 and 18, respectively) and two second round picks (47 and 50, respectively). In what looks to be one of the weakest draft fields in recent history, those non-lottery slotted picks have the potential to turn into equally talented or better players than the picks awarded to the 14 teams that failed to make the playoffs. Atlanta has three players under contract, forward Al Horford, and guards Lou Williams and last year's first round pick John Jenkins. The four draft picks the team has this year can be traded for a higher pick (Nooooo!) or better still, can be utilized to fill roster spots at discount prices while filling much need holes in the front court and at point guard. Starting point guard Jeff Teague is a restricted free agent this summer and depending on what happens there, might not need to be re-signed to a long term deal. let's keep our preverbal fingers crossed that the later comes to fruition.
FREE AGENCY…….
If forward Josh Smith does not re-sign with the team (or better yet, is not offered a new deal-he has been on record to be seeking a max deal), the Hawks will both still have an all-star in the front court in Horford and cap space for pursuit of other quality free-agents. Besides the obvious big names like the afore-mentioned Paul and Howard, the team might want to focus on trying to sign restricted free-agent center Nikola Pekovic of the Minnesota Timberwolves. Pekovic would give the team the luxury of having Horford play exclusively at his natural power forward position while not losing any offense or defense at the center position. In a recent interview with Hawks.com's Jessica Taylor, Budenholzer said, "[Atlanta] has a roster with a young core and a lot of flexibility going into this summer. "I'm looking forward to building a team first and foremost with [Ferry] and his group, building something special where we can sustain some success".
Some might say you can't easily replace Josh Smith's athleticism and shot blocking but you can try by potentially signing Andre Iguodala away from Denver. A true small forward, ball hawk on defense, all-star and Olympian, Iguodala can be the most important player on the court while still being the ultimate team player and teammate. Free agent forwards Dorell Wright, Mike Dunleavy Jr., and Martell Webster can also stretch a defense from the perimeter like Klye Korver did last season. Re-signing Korver, who started 60 of his 74 games played at small forward, is an option as well. Worse case scenario the team can get one of these guys in the open market in order to retain a quality starting lineup. Miami Heat forward Chris "Birdman" Anderson will be available after the finals. Better yet, disregard that last line.
CULTURE…..
The Hawks finished the 2012-13 season with a 44-38 overall record, good enough to have earned a number six seed in the Eastern Conference playoff field before losing in six games to what has now turned out to be a very good Indiana Pacers. Though the team has made the playoffs for six consecutive seasons, even winning a first round series against Orlando in 2011, the culture has morphed into a "glad to be here" post-season type of attitude. That has to change under Budenholzer, who has spent 18 of his 19 years in San Antonio (the last 16 as an assistant coach) in the playoffs, four of which ended with a championship. Change is good, but a change of the basketball culture here in Atlanta will be better. Fans should expect more, the players-be them returning, newly signed or draftees-should expect much more and the coaching staff should expect nothing less than the best. That all starts with Budenholzer and Ferry. In that same interview Budenholzer said players will be "held accountable" and "know their roles", with Indiana's recent resurgence, Derrick Rose's return to the Chicago Bulls' lineup after missing the previous season, the Brooklyn Nets improved play and the elephant in the room also known as the Miami Heat, The Hawks will have less and less time for role play.
The Most optimistic fans see the bright side: new coach, plenty of draft picks. The most pessimistic fans see the same old, same old: big time free agents won't sign to play here. Best part of the off-season is that we will have plenty of time to discuss either side this summer.