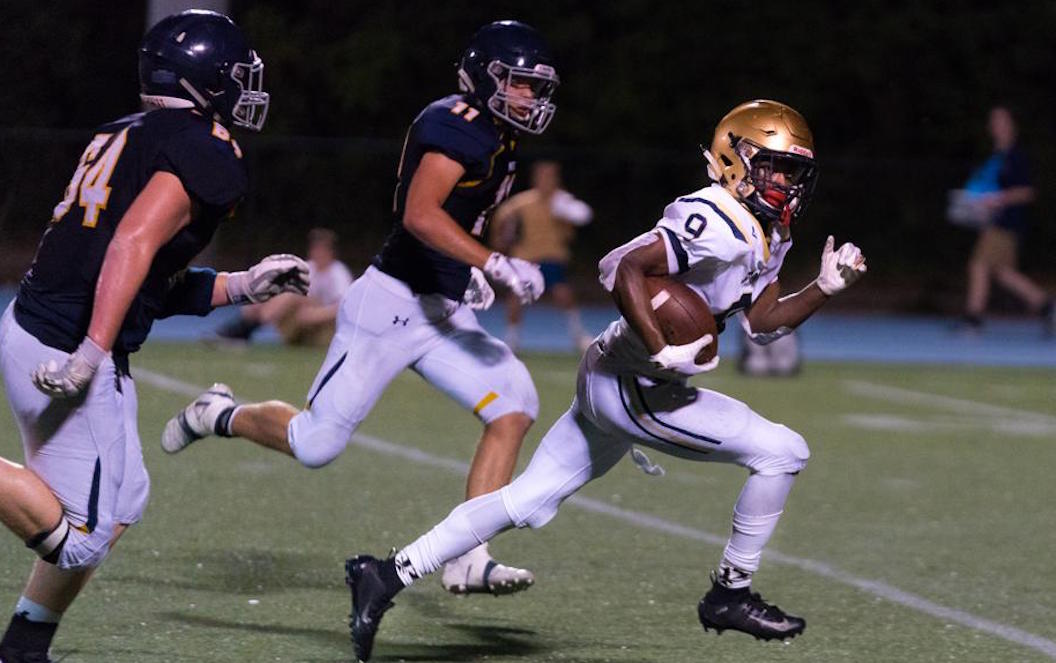 This (way too early) edition of the Class AAAA 2019 football rankings has been assembled based off a variety of factors and estimations. We will attempt to validate the reasoning behind the order that has been selected by presenting some of the stats or factors that went into our consideration. The Class AAA poll will be released on Thursday and the remaining classes will be released in descending order each day that follows.
For the most part, Class AAAA has been dominated by a small collection of juggernauts over the last few seasons. The landscape in 2019, however, will likely play out completely differently. Two-time defending champion Blessed Trinity graduated one of the most accomplished senior classes to come through the state and there are plenty of other key storylines that are forecasting a wild upcoming year in AAAA.
Last year's runner-up Cartersville gets the nod at No. 1. The Purple Hurricanes will be led by former defensive coordinator and first-year head coach Conor Foster this season. Foster steps in for Joey King, who led the program to a 67-4 record and two state championships in his five seasons at the school. Cartersville's defense was outstanding this past season and held 11 of its 15 opponents to 10 points or less. Offensively, returning three-star quarterback Tee Webb should be even better after getting a full year of starting varsity experience under his belt.
Defensive excellence is also why Cairo debuts at No. 2. The Syrupmakers allowed just 11 ppg last year and made it to the state quarterfinals before eventually falling to Troup 20-17. No. 3 Marist has racked up 17 playoff wins over the last seven seasons and been amongst the most consistent programs in the state for decades. The War Eagles will be without U.S. Army All-American and Notre Dame signee Kyle Hamilton this season, but will have plenty of experience and talent to make another run at the state crown.
It is a mystery what No. 4 Blessed Trinity will look like this season after graduating so many exceptional seniors, but the drop off might not be as significant as some presume. Class of 2022 quarterback Bank Atkins will be stepping into the spotlight and he will have playmakers like 6-foot-1, 205-pound Jackson Hamilton, 6-foot-3 James Bryant, Carson Harof and three-star running back Elijah Green. Once again, Blessed Trinity's top playmakers will largely occupy roles on both sides of the football, which will allow them to maximize their athleticism, and also build versatility that can adapt to the different styles of opponents they will be facing each week. Also, Blessed Trinity produced a 25.93 average margin of victory during its 15-0 run in 2018—enabling head coach Tim McFarlin and his staff to get reserves and backups real game experience.
At No. 5 is Troup, which will be led by Auburn-commit and super-athlete Kobe Hudson this fall. In 2018, Hudson accounted for 3,386 passing yards and 32 touchdowns, while rushing for an additional 1,410 yards and 18 scores. Hudson has plenty of explosive playmakers returning for this season, and will have a chance to have a Player of the Year type of season.
Sixth-ranked Flowery Branch was new to Class AAAA this past year and made an outstanding run until a turnover-filled opening round loss to Ridgeland. The Falcons nearly defeated Blessed Trinity, but a failed two-point conversion attempt resulted in a 21-20 loss. Two-time defending Region 8-AAAA champion St. Pius is No. 7. No. 8 Denmark was a first-year program without any seniors on its roster this past year that finished 5-5. The Danes will be returning all 22 starters in 2019, as well as some high profile transfers like former Buford quarterback Aaron McLaughlin. No. 9 Eastside posted a school-record 12 wins last year and will have starting quarterback Noah Cook returning for his senior season and Mary Persons rounds out a ridiculously loaded top 10.
Class AAAA
1. Cartersville
2. Cairo
3. Marist
4. Blessed Trinity
5. Troup
6. Flowery Branch
7. St. Pius
8. Denmark
9. Eastside
10. Mary Persons