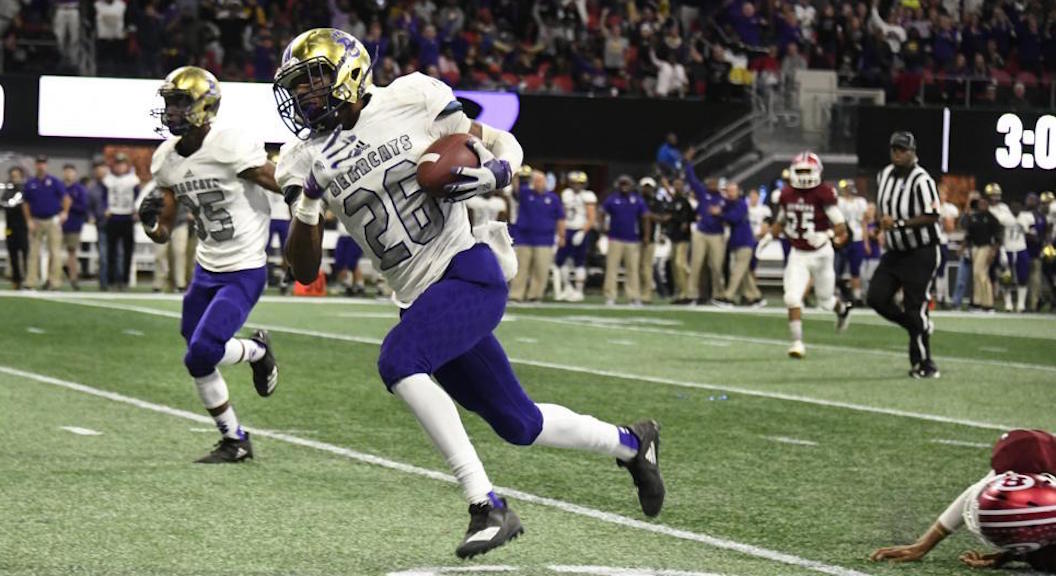 This (way too early) edition of the Class AAAAA 2019 football rankings has been assembled based off a variety of factors and estimations. We will attempt to validate the reasoning behind the order that has been selected by presenting some of the stats or factors that went into our consideration. The Class AAAA poll will be released on Wednesday and the remaining classes will be released in descending order each day that follows.
It's easy to top the poll with the defending state champions and, in the case of AAAAA, the Bainbridge Wildcats deserve the recognition. It returns a major part of its offensive production including junior quarterback Quayde Hawkins and sophomore running back Caleb McDowell. Bainbridge also placed several returning players on the 1-AAAAA all-region teams including junior DB Jaheim Jenkins and freshman defensive back Deyon Bouie.
Buford, which fell to Bainbridge in the quarterfinals 23-20, comes in at No. 2. The 8-AAAAA power will have to weather losses of seniors and a coaching change this offseason but it returns several experienced players. Buford promoted assistant coach Bryant Appling to head coach which could ease the transition throughout the offseason. Rising seniors Seth McLaughlin (OL), Jackson Powell (DL), Evan Dimaggio (LB) were each named to the all-region team. The Wolves lost Region 8 player of the year Derrian Brown to graduation.
Carrollton finished the 2018 season ranked No. 10 in our final rankings and is set to make a big jump in 2019. The Trojans fell in the quarterfinals to Stockbridge 48-3, but it returns all-region talent that should positively impact their progress. The Trojans placed several players on the 7-AAAAA all-region first and second teams. Running back Brandon Marenco, a first-team all-region back, returns for his senior season. Rising seniors Robert Johnson, a defensive lineman, and OLB Kevin Swint will factor. Rising junior Chaz Chambliss, another OLB, has experience. Chase Sippola, a rising senior TE/FB, made second-team all-region alongside punter Nick Tuggle and rising junior DB Zaylen Cook.
No. 4 Dutchtown returns 4-AAAAA player of the year WR Lewis 'Nate' McCollum for his senior season under region coach of the year Clifford Fedd. On the defensive side, rising senior DL William Anderson was named on the first-team all-region defensive squad. Dutchtown's defense will be experienced with DL Dezmond Tell, LB Adonis Ross-Butler and DB Corey Miner, all rising seniors, earning second-team all-region honors in 2018.
Rome will have to weather the graduations of star running back Jamious Griffin and quarterback Knox Kadum to maintain the No. 5 in the poll. It placed 13 players on the first or second-team all-region 7-AAAAA but of those 13 nominations, just four return – OLs Quantavious Leslie and Aiden Gaines, DL Rayquon Jones and DE Montrell Milsap.
Starr's Mill has advance to the playoffs in each of the past five seasons including a quarterfinal appearance in 2017 before its first-round exit last year. Head coach Chad Phillips was named the 3-AAAAA coach of the year.  The Panthers come in at No. 6 in the poll with experienced talent to lead the way. Running back Kalen Sims was named the 3-AAAAA player of the year and returns for his senior season. Running back Ben Bodne made second-team offense and the one-two punch of Sims and Bodne in the backfield could be hard to guard. Will Tiller and Cole Sanders, both rising senior OLs, return to open holes for Bodne and Sims. Rising sophomores LB Cole Bishop and DB Wes Haney were named second-team defense and return with experience.
No. 7 Southwest DeKalb returns under 5-AAAAA coach of the year Damien Wimes for the third year. Wimes led the Panthers to a 10-1 finish in 2018 and has appeared in the playoffs in each of his years at Southwest DeKalb following its second-round exit in 2017.
Stockbridge has advanced to at least the quarterfinals in each of the past seven years with semifinal appearances in 2014, 2016 and last year. This year, it will try to do it under a new head coach after Kevin Whitley's departure. Whitley had been at Stockbridge since 2009 and has only missed the playoffs once, in his first year.
The state runner-up Warner Robins Demons will have to weather the loss of its star quarterback, and 1-AAAAA POY Dylan Fromm. However, the Demons do return the region offensive POY wide receiver Marcayll Jones for his senior year and first-team running back Jahlen Rutherford for his junior season. Receivers Ty Carr and Devin Brown, both rising seniors and first-team nominees, return alongside OL Mannasseh Thompson. On defense, LBs Ahmad Walker and Demarcus Robinson return for their junior seasons with DB Jatavious Bryant making a return for his senior year.
Ken Cribb, the 1-AAAAA coach of the year, has been at Wayne County for two seasons and made it to the second round of the playoffs in each of them. He led the Yellow Jackets to an 11-1 season in 2018 before losing to Bainbridge 26-19.
Several 'bubble teams' that were also considered were Veterans, Kell, Jones County, Clarke Central and Riverwood.
Class AAAAA Rankings
1. Bainbridge
2. Buford
3. Carrollton
4. Dutchtown
5. Rome
6. Starr's Mill
7. Southwest DeKalb
8. Stockbridge
9. Warner Robins
10. Wayne County