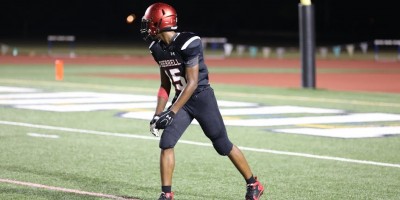 The third annual Great Atlanta Bash will showcase Therrell vs. North Atlanta this Friday night at Eddie S. Henderson Stadium. The game will kickoff at 8 p.m. and will precede Saturday's double-header of Carver-Atlanta vs. Lovejoy (11 a.m.) and Mays vs. Riverdale (2 p.m.) that will be played at the same venue. All three games will be broadcasted live on CBS46 affiliate PeachtreeTV and the Bash represents the next stop on the ongoing 31-game package that began last week with the Corky Kell Classic and is the largest high school broadcasting package in the nation this season. Midtown High School was originally scheduled to play North Atlanta, but the Grey Knights have been replaced by Therrell. The decision to put Therrell in the game in place of Midtown was approved by the Atlanta Public School District earlier this week and it came after Midtown raised concerns with roster numbers following their Week 1 loss to Fayette County.
As a result, the Panthers and first-year head coach Broderick Jamison will make their Great Atlanta Bash debut as they kickoff their 2021 season. Jamison is a Therrell alum and his senior season (2003) was the program's last winning season—providing the Panthers community with a hearty dose of excitement that is accentuated by a strong senior class leading this year's squad. Jamison last coached at Douglass—another Class 2A program and is one of the four new hires that occurred in APS this offseason. Among the seniors that will be leading this year's team are 6-foot-4 quarterback Khamar Carlisle, 5-foot-10 wide receiver and cornerback Kameron Slade and 6-foot-3 tight end and defensive end Nyseer Fullwood-Theodore. Therrell's season was set to begin with a trip to Glenn Hills last Friday night, but the home team informed Therrell, which was already halfway along their trip to Augusta, that there was a positive COVID test within the program and the game was called off. Therrell competes in a nine-team Region 6 that includes tough competition like South Atlanta, Washington, Lovett and Pace Academy. Therefore, Saturday's battle with North Atlanta will be just one of two non-region games the Panthers will have before they dive into region play. Therrell has emerged victorious in each of its last three season openers heading into Friday's clash with North Atlanta and so this year's senior class will have an opportunity to leave the program with a flawless record in that department. Therrell and North Atlanta are 3-3 in their previous six meetings and this will be the first time the teams have met since 2009.
As for Saturday's double-header, Carver-Atlanta and Lovejoy will play in the opening slot and it will be a rematch of last year's 27-26 thriller that was won by Lovejoy. Saturday's finale will be a rematch of Mays' 42-35 victory over Riverdale a year ago. Riverdale rebounded from that defeat and advanced all the way to the Class 4A quarterfinals last season. That was the first-ever meeting between the programs and Round 2 should be quite the matchup with Riverdale coming off its most successful season since 1998's semifinal finish.