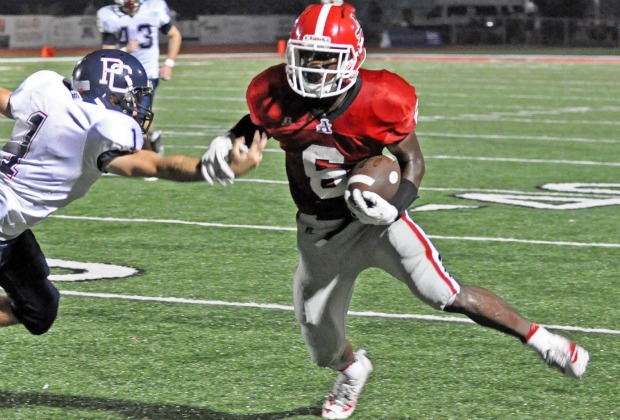 Ron Hughes
Allatoona at Class AAAAA No. 2 Kell
For two quality programs located just a few miles apart in northern Cobb County, it comes as a bit of a surprise that Kell and Allatoona have never played. The Longhorns have made the playoffs in each of coach Derek Cook's six seasons, while the Bucs have made the postseason the past four years under coach Gary Varner, who has guided the Acworth program in each of its five full varsity seasons.
After the 2012 season Kell lost two-way stars Brendan Langley and Quincy Mauger, who are now playing at Georgia, but has rebounded nicely behind the leadership of QB Matt McGuigan, WR/DB Julian Burris and DB Taylor Henkle (Kennesaw State commitment). Kell's defense has allowed more than 21 points only once while the offense has scored at least 30 points in each of its games against Class AAAAA opponents.
Allatoona, meanwhile, counters with RB Josh Bettistea, who is fourth in the state with 1,813 rushing yards. The Bucs feature more than just Bettistea, however, as Russell Halimon also excels at running back.
Allatoona's defense has been a problem lately, however, in giving up 62 points in a loss to North Paulding and 48 in a defeat at South Paulding.
Pick – Kell 42, Allatoona 28
Cairo at Class AAAA No. 8 Statesboro
This is an intriguing matchup from a traditional standpoint at the very least. The Syrupmakers and Blue Devils have not met since 1963, but are traditionally two of the more successful programs in the southern half of the state (eight combined state titles). Each team is familiar with the playoffs as Cairo has qualified each year since 2002, while Statesboro has been since 1998.
Statesboro comes in as a solid favorite, having won nine of 10 games with quality triumphs over Burke County and Liberty County. Meanwhile, Cairo has rebounded from a 2-3 start, largely against a challenging non-conference schedule, to win five straight games.
Each team prides itself on defense, which will likely result in a low-scoring affair. Cairo has held half its opponents to single digits including two shutouts. But Statesboro has surrendered more than seven points just four times all year, with a maximum of 18, which Glenn Hills managed last week.
Pick – Statesboro 17, Cairo 14
North Oconee at Class AAA No. 8 Woodward Academy
The roles are reversed in this matchup as Woodward is now ranked while North Oconee, ranked in the preseason, is not in the pre-playoffs top 10. The War Eagles have won five straight since falling to Region 6-rival Blessed Trinity on Sept. 27, a loss that cost Woodward the region's top seed.
The rushing attacks will be the highlight of this one. QB Terry Googer, a South Carolina commitment, leads Woodward with 1,009 rushing yards. North Oconee junior Kawon Bryant, meanwhile, is one of the top running backs in the state. Bryant has rushed for a whopping 2,485 yards, which is second-most in the state behind Cedartown's Nick Chubb.
One common opponent between the teams is St. Pius X, which the Titans beat 28-23 in Week 1 and which Woodward beat 42-28 on Oct. 25.
Pick – Woodward Academy 24, North Oconee 21
Whitewater at Class AAAAA No. 5 Warner Robins
Warner Robins made headlines around the state after an upset of then-No. 1 Northside-Warner Robins two weeks ago. That was the high point, thus far, in the season for the Demons. The downside was likely a 27-23 loss to neighboring Houston County on Oct. 18.
Coach Brian Way's squad is good at causing turnovers, as evidenced by a plus-13 turnover margin in the last three games and a ballhawking secondary that has 19 interceptions this season. On offense, the Demons will run the ball with a three-headed attack, led by RB Danny Hite, Jr., RB Jacquan Burns and QB Caden Johnson.
Whitewater also presents a formidable rushing attack as well, with Christian Wofford. who has rushed for 1,116 yards this season. coach Amos McCreary has headed the Wildcats since their the program began in 2004. His teams have had winning seasons in nine of 10 years. Last year's squad was by far McCreary's best, with 12 wins and a semifinals appearance.
The teams have never met on the gridiron, but Whitewater upset a highly-ranked Northside squad in the 2010 playoffs, a result that sent shockwaves throughout the state.
Pick – Whitewater 27, Warner Robins 24
Walton at Class AAAAAA No. 5 Collins Hill
Walton has been one of the state's most consistent high-classification programs in recent years, making the playoffs in 12 of 13 seasons since 2001. The east Cobb school has become a regular destination for big-time college recruiters as the Raiders have sent a bevy of players to major programs in recent years, including Parker McLeod and Tyren Jones to Alabama and Brandon Kublanow to Georgia in last year's graduating class alone. This year's group includes senior QB Price Wilson (a Louisiana Tech commit), sophomore DB/WR Chad Clay (son of former Georgia Tech star Willie), sophomore RB Karekin Brooks (1,223 rushing yards) and D.J. Smith, a senior defensive back with offers from programs like Georgia, Florida. Nebraska and Clemson.
Collins Hill, meanwhile, was the surprise team in Region 7, earning the No. 2 seed after beating Dacula, Peachtree Ridge, Mill Creek and North Gwinnett, which was No. 1 at the time. This is possibly coach Kevin Reach's best team yet, as the two Tyler's have led a nearly-unstoppable Eagles offense: QB Tyler Herman has thrown for 2,323 yards while RB Tyler Henderson has rushed for 1,299 yards.
However, Norcross shut out the Eagles on Oct. 11 and Dacula held them to 21 points in Week 2. Walton's defense has struggled at times throughout the season, but played well the past two weeks in wins over Etowah and Roswell.
Pick – Collins Hill 34, Walton 27