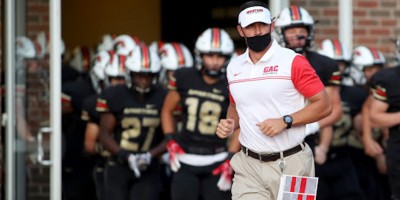 The fourth week of the 2020 GHSA football season will kick off this week and the action will follow a largely successful first three weeks that has seen an increasing number of teams to returning to the gridiron. There are programs that have had to adjust and cancel matchups so far, but things are going in a positive direction as GHSA Executive Director Dr. Robin Hines points out.
"Each week we have been able to have more and more teams get back," said Hines. "So we are getting to the point quickly where every team that is coming back is going to be back. It feels good and we are looking forward to what the rest of the season brings. There has been probably an average of around eight cancellations each week so far, but also four reschedules per week, so we are missing about four games per week and averaging about 160 games."
There have been the exceptions with teams being forced to shut down, cancel their games, search for alternate opponents and a few major districts are still a week away from their starting dates. This article will attempt to give the latest statewide update on where things stand as the season enters Week 4.
On Monday, Class 3A No. 6 Pierce County set up a clash with Class A-Private No. 1 ELCA to fill its Oct. 2 vacancy. Pierce originally was slated to play Clinch County, but Clinch, citing COVID-19 concerns, pulled out last week. Pierce also is adding Madison County, Fla., at home Oct. 30, according to the Atlanta Journal-Constitution.
Additionally, Blessed Trinity will face off with Kell this week after the Titans were finally able to open their season this past weekend with a 38-14 win over ELCA in an impromptu matchup between defending state champions. The Titans' matchup with Kell replaces their formerly schedule game against out-of-state Charlotte Catholic (NC). Kell's slot opened after Hillgrove cancelled its matchup with the Longhorns earlier this month.
Dodge County was forced to shut down earlier this week due to COVID and was scheduled to take on Fitzgerald this Thursday. This resulted in Fitzgerald setting up a matchup with Jefferson County to fill the slot instead.
In Class A-Public, Dublin called off its Region 4 matchup with Wheeler County and neither team intends to set up a makeup game later in the season. Union County and George Walton Academy have also cancelled their matchup and Toombs County is substituting its contest against West Laurens with Mitchell County. Tift County, which was forced to shut down this past week remains in shutdown mode and will not take on Coffee this Friday.
DeKalb County was the largest school district in the state to delay its season to Oct. 1 and therefore the district's 19 teams will finally take the field Week 5. This group includes Arabia Mountain, Cedar Grove, Chamblee, Clarkston, Columbia, Cross Keys, Druid Hills, Dunwoody, M.L. King, Lakeside-Atlanta, Lithonia, McNair, Miller Grove, Redan, Southwest DeKalb, Stephenson, Stone Mountain, Towers and Tucker.
Westminster has been forced to cancel its first three weeks of games due to COVID-19, but will face Pace Academy this Friday in its long-awaited season opener.
In Class 4A, Dougherty, Monroe and Westover will not be back until Week 5, Perry is currently quarantined and so is Baldwin. Also, Savannah-based Islands, Jenkins and New Hampstead will begin conference-only schedules Friday, Oct. 2 with Class 3A neighbors Beach, Groves, Johnson-Savannah, Liberty County, Savannah and Windsor County also returning to action the same day. Class 3A's Hephzibah and Salem are both currently sidelined for COVID.
In Class A-Private, Our Lady of Mercy and Riverside Military both opted to cancel their seasons completely and King's Ridge will finally kickoff its schedule this week at home against Landmark Christian. Class A-Public has Calhoun County, Stewart County and Twiggs County as programs that have cancelled all of their seasons and Region 4's Dooly County will kick off its eight-game season on Oct. 2 against region opponent Wheeler County.
"We are excited that things have gone well so far," said Hines. "There are some great ball games on the schedule this week and some region contests starting to get underway, so it's getting more important and we are happy with how it is going."