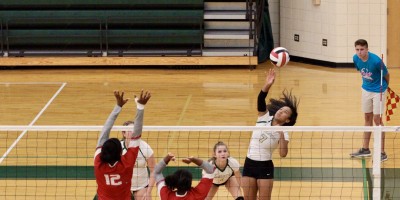 Amanda Tyler
Tonight on the gridiron, the Eastside Eagles walked away with a solid 58-15 victory over Luella. A 43-yard field goal from Senior kicker Kade Mote was the only scoring play of the first quarter, followed by a go-ahead touchdown from Luella in the second with a 2-point conversion. Luella maintained their lead, scoring again after an Eastside touchdown to regain a 15-10 lead but would fail to score again. Eastside went on to score 48 unanswered points and reach a school record of 58 points scored in a single game. The Shaw Raiders took on the Hardaway Hawks in a close contest. A two-score first quarter by Shaw gave them an early 14-0 lead, but Hardaway chipped away at the lead to make it a 21-14 game in favor of Shaw at the half. With 8:51 left in the game the Hawks took a 28-21 lead, but the Raiders brought the game within one point late in the quarter. Shaw kicked the game winning field goal with :04 left in the game to walk away victorious and pick up their second region win of the season.
Due to rain delays, the Benedictine vs. Johnson-Savannah game will pick up tomorrow at 5 p.m. Benedictine currently leads 14-0 in the first quarter. The Southeast Bulloch vs. Windsor Forest game will continue to play Saturday at 10 a.m. Windsor Forest currently leads 3-0 in the first quarter.
On the softball field, the Etowah Eagles defeated West Forsyth 5-4 thanks to a game winning double from Sophomore Jaycee Wallace. The Pope Greyhounds soundly defeated South Forsyth 6-2 to increase their win streak to 14. They remain undefeated in the region with a 14-0 record. Class AAAAA top dogs Bainbridge remain undefeated on the season after shutting out Veterans 6-0 to pick up their sixth region win of the season. The Metter Tigers kept Swainsboro off the board in a double-header matchup, defeating them 8-0 and 9-0 to pick up a pair of region wins.
On the volleyball court, Wesleyan head coach Ted Russell picked up a milestone 600th career win after his Wolves defeated Archer. Jackson County swept Stephens County and East Hall 2-0 to increase their win streak to five. After starting the season 2-6, the Panthers are now 20-10 on the season. The Hebron Christian Lions picked up a trio of wins, winning 2-0 against Archer, Central Gwinnett and region opponent Wesleyan. After being named the ninth-ranked team in class AAAAAAA, the Etowah Eagles continued to roll with a 2-0 win over Cherokee to pick up their third region win of the season.
Thursday Final Scores
Football
Cedartown 9, LaGrange 6
Eastside 58, Luella 15
Kendrick 26, Rutland 13
Shaw 30, Hardaway 28
Softball
Academy For Classical Education 13, Glascock County 1
Appling County 10, Liberty County 0
Appling County 13, Liberty County 2
Baconton Charter 17, Pataula Charter 0
Bainbridge 6, Veterans 0
Bleckley County 19, Southwest 0
Brooks County 4, Thomasville 0
Calvary Day 9, McIntosh County Academy 3
Chestatee 16, Denmark 1
Commerce 9, Hebron Christian 0
East Hall 3, North Hall 2
Echols County 6, Clinch County 0
Effingham County 16, Bradwell Institute 0
Fullington Academy 5, Tiftarea Academy 1
Georgia Military 13, Lincoln County 0
Glynn Academy 19, Brunswick 2
Howard 11, Upson-Lee 3
Locust Grove 4, Jones County 1
Lowndes 9, Camden County 1
Lowndes 9, Camden County 4
Metter 8, Swainsboro 0
Metter 9, Swainsboro 0
Miller County 4, Pelham 2
Mt. Paran Christian 11, Whitefield Academy 5
Pope 6, South Forsyth 2
Southeast Bulloch 3, Islands 0
Southwest Georgia Academy 16, Terrell Academy 2
Telfair County 4, Charlton County 3
Terrell County 15, Calhoun County 7
Westside-Macon 21, Baldwin 9
Wheeler County 6, Treutlen 2
Wilkinson County 7, Lake Oconee Academy 0
Woodland-Cartersville 4, Paulding County 1
Volleyball
Brookstone 2, Stratford Academy 0
Brookwood 2, Grayson 0
Brookwood 2, Meadowcreek 0
Brookwood 2, Mountain View 0
Chattooga 2, Model 1
Colquitt County 3, Brooks County 0
East Coweta 2, Harris County 0
East Hall 2, Stephens County 0
Etowah 2, Cherokee 0
Fannin County 2, Chattooga 0
Harris County 2, Carrollton 0
Hebron Christian 2, Archer 0
Hebron Christian 2, Central Gwinnett 0
Hebron Christian 2, Wesleyan 0
Highland Christian 3, Jefferson County 0
Holy Innocents' 3, Coosa 2
Jackson County 2, East Hall 0
Jackson County 2, Stephens County 0
Jefferson 2, Clarke Central 0
Lamar County 2, Temple 1
Landmark Christian 3, Sandy Creek 0
Mill Creek 2, Duluth 0
Mill Creek 2, Lanier 0
Mill Creek 2, South Gwinnett 0
Morgan County 2, Eastside 1
Mt. de Sales 2, First Presbyterian 0
North Hall 2, Jefferson 0
North Oconee 1, Monroe Area 0
Savannah Christian 3, St. Vincent's 1
Shaw 2, LaGrange 0
Spencer 2, Callaway 1
St. Pius X 3, Marist 1
Troup 2, Shaw 1