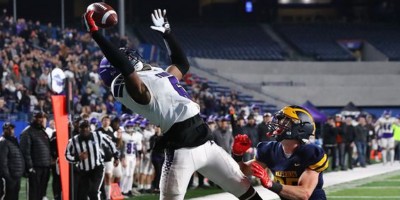 Curtis Compton / Curtis.Compton@ajc.com
Brooks County's senior back Omari Arnold was the member of runner-up teams in the state championship game in each of the past two seasons and he didn't want that to happen again. So, he rushed for 320 yards and five touchdowns in Brooks County's 56-28 victory over Irwin County in the Class A Public title game to ensure it didn't.
The victory marked the second state championship for the Trojans under head coach Maurice Freeman, who coached Brooks County to a state championship in 1994 in his first season at the helm. He stayed in Quitman until 1997 when he took jobs at Southwest and Brunswick until 2008 when he took over head coaching duties again at Brooks County.
Irwin County, the two-time defending champions, had no answers for Arnold who scored on runs of 86, 69, 56, 36 and 3 yards including two touchdowns early in the fourth quarter which thwarted any possibility of a comeback by Irwin. Brooks County quarterback Jamal Sanders was a tidy 5-of-9 for 85 yards and a touchdown – a 15-yarder to Tramaine Demps – and one interception.
Irwin's Demarkas Lundy rushed 17 times for 106 yards and two touchdowns and Shane Marshall added another rushing touchdown. Irwin defender Malachi Hadden returned an interception 17 yards for a touchdown.
Brooks County ran for 385 yards on the night, 320 from Arnold.
Trinity Christian 55, Prince Avenue Christian 28
Kenny Dallas has his championship, and so do his sons – starting quarterback David and wideout Josh – after Trinity Christian defeated defending-champion Prince Avenue Christian 55-28 at Georgia State's Center Parc Stadium in Atlanta Thursday.
In a rematch of last year's title game won by Prince Ave, Trinity Christian's 1-play, 65-yard drive to open the game put the Lions ahead and set the tone on offense and when, minutes later, Bryce Wilcox intercepted a pass and returned it 34 yards for a touchdown, the game was already nearly out of reach.
Trinity led 14-0 after the first quarter, 35-7 at the half and 42-28 entering the fourth quarter.
David was 14-of-20 passing for 263 yards and four touchdowns while rushing for one touchdown in the romp. David passed to Aaron Gates for two touchdowns and one each to Javan Harrison and Wilcox.
The Lions defense made four interceptions on drives which would have gotten Prince Avenue back into the game. Josh Dallas, Wilcox, Christain Harrison and Jimbo Batchelor each made interceptions.
Wolverines quarterback Aaron Philo was 39-of-52 passing for 335 yards and three touchdowns while rushing for one touchdown. Elijah Dewitt had two touchdown receptions while Bailey Stockton made one touchdown catch.
Stay tuned for a roundup of the nightcap game between Brooks County and Irwin County in the Class A Public title game. Follow the links for the full brackets and the flag football roundup.