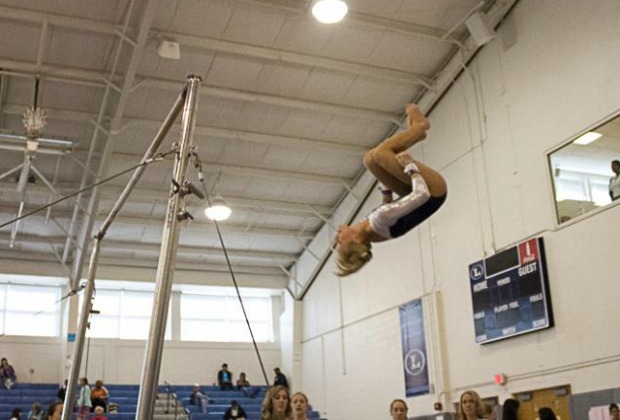 Jodi Roberts/Tift County
Gymnasts from across the state will take part in the 2013 GHSA Gymnastics State Championships at Westminster tonight at 7 p.m. Individual championships and the overall team title will be up for grabs at the event. Tift County enters the meet as the two-time defending state champion and senior Beth Roberts will be a favorite in the all-around competition as well as three of the four apparatuses. Fellow senior Libby Barbour could challenge Roberts in the all-around competition. Roberts won three events (bars, beam and floor) en route to the 2012 all-around title.
Lambert, led by Katie Stuart and Taylor Pastor, and Lassiter with Katie Steele and Mary Katherine Ballow will take aim at spoiling Tift County's bid at three straight titles. Stuart finished second in the all-around competition to Roberts last week at the state qualifying meet at Lovett with four top-four finishes in each of the events. Stuart finished sixth in the all-around last year to help Lambert to a second-place finish. Lassiter, meanwhile, poses a threat after tying Tift County at the House of Troy Invitational. Steele is a serious threat on beam and bars. She and Ballow are joined by Alyssa Varsalona, who is impressive on floor and vault. These three should help the Trojans improve upon a sixth-place finish from one year ago.
Newnan is led by all-around threat Sydney Goad. After finishing fifth on bars in 2012, Goad received the top score on floor at the qualifying meet and finished second on beam and vault. Carrollton is a strong contender with Kyndel Yett and Katie Beth Carter competing in the all-around. Jennifer Brandenburg is a beam specialist that will help boost the Carrollton team score, while Carter excels on vault and bars. Yett finished eighth on floor at Lovett.
Finally, Buford, in its inaugural gymnastics season, stands to make a charge at the team title after finishing sixth last week at Lovett. Logan Nugent is outstanding on floor and vault while Brea Butts is Buford's top performer on bars. Nugent will compete in the all-around.
Sydney Barrett (Cartersville), Maddy Sims (South Forsyth) and Emily Perkins (Bainbridge) will also compete in the all-around.
Other gymnasts to keep an eye on include Westminster's Sarah Dyer on vault and Natalie Bauer on beam.