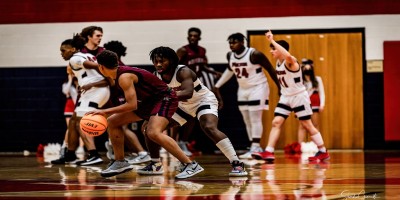 The top-ranked Milton Eagles continued their streak of winning, defeating the Woodstock Wolverines 79-49 on Wednesday. This dominating win extends the Eagles' winning streak to 13 games, having not lost a game since Dec. 1, 2020.
The game was all Milton from start to finish, with the Eagles leading the Wolverines 41-22 at halftime and ended up running away with the game by 30 points. This was a dominating performance on both ends of the floor by the Eagles, especially by their top-notch starting five.
Fourth-year head coach Allen Whitehart credits the team's preparation and chemistry for their 15-2 overall record and 5-0 regional record.
"My coaching staff does a really good job of getting them prepared with film and scouts and practice plans and they do a great job of carrying out what our game plan is," Whitehart said.
The top performer was starting shooting guard, Kanaan Carlyle, the No.1 ranked player in Georgia and No. 17 ranked player nationally in the 2023 recruiting class. Carlyle scored 42 points and went 9-of-11 from three-point range. Carlyle is just one member of Milton's dominant starting five. The others include point guard, Bruce Thornton; small forward, Kendall Campbell; power forward, LT Overton; and shooting guard, Broc Bidwell. All five starters have received recruiting offers from Division One schools. In the case of Overton, who plays both basketball and football, he has received offers from both elite basketball and football programs.
Coach Whitehart considers this particular squad to be the most talented that he has ever had in his four years at Milton.
"I'm just blessed to be able to have kids that will listen and kids that want to win and play together. It's more about the kids than it is about me. I'm just blessed to be able to have the opportunity to coach such great talent," Whitehart said.
The Eagles have six regular season games left and will attempt to finish out the regular season strong before the start of the state basketball tournament on February 23.