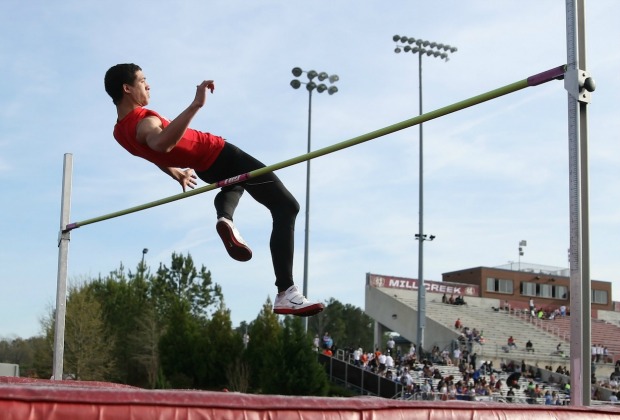 Sonny Kennedy
The state track and field sectionals have come to an end. Sectionals were held at 12 different locations as each of the six state classifications is split into two. Only the top eight in each event advanced to the state meet, which will be held in Jefferson for the boys and Albany for the girls.
In Class AAAAAA, reigning boys and girls state champion Westlake advanced 25 athletes on to the state meet. Among those who qualified was Mia Phillips of Westlake, who held the leading mark in the girls long jump with a leap of 18 feet, three inches. Accompanying her to state as well will be teammate Anriel Howard who won the girls triple jump. McEachern showed their strength in the 400-meter sprint where Cierra Dunston and MaKenzie Dunmore both advanced, placing first and second.
The boys race was a fight to the finish in the 800-meter run. Marietta teammates Khayvonn Benson and Simeyon Bobbett both qualified for state finishing within .08 of a second of one another. In Class AAAAA Anika Carter of New Manchester clocked in the fastest times in both the 200-meter (24.87) and 100-meter (12.12) dash. Marquett Simmon from Mt. Zion placed in the top two in five different events (long jump, 4×100 meter relay, 100 meter, 200 meter, 4×400 meter relay) safely securing his ticket to the state meet. No one could touch distance runner Lindsay Billings in the 3200-meter run, who led the field by more than 10 seconds placing first with a time of 11:17.64. Johnathan Mays of New Manchester jumped six feet, 10 inches in the high jump to join 10 other teammates at the state meet.