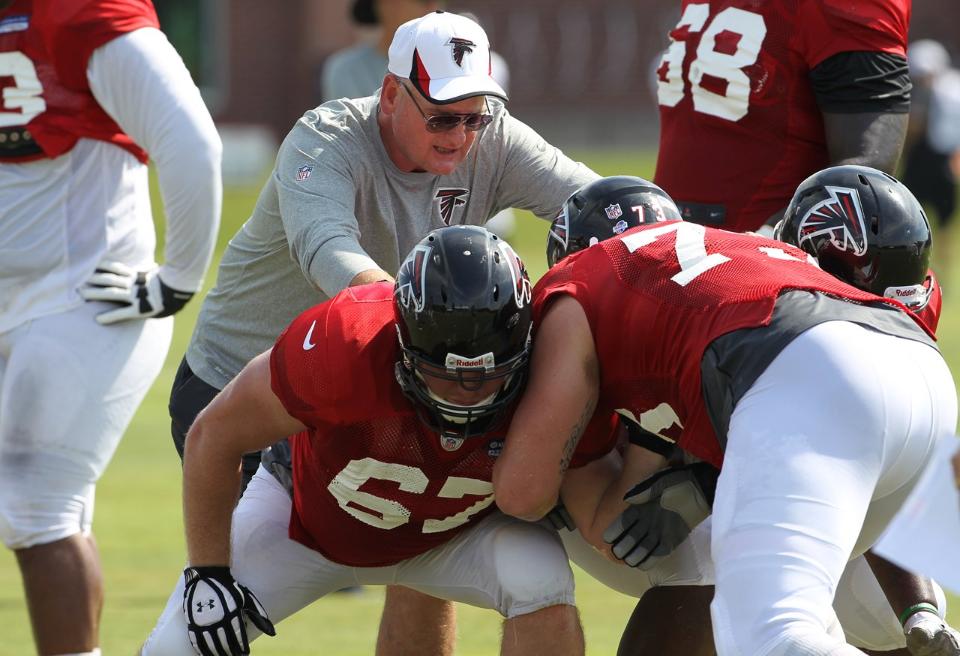 AtlantaFalcons.com
Training camp is the final hurdle of the football offseason and, even though the season hasn't even started yet, it feels like a finish line. Players have made it through winter workouts, spring practice, summer conditioning and the thrill of an actual game has been a memory for several months. Every day has been spent fine-tuning the details. Football teams rarely tackle before training camp. Days are spent in drills and walk-through's instead. Mistakes are pointed out and then replayed time and time again.
There's no place for egos in the offseason. No one is throwing a game-winning touchdown pass or hauling in an interception on fourth down to seal the game. Thousands of fans are not congratulating you each time you make a play. Leaving it all on the field is the only way to pass this test.
TWO-A-DAYS …
I did two-a-days in high school, but nothing could prepare me for what training camp was like at the collegiate level. In fact, just calling it a two-a-day was an injustice. While I was a walk-on receiver at UGA, I got invited to camp for the 2009 season. They only bring a handful of walk-ons to camp and I was crushed the year before when I just missed out on an invitation. I would drive by that year and watch them.
From there, I'd go straight to the gym to make sure I got as close as I could to the amount of work they were getting for when I'd rejoin them on the field after camp. I heard stories of how hard it was, but nothing had ever been too big of a challenge for me physically. As a walk-on, my creed was outworking my competition so I felt well-prepared as I approached my first camp. Nothing compared.
In the final team meeting before it started, offensive coordinator Mike Bobo ended it with a clear message.
"If you have a girlfriend, you better call her right now and tell her that you'll talk to her in two weeks." I half chuckled because I didn't think he was completely serious. He was. I barely had time to squeeze in a phone call to my sister on her birthday. I lived off-campus so I stayed at the on-campus hotel during camp. I did not have my bed to go back to after each grueling day.
Each morning we'd wake up right at 6 a.m. and head straight to breakfast. Following breakfast was the first session that would walk us through the plays and cadences we'd work on that day. If we didn't pay attention and listen, we were going to pay for it later. Following walk-through's was a film session. Then we went straight to practice. The pads go on for the first time in the summer and you experience the scorching heat trapped under your gear for the first time. The high-intensity practice is followed up by a meal and then another film session. After the film ends, the lights go on and it's back to practice. This is the theoretical backend of the two-a-day.
SALT PILLS …
Football is a "next man up" sport and positions and starting roles are earned in camp. There is no other time that practice is this physical or competitive. Hydration is closely monitored throughout the day and, for every pound lost, a player would receive one gigantic salt pill mixed in a cup of Gatorade. The most I lost in one day was nine pounds, but linemen would lose even more and up to 16 pounds.
After the weigh-in and rehydration after the final session, we would hobble over to eat our final meal and then head over to the final film session of the day. The last film study could last until just 10 minutes before you'd have to rush back to meet the curfew. If you had any ounce of energy left, you'd spend that time reviewing the playbook and making sure everything that you were taught that day actually sunk in.
Training camp is not fun. However, training camp is why victories feel so good and why losses hurt so bad during the season. It is where teams are built and where respect is earned. In order to get the most out of fall, you have to give the most in the summer and I wouldn't want it any other way.