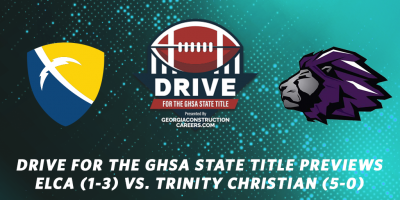 The fifth televised game featured in the 'Drive for the GHSA State Title' series pits Class A Private No. 1 Trinity Christian (5-0) at Class A Private No. 2 Eagle's Landing Christian (1-3) in a blockbuster matchup to be broadcast on PeachtreeTV/CBS46 at 8 p.m. Friday.
No, there likely won't be a state championship rematch later this season of this week's blockbuster matchup between Trinity and ELCA. If each team wins its region — which they should — and avoids an upset in the first few rounds – ELCA and Trinity will meet again in the A Private semifinal by virtue of bracket design. The No. 1 seeds from Regions 2 (ELCA) and 4 (Trinity) are both on the left side of the bracket.
It is what it is. Possibly the two best teams in the class might not face off for the title.
But that is more reason to watch this week's game. Plus, having a game between two of the best programs from a lower-class broadcast in primetime on PeachtreeTV/CBS46 and online via the CBS46 app is almost unheard of.
Both teams have not played since Sept. 17 and it will be interesting to see what two weeks of rest does for each program.
Trinity Christian is a flawless 5-0 after victories over A Private then-No. 4 Athens Academy (59-7), Mount Vernon (54-3), A Private then-No. 3 Fellowship Christian (56-20), Claxton (56-14) and Landmark Christian (51-0) on Sept. 17.
Trinity Christian head coach Kenny Dallas spent three years as ELCA's defensive coordinator and is very familiar with the Chargers' program. On Thursday's episode of 'Georgia Prep Sports: Drive for the GHSA State Title' , Dallas talked about the previous meetings with ELCA; explaining that the Chargers have won every previous meeting with sizeable margins, but this is the year to change that trend.
ELCA is 1-3 on the season but have faced stiff competition and suffered narrow losses to higher-classed and ranked opponents. ELCA lost to Class 5A Woodward Academy 17-14 to open the season and then dropped a 52-28 contest to Class 5A No. 3 Ware County. It beat Class 3A No. 10 Crisp County (21-18) on Sept. 10 which sent the Cougars out of the 3A rankings. On Sept. 17 ELCA lost a narrowly contested game against Class 5A No. 9 Blessed Trinity 24-21.
Trinity quarterback David Dallas is 74-of-94 passing for 1,233 yards and 18 touchdowns to lead a Lions offense which averages 276 passing yards and 151 rushing yards per game. Dallas has 21 carries for 130 yards and two touchdowns.
David's twin brother Joshua Dallas is the favorite receiver with 16 receptions for 301 yards and six touchdowns. Both Dominick Cosper and Bryce Wilcox each have four touchdown receptions and Aaron Gates has caught three touchdown passes. Javan Harrison, Logan Moss and Brock Rainwater each have one touchdown reception. On the ground, Trinity is led by Cosper who has 41 carries for 491 yards and 11 touchdowns. Cosper transferred to Trinity Christian in January and has fit perfectly in the system by accounting for a total of 15 touchdowns so far. Tyson Wall, who rushed for 1300 yards last season has 16 carries for 86 yards and six touchdowns and gives the Lions a two-headed rushing attack with Cosper.
ELCA quarterback Charlie Gilliam is 50-of-94 passing for 728 yards and three touchdowns, two to RJ Johnson and one to Jacque Holley. Gilliam has rushed for three touchdowns on 31 carries. On the ground, Brandon Hood leads with 86 carries for 392 yards and six touchdowns.