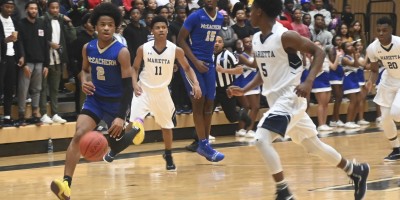 Walter A. Pinion
Tuesday night was packed with Georgia high school basketball games. Here are some of the highlights from both the girls and boys games.
For the girls, class AAAAA fourth-ranked Statesboro was served its first region loss of the year. The Blue Devils had one loss prior to their Tuesday matchup against Wayne County, but ultimately fell 52-48 to the Yellow Jackets in overtime. After surpassing Morgan County as the top-ranked team in class AAA, Jefferson backed their ranking by serving the Bulldogs a 68-55 loss to remain at the top of the class. Leading the Jefferson offense was Freshman Natalia Bolden who put up 18 points, while Sophomore Livi Blackstock and Freshman Deshona Gaither both racked up 14. In class AA, Bryan County's Olonna Rawls scored a tremendous 35 points to help seal the deal on the Redskins' second victory over Swainsboro this season. In class A-Public, top-ranked Marion County faced-off against second-ranked Greenville. The two previously met and fought a hard game, resulting in a 71-70 win for the Eagles. The Patriots played Marion County close, but a slow 7-point first quarter put the team behind early. The Eagles walked away with a 73-63 victory and remain undefeated on the season. En route to a 57-20 win over Howard, Spalding's Aniaya Jester scored her 1,000th point of her career, ending the night with 14 points.
For the boys, Spencer took a strong 33-16 first-quarter lead against Callaway after shooting 6-7 from three-point range. The Green Waves continued to pile it on throughout the game, besting the Cavaliers 110-75 to pick up their eighth region in class AA region 5 where they remain undefeated. Chattooga Senior Jundraius Adams led the Indians with 30 points during their 74-38 win over Gordon Central. Adams' stellar night was fueled by his excellent outside shooting, which allowed him to sink seven 3-point shots. In the state's highest classification, top-ranked McEachern extended its undefeated season with a 70-53 win over North Paulding. After dropping a 23-point first quarter, the Indians were held to just 8 points in the second. They came back strong scoring 27 points in the fourth to seal the deal on their 20th consecutive victory. Second-ranked Meadowcreek took on a Parkview team it soundly defeated 73-54 earlier in the season. Tonight, the Panthers gave the Mustangs a bit more fight, outscoring Meadowcreek 21-15 in the first quarter. Parkview also outscored Meadowcreek 21-17 in the fourth, but failed to hold Meadowcreek back from putting points on the board as the Mustangs picked up the 69-62 win.
Tuesday Final Scores
Boys
Allatoona 73, East Paulding 56
Alpharetta 63, Centennial 52
Americus-Sumter 71, Cairo 26
Armuchee 54, Dade County 49
Athens Academy 65, Hebron Christian 48
Banks County 44, Monticello 40
Brookstone 55, Central-Talbotton 52
Brookwood 61, Tiftarea Academy 41
Buford 75, Johnson-Gainesville 18
Butler 77, Screven County 29
Calhoun 69, Adairsville 58
Calvary Day 51, McIntosh County Academy 43
Cambridge 74, North Atlanta 64
Cartersville 79, Central-Carroll 63
Cedartown 57, LaGrange 52
Chattooga 74, Gordon Central 38
Clinch County 57, Charlton County 55
Commerce 53, Athens Christian 47
Coosa 68, Model 62
Creekside 67, New Manchester 55
Dawson County 58, North Hall 56
Dougherty 83, Columbus 48
Dublin 62, Southwest 55
Dunwoody 87, Johns Creek 84
Eagles Landing 77, Ola 47
Early County 51, Brooks County 48
Eastside 60, Druid Hills 51
Elbert County 70, Rabun County 48
Fayette County 79, McIntosh 62
George Walton Academy 36, Providence Christian 31
Gilmer 53, Pickens 52
Hapeville Charter 37, B.E.S.T. Academy 34
Haralson County 54, Ringgold 42
Heard County 58, Jordan 51
Heritage-Catoosa 56, Ringgold 50
Heritage-Conyers 66, Lakeside-Evans 63
Highland Christian 52, Appling Christian 45
Irwin County 76, Lanier County 63
Johnson-Savannah 84, Southeast Bulloch 59
Jones County 73, Stockbridge 63
Kell 77, Villa Rica 54
LaFayette 59, Southeast Whitfield 57
Langston Hughes 46, Mays 45
Liberty County 77, Pierce County 75
Lowndes 69, Thomas County Central 49
Madison County 82, Oconee County 50
Marion County 74, Greenville 69
McEachern 70, North Paulding 53
Meadowcreek 69, Parkview 62
Mill Creek 66, North Gwinnett 64
Miller Grove 75, Clarkston 49
Mt. Paran Christian 45, Mt. Bethel Christian Academy 40
Mt. Pisgah Christian 52, Walker 49
Mt. Vernon Presbyterian 83, Weber 55
Mt. Zion, Carroll 80, Trion 49
North Cobb Christian 65, Darlington 55
Pace Academy 61, Towers 47
Pinecrest Academy 92, Fellowship Christian 47
Putnam County 68, Oglethorpe County 65
Randolph-Clay 67, Webster County 53
Richmond Hill 53, Glynn Academy 45
Riverwood 57, Jackson 51
Rockdale County 49, Salem 39
Roswell 65, Etowah 55
Savannah Christian 60, Claxton 44
Savannah Country Day 60, Portal 58
Sequoyah 90, Dalton 45
Social Circle 39, Union County 35
South Atlanta 94, Washington 36
South Forsyth 45, North Forsyth 42
Southwest Atlanta Christian 54, Trinity Christian 47
Southwest DeKalb 54, Chamblee 52
Spencer 110, Callaway 75
St. Anne Pacelli 74, Manchester 73
St. Pius X 57, Stephens County 42
Tattnall County 75, Brantley County 73
Towns County 95, Lakeview Academy 84
Treutlen 48, Telfair County 32
Tri-Cities 101, Northgate 46
Vidalia 54, Jeff Davis 48
W.D. Mohammed 58, Paideia 45
Walnut Grove 75, North Oconee 67
Walton 57, Cherokee 52
Washington County 61, Dodge County 49
Wayne County 54, Statesboro 53
Wesleyan 49, Galloway School 37
West Hall 64, Chestatee 51
West Laurens 78, Mary Persons 71
Windsor Forest 68, Benedictine 67
Woodstock 49, Lassiter 43
Girls
Alpharetta 59, Centennial 27
Americus-Sumter 40, Cairo 35
Athens Academy 48, Hebron Christian 21
Bradwell Institute 64, Effingham County 49
Bremen 47, Temple 38
Bryan County 66, Swainsboro 63
Buford 63, Johnson-Gainesville 15
Burke County 72, Richmond Academy 26
Butler 50, Screven County 23
Calhoun 54, Adairsville 52
Cambridge 59, North Atlanta 28
Carrollton 74, Rome 63
Carver-Columbus 72, Westover 61
Cass 52, Woodland-Cartersville 27
Cedartown 49, LaGrange 45
Central-Macon 50, Rutland 46
Cherokee 81, Walton 43
Clinch County 60, Charlton County 55
Coahulla Creek 56, Sonoraville 52
Coffee 47, Houston County 34
Collins Hill 86, Mountain View 46
Commerce 59, Athens Christian 26
Dacula 74, Gainesville 67
Darlington 75, North Cobb Christian 23
Dawson County 68, North Hall 59
Dodge County 74, Washington County 48
Dooly County 44, Schley County 37
Douglass 74, Therrell 46
Eagles Landing Christian 68, Elite Scholars Academy 55
Fitzgerald 83, Ware County 71
Flowery Branch 82, Denmark 25
George Walton Academy 41, Providence Christian 26
Gilmer 65, Pickens 31
Glynn Academy 57, Richmond Hill 44
Gordon Central 59, Chattooga 39
Grady 48, North Springs 21
Grovetown 57, Evans 46
Hart County 54, East Jackson 53
Heard County 55, Jordan 32
Hiram 60, Paulding County 41
Jefferson 68, Morgan County 55
Johns Creek 45, Dunwoody 33
Jones County 57, Stockbridge 34
Lakeview Academy 62, Towns County 39
Landmark Christian 62, Strong Rock Christian 53
Langston Hughes 51, Mays 31
Lanier Christian 52, Habersham Central 32
Lanier County 60, Irwin County 40
Lowndes 40, Thomas County Central 28
M. L. King 53, Drew 41
Macon County 53, Taylor County 32
Madison County 72, Oconee County 45
Marion County 73, Greenville 63
McIntosh 62, Fayette County 36
North Cobb 54, Marietta 47
North Murray 63, Lakeview-Fort Oglethorpe 27
Northside-Warner Robins 47, Lee County 26
Pace Academy 55, Towers 16
Parkview 44, Meadowcreek 11
Pebblebrook 68, Campbell 60
Putnam County 62, Oglethorpe County 16
Rabun County 57, Elbert County 45
Randolph-Clay 84, Webster County 26
Ringgold 43, Haralson County 39
Roswell 50, Etowah 37
Sandy Creek 56, Troup 43
Savannah Christian 38, Claxton 20
Sequoyah 73, Dalton 49
South Effingham 56, New Hampstead 55
St. Francis 65, King's Ridge 56
St. Pius X 72, Stephens County 68
Stephenson 57, Mt. Zion-Jonesboro 50
Stone Mountain 62, Westminster 36
Tattnall Square 33, Mt. de Sales 31
Trinity Christian 65, Southwest Atlanta Christian 21
Tucker 69, Morrow 38
Vidalia 39, Jeff Davis 32
Villa Rica 83, Kell 39
Wayne County 52, Statesboro 48
Wheeler County 62, Jenkins County 28
Woodville-Tompkins 62, Metter 34