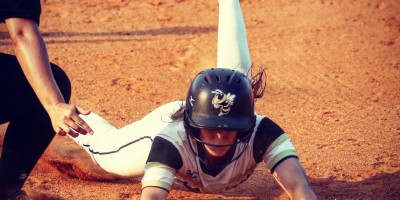 Calhoun Softball Twitter
Due to weather from last weekend, there were two football games to go along with the batch of softball and volleyball games on Tuesday night.
On the football field, Calvary Day defeated Treutlen 23-6. Savannah Country Day took a 7-0 lead after the first quarter before expanding the lead to 16-0 at the half. Johnson County answered in the third quarter to cut the lead to 16-6 but Calvary Day took advantage in the final quarter to put the game out of reach.
Sonoraville defeated North Murray 5-0 on the diamond with freshman Taylor Long taking the complete-game victory. Kinsley Long went 2-for-4 with an RBI. Taylor Long was 2-for-4 with an RBI and Griffin Holden went 1-for-3 with an RBI. Calhoun defeated Lakeview-Fort Oglethorpe 13-8. Carlie Henderson was 4-for-4. Anna Taylor was 3-for-3 with two doubles and five RBI's. Lyndi Rae Davis went 2-for-3 and Malysha Winston had a three-run home run.
Football
Benedictine 64, Groves 0
Calvary Day 23, Treutlen 6  

Softball
Alcovy 8, Salem 6
Allatoona 6, Sprayberry 0
Americus-Sumter 16, Westover 4
Atkinson County 6, Clinch County 4
Bainbridge 5, Harris County 2
Bleckley County 12, East Laurens 5
Bowdon 1, Trion 0
Brookwood 8, Norcross 1
Bryan County 15, Toombs County 3
Burke County 17, Baldwin 0
Burke County 28, Baldwin 1
Cairo 8, Shaw 0
Calhoun 13, Lakeview-Fort Oglethorpe 8
Calhoun County 20, Randolph-Clay 5
Cambridge 16, Northview 0
Camden County 6, Glynn Academy 2
Carrollton 7, East Paulding 0
Central-Macon 18, Northeast-Macon 1
Chamblee 15, Riverwood 1
Chattahoochee 5, Johns Creek 4
Chestatee 4, Blessed Trinity 1
Christian Heritage 16, Darlington 5
Columbus 10, Dougherty 0
Commerce 13, Prince Avenue 7
Dacula 12, Winder-Barrow 4
Dade County 7, Pepperell 6
Dawson County 5, Cherokee Bluff 0
Dodge County 18, Washington County 2
Douglass 31, Coretta Scott King 23
Drew 14, M. L. King 0
East Coweta 16, Wheeler 0
Emanuel County Institute 16, Claxton 1
Evans 4, Grovetown 0
First Presbyterian 4, Stratford Academy 1
Georgia Military 19, Glascock County 0
Gordon Lee 9, Mt. Zion, Carroll 0
Hawkinsville 1, Brookstone 0
Hebron Christian 6, Towns County 3
Islands 16, Jenkins 2
Jenkins County 15, Portal 14
Jones County 8, Eagles Landing 0
Kennesaw Mountain 3, Hillgrove 0
LaGrange 9, Sandy Creek 2
Lanier 1, Apalachee 0
Lassiter 10, Harrison 2
Lee County 4, Houston County 2
Lincoln County 14, Greene County 0
Lithia Springs 21, Banneker 0
Lumpkin County 4, Greater Atlanta Christian 0
Marion County 10, Taylor County 1
Marist 14, Denmark 0
Mary Persons 9, Upson-Lee 6
Mt. Paran Christian 22, Fellowship Christian 0
Mt. Pisgah Christian 9, King's Ridge 8
New Manchester 21, Creekside 1
Newnan 13, Campbell 0
North Cobb Christian 7, Walker 6
North Forsyth 5, Forsyth Central 3
North Hall 6, Fannin County 3
Northgate 10, Douglas County 0
Northwest Whitfield 13, Gilmer 5
Oconee County 14, St. Pius X 0
Peachtree Ridge 4, Collins Hill 3
Perry 5, Spalding 4
Pope 13, Centennial 0
Rockmart 20, Coosa 2
Rome 5, Hiram 3
Schley County 10, Crawford County 1
Seminole County 15, Pelham 7
Sequoyah 8, River Ridge 4
South Atlanta 14, KIPP Atlanta Charter 13
South Forsyth 3, Forsyth Central 0
South Paulding 18, Tri-Cities 0
Starr's Mill 7, Whitewater 3
Telfair County 20, Turner County 1
Thomasville 7, Fitzgerald 4
Villa Rica 12, Paulding County 0
Washington 12, Therrell 4
Webster County 22, Terrell County 14
Wesleyan 9, Trinity Christian 0
West Forsyth 12, Lambert 0
White County 13, West Hall 5
Wilcox County 6, Charlton County 3
Woodland-Cartersville 15, Cass 6
Volleyball
Apalachee 2, Gainesville 0
Athens Academy 2, Athens Christian 0
Athens Academy 2, Prince Avenue 0
Blessed Trinity 2, Denmark 0
Brookwood 2, Berkmar 0
Brookwood 2, Central Gwinnett 0
Buford 2, Johnson-Gainesville 0
Buford 2, Walnut Grove 0
Butler 2, Laney 0
Carrollton 2, Rome 1
Chamblee 3, Clarkston 0
Chattooga 3, Morris Innovative 0
Coosa 2, Georgia School for the Deaf 0
Eagles Landing Christian 3, Konos Academy 0
East Paulding 2, Hiram 0
East Paulding 2, Woodland-Cartersville 1
Elite Scholars Academy 2, Drew Charter 0
Flowery Branch 2, Jefferson 1
Hardaway 2, Carver-Columbus 0
Hebron Christian 2, Lovett 0
Hebron Christian 2, Woodward Academy 0
Jackson County 2, East Jackson 0
Jackson County 2, Morgan County 0
Kell 2, Hiram 0
Kell 2, Woodland-Cartersville 0
Lakeview-Fort Oglethorpe 2, Dade County 1
Model 2, Pepperell 0
Mt. de Sales 2, Effingham County 0
Mt. de Sales 2, West Laurens 0
Mt. Paran Christian 3, Walker 2
Murray County 2, Coahulla Creek 0
Norcross 2, Berkmar 0
Norcross 2, Central Gwinnett 0
North Gwinnett 2, Duluth 0
North Gwinnett 2, Mill Creek 0
North Hall 2, Fannin County 0
North Hall 2, Lumpkin County 0
Pope 2, Johns Creek 0
Ringgold 2, Coahulla Creek 0
Riverwood 2, Banneker 0
Sonoraville 2, Adairsville 0
South Atlanta 2, McNair 1
Walton 3, Lassiter 0