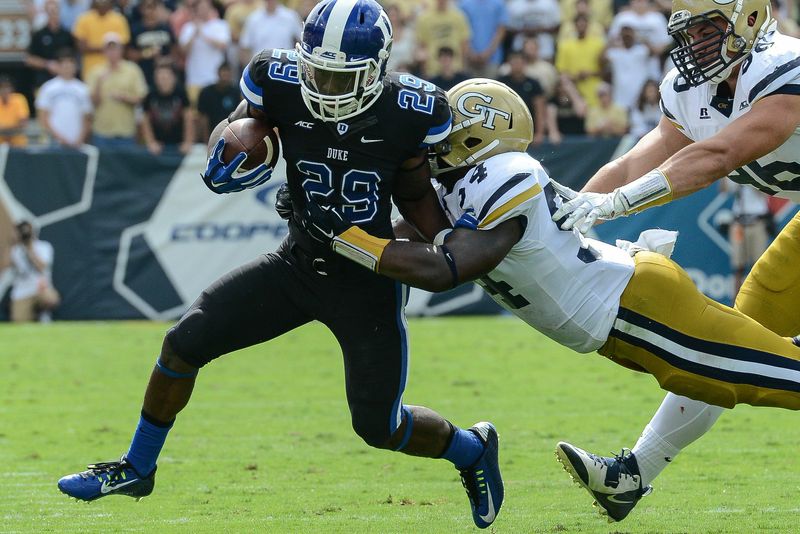 Photo by Jon Barash
Georgia Tech looked to build off its win over the Hurricanes last Saturday, while continuing the historical prominence the Yellow Jackets have shown over ACC-rival Duke. Tech carried a 10-game winning streak over Duke into Saturday, but fell short 31-25 for its first loss of the seaosn. Sloppy play led to Tech's demise as they committed three turnovers in the second half. The Tech giveaways resulted in 14 Duke points for Duke, while untimely penalties kept the Blue Devils' drives alive and resulted in more Duke points.
On their first possession, Georgia Tech (5-1, 2-1 ACC) went on a trademark clock-eating Paul Johnson drive (70 yards in 6:39) before settling for a 27-yard field goal by Harrison Butker to gain the early 3-0 lead. The Yellow Jacket defense was ready to force a Duke three-and-out on the following possession, but an offside penalty by Tech extended the drive. The Blue Devils took advantage of the free yardage and would score on a four-yard touchdown pass from Anthony Boone to Max McCaffrey to gain their first lead of the ballgame at 7-3.
The Yellow Jackets would gain great field position late in the first, thanks to a 68-yard kickoff return by Golden, but again would see the offense stall as they could only muster up a field goal. Midway through the second quarter, the Blue Devils again saw another drive extended by a Georgia Tech penalty, this time pass-interference, and again would capitalize with backup quarterback Thomas Sirk punching it in from three yards out to increase Duke's lead to 14-6.
Nearing the end of the second quarter, quarterback Justin Thomas carried the Yellow Jackets to the end-zone with a 65-yard drive, 59 of the yards credited to the red-shirt sophomore, as B-back Zach Laskey wrapped up the possession with a four-yard run for Tech's first touchdown. The following two-point conversion attempt failed as Duke saw themselves with a 14-12 lead at halftime.
Following a one-hour, 17-minute rain delay, Georgia Tech squandered their opening possession of the third quarter on a Laskey fumble, which foreshadowed the second half for the Yellow Jackets. Duke, again, capitalized on the mistake as running back Josh Snead scored from four yards out to increase the lead to nine early in the third. Tech was presented a great opportunity the following drive after another great kickoff return by Jamal Golden for 51 yards, but the Duke defense would hold steady as Tech failed to score on the drive.
A Duke field goal followed, making it 24-12. Thomas would be picked off on two straight drive as Duke converted the latter turnover into points with a Thomas Sirk one-yard sneak to increase their lead to 19. Backup quarterback Tim Byerly would enter for midway through the fourth quarter for an injured-Justin Thomas, and would lead the Tech offense to touchdown scores on two straight possessions to make it 31-25, but it proved to be a little too late.
Georgia Tech outgained Duke in total offense, 483 to 373, but the turnover problem was the separating factor in the contest.
"I was disappointed in the way we played," said Paul Johnson, "We are not good enough to lose the turnover battle three to nothing to anybody and win the game. Couple that with penalties that kept drives alive or (Duke), and there's the game."
Thomas finished with 120 rushing yards, while completing just 6-of-15 passing with the two picks. Byerly came in relief completing 7-of-10 for 125 yards and two rushing scores. Georgia Tech will look to bounce back as they travel to Chapel Hill, N.C.  for a matchup against North Carolina (2-3, 0-2 ACC).