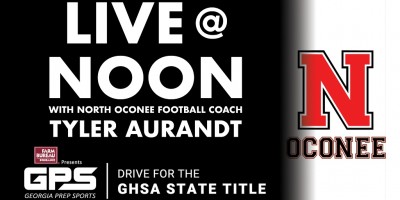 The 179th episode of the Georgia Farm Bureau "Georgia Prep Sports: Drive for the GHSA State Title" video podcast will kickoff with in-depth semifinals coverage from host Craig Sager II and Score Atlanta Reporter, Writer, Football Analyst & Content Creator Najeh Wilkins.
Sager and Wilkins will highlight the biggest playmakers to watch for who will be taking the field on Friday and what players they expect to make the biggest impact. This will include film analysis and first-hand accounts of witnessing the semifinalists play in person.
North Oconee head coach Tyler Aurandt will be the featured guest of Wednesday's broadcast and he will talk about the Titans' historic 13-0 record and their upcoming Class 4A showdown with unbeaten Cedartown in arguably the biggest semifinal matchup in the state.
The Drive for the GHSA State Title podcast is produced by PlayOn Sports, which runs the National Federation High School Network, and airs Mondays, Wednesdays and Fridays starting at noon.