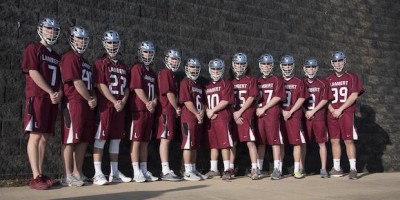 2018 Lambert seniors. Credit: Lambert High School
Lambert's boys lacrosse program has been a pillar of excellence for the better part of a decade, and in its short existence, the Longhorns have won three state championships and seven region titles. This year, Lambert is ranked No. 1 in Class 6A-7A and is featured nationally in numerous polls including a No. 1 ranking in the Nike/US Lacrosse South Boys' Top 10 and a No. 1 ranking on the Under Armour/IL Top 10 Regional Experts Poll.
The consistent play was brought to a halt against Lassiter (10-5) in the title game last season, and for the runner-up Longhorns, this year is a redemption tour.
"Last year's score is the background on a lot of the seniors' phones," said head coach Josh Sagel. "Shoot, it's our offensive coordinator's background on his phone. We don't want to have that again, it's a tough feeling. To end up on the wrong side of that score really drives us this year."
The consistent play displayed by Lambert's teams has stood the test of time for the relatively young program, which started play in 2010. The early planning for the program played a big part in its current successes, and with solid coaches, quality practices and youth development, Lambert has built a well of talent that can be drawn upon for years to come.
"It really is the culture of our program," Lambert's Director of Lacrosse Rich Wehman told Casey Ryan Vock of 3d Lacrosse in an interview. "I think from the beginning when we set it up we didn't want to take any shortcuts. We took a look around the country at what the most successful teams in the country are doing and we kind of followed that model. We stay together during the summer time, at all levels, right down through the youth league. So we have a lot of kids and when you watch us play, it's hard to focus on one or two kids because we have so many kids that can break you down because we brought so many along. It's created an incredibly competitive culture, which is what we want."
Translation: We train these kids to be lacrosse machines from an early age and it's working and will continue to do so for a long time.
Since the inaugural season eight years ago, Lambert reached the Final Four in 2010 and has featured in the final game of the year each season since, winning three state championships — 2011, 2012 and 2016. On its way to the runner-up finish last season, Lambert outscored opponents 348-112 while dropping just two games. Once in the playoffs, Lambert moved past Parkview 22-0, Kennesaw Mountain 19-1, Pope 12-9 and Centennial 12-7 before falling to Lassiter.
The Longhorns have gone unbeaten through eight games this season and the competition has not even been close.
On Feb. 15, Lambert opened its season with an 18-0 rout of South Forsyth, which set the tone. The Longhorns then took their talents on the road, defeating Alpharetta 18-1 on Feb. 19. The quality play was no surprise for the opposition, and for Lambert, it was business as usual. Through the first eight games, Lambert has scored 122 goals while allowing just 21.
Crucial wins thus far this season include a 14-5 victory over A-5A's No. 4 Blessed Trinity and a 15-4 rout of No. 2 Centennial. Lambert is responsible for each team's lone loss. Against its lone out-of-state opponent this season, Lake Norman, N.C., the Longhorns took a 13-3 victory in rainy conditions.
"It was a good win for us," Wehman said. "The game was 4-3 at the half, plus we fell behind 3-1 and we just haven't been in any games this year where that has been the case. We told the kids at half, 'This is good for us, we need to learn to play under these conditions,' and our boys had a tremendous second half, which is awesome."
Sagel reiterated Wehman's comments.
"I'll tell you what, last year left a bitter taste in all of our mouths," he said. "So having that kind of competition, Lake Norman is no pushover. Those are some good dudes and for us to get better we have to play better competition and see what you're made of and test yourself, so come May you can hopefully finish the drill."
Over its final 10 games, Lambert will, for sure, be tested.
"There is a way you build your season," Sagel said. "You want to start off and kind of see what you're made of and not maybe go as hard out as you can but you ramp yourself up and play good competition. Then you kind of ease the brake before going back into the stiff competition toward the end of the season to get ready for the playoffs."
The second half of the Longhorns' schedule reflects Sagel's comment as five of the last 10 regular-season games will be against ranked opponents, including a stretch of three in a row: March 24 versus No. 6 Johns Creek; March 27 at No. 8 Milton; March 29 vs. A-5A No. 2 Westminster.
Remaining Lambert Lacrosse Schedule
3-24 vs. Johns Creek (at Pope)
3-27 at Milton
3-29 vs. Westminster
4-11 at Forsyth Central
4-12 at Forsyth Central
4-14 at Cambridge
4-18 vs. South Forsyth
4-21 at Lovett
4-25 at West Forsyth
TBA, Region
TBA, Playoffs