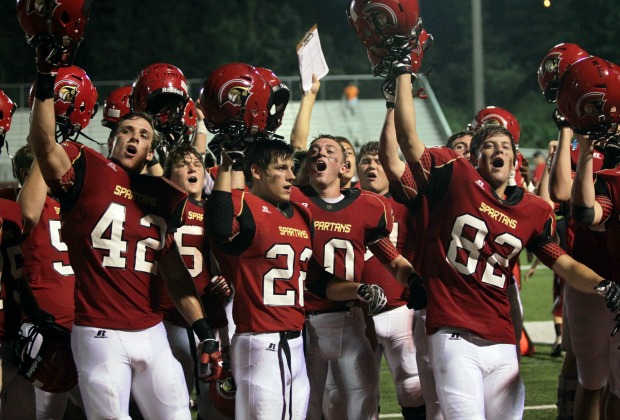 Lauren Roberts
Class AAAAAA No. 5 Camden County at Tift County
Camden has been rolling along since its season-opening loss to No. 1 North Gwinnett and is coming off two big wins in a row against Valdosta and Coffee. However, the Wildcats beat Valdosta by four and Coffee by seven. Quality wins, yes, but not exactly blowouts.
Camden would like to pound the ball all night with its gaggle of running backs that is led by Antonio Wimbush and Tyler Rauls. The Wildcats ran for 259 yards against Valdosta and 287 against Coffee. But Tift County hung tough with powerful Colquitt County last week, losing by just three. The Blue Devils allowed 170 rushing yards to the high-powered Packers, but all were by star RB Sihiem King. Colquitt mustered just 17 points on coach John Reid's squad.
While Tift County is one of the better stories in Class AAAAAA this year, Camden County may have too much for them.
Pick – Camden County 21, Tift County 14
Class AAAAAA No. 8 Valdosta at Lowndes
Considered by many to be the best high school football program of all time, Valdosta has been down of late. And that relative futility has translated into a lot of losses in the Winnersville Classic rivalry with Lowndes as the Cats have lost eight of nine.
But, for the first time in a while, Valdosta enters this year's game as the prohibitive favorite. While Lowndes was upset by Newton at home and dominated by Colquitt last week, Valdosta got off to an impressive 4-1 start before narrowly losing to Camden County two weeks ago. Lowndes, as always under coach Randy McPherson, likes to run the rock and has averaged 222 yards per game on the ground. But the Vikings ran for just 119 against Colquitt last week and passed for just five against Newton.
Valdosta allowed just 14 points to Camden and hasn't allowed more than 24 all season. While the offense doesn't appear to be quite as powerful as in past years under coach Rance Gillespie, the Cats should have enough in this one. But you never know in rivalry games and Lowndes has owned this series of late.
Pick – Valdosta 24, Lowndes 14
Class AA No. 2 GAC at Westminster
Westminster started the season slow, but has rallied to win three of four, including impressive victories over Thomson and Thomasville. The Wildcats' pass defense is splendid, having intercepted Thomson four times and holding Woodward Academy's Terry Googer to less than 100 yards passing.
GAC, meanwhile, features the top passing game in Class AA. QB Rafe Chapple has led the Spartans' prolific offense in scoring at least 41 points in each game and an average of more than 51 points per game.
GAC has won the past two in blowout fashion, but Westminster's defense, led by 2015 prospect Russell Ude, is solid and could cause problems for Chapple and the Spartans.
Pick – GAC 31, Westminster 17
Class A-Public No. 7 Clinch County at No. 1 Irwin County
Clinch County is on the road back after struggling the past couple years following its 2010 state title. Its 2-3 record thus far is misleading, as the Panthers' losses came to No. 3 Seminole County, A-Private No. 1 ELCA and Class AA No. 6 Brooks County.
A 20-20 tie with Class AA-power Fitzgerald notwithstanding, Irwin County and RB/LB Antwuane Merritt has dominated the competition this season. However, a case could be made that aside from the Fitzgerald game, the Indians have not yet played a team as good as Clinch.
Irwin County has won the last two, but both were competitive. Look for that trend to continue.
Pick – Irwin County 27, Clinch County 17
Class AA No. 6 Brooks County at Fitzgerald
Brooks County comes in as the more highly ranked team, but Fitzgerald has had the upper hand in the series recently, winning three of the last four. Georgia-commit and Brooks County QB Malkom Parrish is likely the best player on the field for either team, although Fitzgerald's Antonio Wilcox, Deonvis Bonner and QB Romarius Gaulden add firepower to the Purple Hurricanes' offense.
This should be another exciting battle between the two programs that comes down to the end of the game. Each team is 2-0 in Region 1-AA and the winner will take sole possession of first place.
Pick – Fitzgerald 28, Brooks County 27