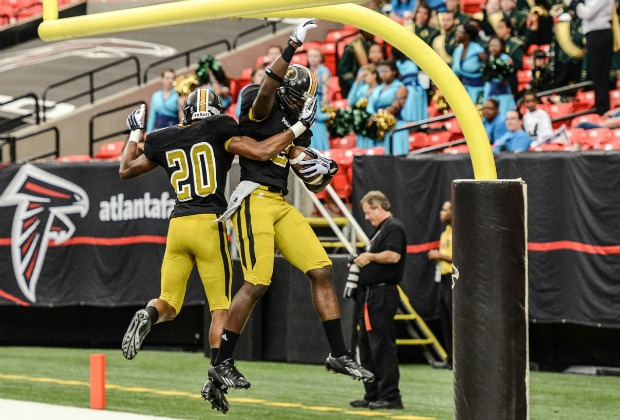 Jon Barash
In this week's Upset Alert, we look at the Nos. 1 and 2 teams in Class AAAAAA and the tough games they each face Friday night. We also look at possible surprises in Classes 5A, 3A and 2A.
Valdosta at No. 2 Colquitt County
Region 1 is always a good place to start when looking for possible upsets. Every team in the region can play and all have a healthy familiarity and dislike of each other.
Valdosta is the nation's winningest high school football program, but Colquitt County has risen to prominence in recent seasons under coach Rush Propst. The Packers have made the state semifinals in four consecutive seasons and look like a good bet to advance at least that far this season.
Despite their playoff success however, the Packers have lost to Valdosta five of six times, including three straight. Colquitt County has yet to lose a game this season to any instate team (its lone loss was to Hoover of Alabama), but could run into trouble Friday night against a Valdosta team still angry over its frustrating 3-0 loss to Lowndes.
Pick – Valdosta 21, Colquitt County 20
Collins Hill at No. 1 North Gwinnett
Collins Hill comes into this Region 7 clash having lost just once this season, a 28-0 spanking by Norcross. The Eagles, however, own an impressive win over Peachtree Ridge and QB Tyler Herman is among the state's top 20 passers with 1,550 yards.
North Gwinnett, meanwhile, rolled through its first five games of the year with easy wins in each game, including victories over quality opponents like Camden County and Norcross. However, two weeks ago, the Bulldogs survived a serious test from Mill Creek, which fell 50-47 despite leading 47-28 midway through the fourth quarter. Coach Bob Sphire's team is led by a prolific offense that just happens to be led by his son, Hayden, at QB. Sphire has thrown for 1,649 yards this season, mostly to the state's top wide receiver corps, which is headed by Missouri commitment Nate Brown who has 559 receiving yards.
Collins Hill doesn't run the ball quite as well as Mill Creek does, but DE Dante Sawyer and the Bulldogs defense could still run into problems trying to stop the Eagles' potent passing attack.
Pick – North Gwinnett 42, Collins Hill 31
McIntosh at No. 7 Creekside
McIntosh suffered its first loss at Starr's Mill last week 42-27 in a game in which the Chiefs surrendered 35 straight points to their Fayette-County neighbors. McIntosh may have fallen victim to the proverbial "trap game" theory.
The cause for the Chiefs' possible distraction was the undefeated Creekside Seminoles. Coach Olten Downs' squad has put together an impressive season, winning all eight of its games including a key 27-23 win over region-foe Whitewater last week. The Seminoles boast the highly-recruited Berry brothers, Evan and Elliott, who can hurt opposing teams in all three phases of the game.
Creekside has won five straight in this series although the teams have only played once since 2007.
Pick – Creekside 27, McIntosh 24
Woodward Aca. at No. 4 St. Pius X
Woodward Academy has dropped two close games this season to good opponents (Lovett and Blessed Trinity). Crosstown rival St. Pius X, meanwhile, also fell to Lovett, but beat BT. The War Eagles have ripped off three consecutive wins by 30 points or more.
Woodward features QB and South Carolina-commitment Terry Googer, who leads a potent War Eagles' rushing attack with 833 yards on the ground this season. Woodward beat Pius last year, the Golden Lions' last loss prior to a six-game winning streak that landed them in the state finals.
In fact, the War Eagles have won 11 of 12 games in this series going back to 1975.
Pick – Woodward Academy 17, St. Pius X 16
Cook at No. 6 Brooks County
Brooks County is undefeated against AA competition this year and enters Friday night's game in the Region 1 catbird seat. The Trojans have won four of five against Cook, but prior to that, the Hornets had won six out of seven.
Cook comes into this game 4-3 and 1-2 in region play, but has won two straight games including an impressive win at Jefferson County last week. Coach Ken Cofer's program is consistently in the mix in Class AA and routinely challenges in Region 1. The Hornets are plenty capable of causing Brooks County problems.
Coach Maurice Freeman's team, however, boasts electric QB Malkom Parrish, a Georgia commitment, who stars on offense and defense for the Trojans. With Parrish in the fold, Brooks may have too much for Cook this time.
Pick – Brooks County 21, Cook 14