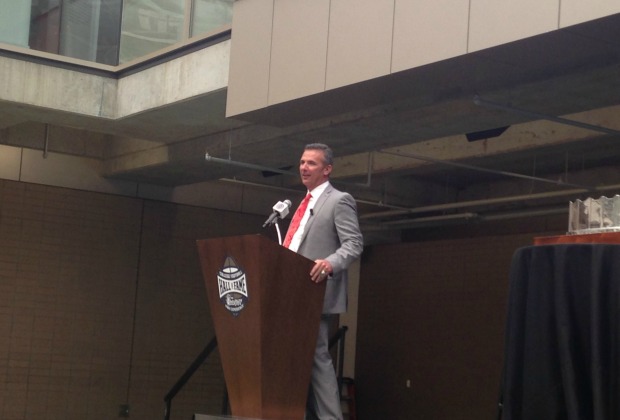 Brian Jones
Atlanta can be called the unofficial capital of college football. It's home to the Chick-fil-A kickoff game, the Chick-fil-A Peach Bowl, the SEC Championship, and the College Football Hall of Fame. The city is also known for having a melting pot of fans that cheer for different teams from all across the county.
On Sunday, the Ohio State nation came out to the College Football Hall of Fame because head coach Urban Meyer was presented with the MacArthur Bowl, which is the National Football Foundation and the College Football Hall of Fame's national championship trophy.
This was the third time Meyer was presented with the trophy as he won it twice while being the head coach at Florida. And with the event now being held in Atlanta, he was not going to miss the opportunity to celebrate the 2014 season one last time.
"I was in South Bend when the old Hall of Fame was there," Meyer said. "So when I got invited to this one, I wasn't going to miss it. I think they did a great job putting it together."
The MacArthur Bowl has been presented to every college football national champion since 1959. The name of each school wining the MacArthur Bowl in engraved on the outside of the trophy, and the school gets to keep the trophy until there is a new national champion.
With Meyer having possession of the trophy for the third time, and with the way his team was able to win the national championship this past year, one would think this would be the most special, right?
"I don't think that's fair to the other championships," Meyer said. "Every championship has its own journey to it, and this was a special one."
ESPN broadcaster Brad Nessler, who is an Atlanta native, hosted the event, and NFF President and CEO Steve Hatchell spoke along with College Football Hall of Fame President and CEO John Stephenson. Both made it clear that the MacArthur Bowl Trophy presentation will be held at the College Football Hall of Fame from now on. They also fell that Meyer will be back in the near future to claim the trophy again, but Meyer would love to come back anyway.
"I want to come back down here sometime," Meyer said. "I want to put a hat and sunglasses on and take my time and watch all the videos."
Meyer may be back down here a lot sooner because the state of Georgia is known for its high school football. And with Meyer knowing how to recruit the best players in the country, Georgia is one state that is high on his list.
"[Georgia] is one of the top two of three in the country," Meyer said. "I think Georgia high school football has taken the next step. From 2005 until now, I can't think of a better state that had better coaches and players than Georgia."