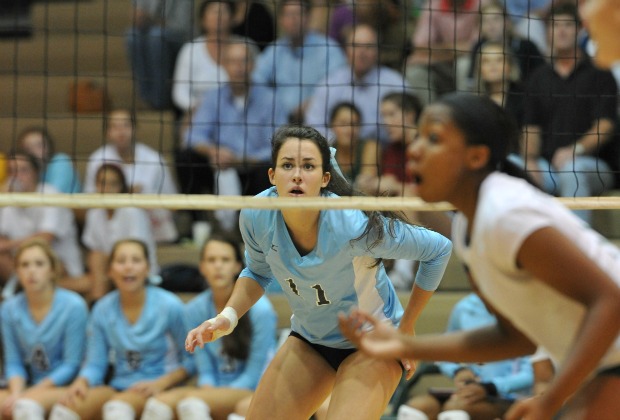 Perry McIntyre
Johns Creek moved from No. 6 to No. 3 in the Class AAAAAA rankings after a 25-20, 25-20 win over previously No. 3-ranked North Cobb, and continued to make its case for state title contention in Class AAAAAA Tuesday when the Gladiators beat Walton 3-1 (18-25, 25-20, 25-19, 25-22). The Gladiators' Annika Olsen recorded 20 kills and sophomore Mikaela Gauthreaux notched a dozen. Olsen also booked 16 digs, and sophomore teammate Madeline Savage finished with a team-high 18. Junior Maddi Harty had 31 assists in the match.
Hillgrove battled back from Alpharetta's 2-1 lead on Tuesday to take the next three games and the match.
In Class AAAAA, Allatoona dominated its tri-match on Tuesday by topping East Paulding (25-7, 25-9) and New Manchester (25-7, 25-6). The Buccaneers had 17 aces in the two matches with Meara Simmons leading the way at nine. After Pope won six straight matches, the Greyhounds lost six straight after facing some of the best programs in the state. Pope fell to South Forsyth, Blessed Trinity, Holy Innocents', North Cobb, Johns Creek and Lassiter before finding the win column against Walker this weekend and South Forsyth on Tuesday.
Previously unbeaten Blessed Trinity lost for the first time this weekend in a (25-23, 25-22) match with Sullivan South (Tenn.). The Titans went 9-1 against the Tennessee teams over the weekend and did not drop a set in any of the nine wins. No. 1-ranked Blessed Trinity is now 24-1 on the season and will play a difficult tri-match on Thursday with Marist and South Forsyth. St. Pius had a strong weekend and went 5-0 on Saturday with wins over Lassiter, Northview, Parkview, Peachtree Ridge and Mt. Paran. Woodward Academy topped Columbus, but fell 2-1 to Class AAAAAA Chattahoochee.
In Class AA, GAC topped Providence Christian 2-0 on Tuesday, but fell to Parkview 2-1. In Class A, Savannah Christian pulled off a five-game sweep on Saturday. The Raiders topped Glynn Academy, Camden County (twice), South Effingham and Centennial, Providence (Fla.). Mt. Paran topped McEachern, Hillgrove and Allatoona over the weekend, and edged out Gordon Lee and Darlington on Tuesday to move to 13-4 on the season.