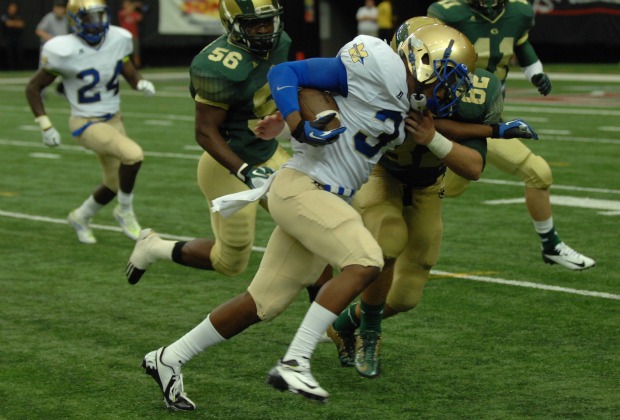 Sonny Kennedy
The Walton Raiders have experienced quite the gauntlet dating back to last season. The Raiders last faced a team with a sub-.500 record on Nov. 11 in the first round of the playoffs in Milton. Since then, Tyren Jones, Parker McLeod and the rest of the Raiders have taken on South Cobb, Dacula, Lassiter, Grayson, Brookwood and now McEachern.
Jones and McLeod lead a stout offense that relies on the legs of Jones and the play-action of McLeod. The Alabama commits helped the team go 14-1 last season, but they will be looking for a third member on the outside to help take some attention away from Jones. D.J. Smith could be that outside threat as he will likely split time between defense and offense. Brandon Kublanow is a monster up front and can push a pile around from his spot on the offensive line. "The Finisher" busted out at last year's Corky Kell Classic and he was recently named to the AJC Super 11 as well as the Score 44 preseason list. He will be joined on the line by Jake Boyton.
McEachern must replace a host of playmakers on both sides of the ball. Quarterback Trent Thompson moved on to play college football as did wide receiver Amba Etta-Tawo and kicker Nicholas St. Germain. Tray Fletcher, Kofi Amichia and Jaloni Wells are also gone from a very effective offense from last year's 10-2 season. Defensively, the Indians must replace Marsell James, Jed Nwankwoh and Darius English off the front four and Cameron Gamble out of the secondary.
Kyle Hockman has plenty of experience molding fresh talent and his skills will be put to the test early on. After opening with Grayson in the Corky Kell Classic, the Indians face another tall task in the Raiders.
"We're going to be extremely young," said Hockman. "The only experience coming back is four offensive linemen. We are going to rely on them early in the season for production and leadership."
The line is anchored by JaJuan Dulaney and Sherrod Pittman. Dulaney is headed to Maryland next year, but Pittman could be the more important of the two.
"(He) is a fireplug that we are relying on," said Hockman.
The task of replacing Thompson will fall to Ty Clemons, though Hockman admits that McEachern will use multiple quarterbacks in 2012.
Over the weekend, the Indians fell to No. 1 Grayson in the Metro PCS Corky Kell Classic. While the 31-12 defeat looks bad on paper, McEachern's players and coaches were encouraged by how they competed with what may be one of the best high school teams in the nation.
"I know this experience will help," said Indians offensive lineman Jujuan Dulaney after the Corky Kell Classic. "We just competed with one of the nation's top teams and we hung with them for a while. We're a young team, we had mistakes and they happen. I think we're going to come back better and more mature next week and we're going to get it done."
Clemons scored twice against the fearsome Rams' defense and McEachern trailed just 14-12 entering the second half, but succumbed to Grayson's unmatched experience and talent. The Indians will see how much they've improved tonight.
"That will be the key: whether we improve next week, and then whether we improve after the week after that," said Hockman after the Grayson game. "We'll know if we got better next week against a really good team in Walton. (Improvement) is what we're looking for and we'll know that on a weekly basis."
The No. 3 Raiders, meanwhile, ripped through a solid Brookwood team last week at the Corky Kell Classic to the tune of 302 rushing yards by Jones. The Alabama commitment hit paydirt five times during the game as Walton cruised to a 35-24 win that was not as close as the score may indicate.
Hidalgo is rightly proud of his stellar tailback.
"He's a great kid with great character," said Hidalgo. "His talent is almost overshadowed with how hard he works."
With Walton coming off a big win against a respected foe and McEachern rebounding from a defeat by an elite program, it will be interesting to see how the two teams play in Friday's game.