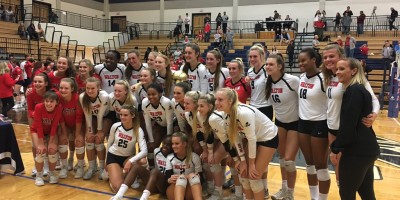 The Walton Raiders capped off another flawless season Saturday with its eighth volleyball title in nine years in the state's highest classification (Class AAAAAAA), defeating Milton in three sets (25-14, 25-15, 25-14) at Marietta High School.
Walton, along with Coosa, Pace Academy and McIntosh represent the four teams who successfully defended their state titles at matches played at Marietta and McEachern High Schools. The Raiders were perfect through the postseason, allowing zero set wins to Colquitt County, North Cobb, Lambert and North Gwinnett all the way through to their championship match. This win gives Walton their 13th volleyball title in school history.
Class AAAAAA: At Marietta, Pope went to the finals for three consecutive years in the 2009-2011 seasons, walking away with the title in each appearance. Seven seasons later, the Greyhounds once again are state champions, claiming their fourth volleyball title in school history. Pope's journey to the finals featured victories over Harrison (3-0), Apalachee (3-2), Glynn Academy (3-0) and Creekview (3-2). Allatoona came into the finals with only one allowed set point by opponents but were unable to contain the Greyhound offense as Pope defeated the Buccaneers 3-1.
Class AAAAA: Defending champs McIntosh faced off against finals opponent Starr's Mill twice during the regular season, claiming two shutout wins over the Panthers. In their much-anticipated rematch in the finals, McIntosh was able to continue their command over its rival with a 3-0 sweep at Marietta to claim the Chiefs' fourth volleyball title in school history. McIntosh's flawless run through the championship bracket included wins over New Hampstead, Locust Grove, Chamblee and Buford, all of which were held to zero sets won.
Class AAAA: The St. Pius trip to the finals featured a 3-1 victory over 2017 runner up Blessed Trinity. The one set win by the Titans was the only point given up by the Golden Lions during their postseason run to the state championship match. St. Pius claimed a 3-1 victory over finals opponent Marist during the regular season and claimed another 3-1 victory over its rivals at Marietta to take home the Golden Lions first title since 2013 and second in school history.
Class AAA: At McEachern, Westminster and Pace Academy faced off in the state finals for the third year in a row. Westminster took the first title of the series in 2016, but we unable to claim consecutive titles after losing last season to the Knights 3-2. This year, the two met twice during the regular season and split the series. Pace Academy came out strong and defeated the Wildcats 3-1 to claim its second volleyball title in school history. On their way to their championship win, the Knights accumulated four shutout wins over Lovett, North Hall, Islands and Appling County.
Class AA/A-Public: On the way to their 2017 title, the Coosa Eagles held all opponents to zero set wins. During their search for the schools second volleyball title, Coosa once again shutout all opponents heading into the championship match at McEachern. Their perfect streak was cut short after Elite Scholars claimed the first set 25-21, but the Eagles held strong to claim three straight sets (25-20, 25-21, 25-19) and take home their second straight volleyball title and the state's first ever Class AA/A-Public title.
Class AA/A-Private: Mt. Paran Christian nearly claimed its first volleyball title during a strong 2017 season but fell short after losing to Calvary Day 3-0 in the finals. In this postseason run, the Eagles defeated George Walton (3-0), Athens Academy (3-0), Holy Innocents' (3-1) and Hebron Christian (3-0) for a chance to dethrone Calvary Day and deny them their three consecutive state titles. Mt. Paran turned the tables and swept the Cavaliers 25-15, 26-24 and 25-21 at McEachern to take home its first ever volleyball state title and the state's first-ever Class AA/A-Private title.