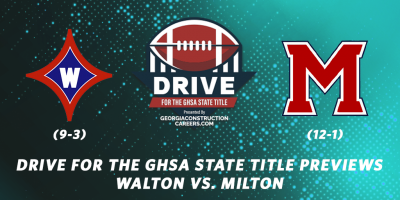 The fourteenth televised game featured in the 'Drive for the GHSA State Title' series is a semifinal blockbuster matchup between Class 7A Walton (9-3) as it travels to Milton (12-1) that will be broadcast on PeachtreeTV/CBS46 at 8 p.m. this Friday.
The programs have met 19 times – but not since 2015 when Walton won 42-9 — and Walton owns a 14-5 advantage. Milton won the first three meetings – 14-10 in 1992, 17-6 in 1993 and 26-12 in 1994. Walton then won the next 13 contests before Milton's 28-21 victory in 2013 and a 20-17 victory in 2014.
Walton's path to the semifinals went through Colquitt County 41-17, Archer 34-7 and Brookwood 52-35. Milton earned its semifinal berth by beating Duluth 45-14, Marietta 38-21 and Mill Creek 36-27.
Milton quarterback Devin Farrell is 140-of-215 passing for 1,983 yards and 24 touchdowns to lead an offense which is averaging 249 rushing yards and 162 passing yards per game. Dylan Warren is 9-of-11 passing for 88 yards and one touchdown while Jordan McDonald has passed for two touchdowns.
Debron Gatling (11 TDs), Jack Nickel (7 TDs), Adam Freas (1 TD), Brooks Bortle (3 TDs) and McDonald, Wyatt Nave and Elliott Meyer each have one touchdown reception. McDonald leads the rushing game and has 22 touchdowns and 1,382 yards on 154 carries.
The Walton offense averages 281 passing yards and 177 rushing yards per game led by quarterbacks Zak Rozsman, who is 62-of-96 passing for 1,125 yards and 10 touchdowns, and Jeremy Hecklinski is 78-of-130 passing for 1,471 yards and 13 touchdowns. Rozsman has five rushing touchdowns and Hecklinski has rushed for two touchdowns. Rozsman got injured in the Archer game and only took snaps on the first series of the Brookwood game. Hecklinski took the reins from that point and finished out the rest of the game, accounting for four passing touchdowns and a rushing score.
On the ground, Sutton Smith leads the way with 140 carries for 748 yards and 15 touchdowns. Austin Williams (2 TDs), Braylen Stokes (4 TDs), Angelo Brown Jr (5 TDs) and Bobby Johnson (1 TD) all factor in the rushing attack.