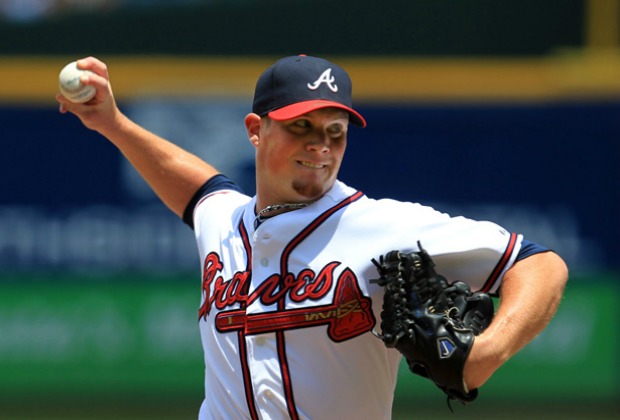 Jason Getz
A trio of Braves could take part in the 2013 World Baseball Classic this March in Phoenix and Miami. Team USA manager Joe Torre has reportedly reached out to starter Kris Medlen and closer Craig Kimbrel after both compiled incredible 2012 seasons. While the rosters will be announced later this month, it is a strong bet that both could be wearing the red, white and blue of Team USA. Freddie Freeman could also see action in the World Baseball Classic as part of Team Canada as both of Free- man's parents were born in Canada. According to the Braves' team website, Jason Heyward declined an invitation from Team USA.
Should Medlen and Kimbrel make the final roster, the team opens up practice in Phoenix March 4 before first-round play takes place March 7-10. Second-round play takes place in Miami March 12-16. The semifinals and finals would take place March 17-19 in San Francisco.
The timing would allow Medlen and Kimbrel to be with the Braves for the team's first nine spring training games in Florida before heading out to Phoenix.
Medlen and Kimbrel would see a few famous Braves alumni in Phoenix as Dale Murphy will serve as the first base coach for Team USA and former Cy Young award winner Greg Maddux will be the team's pitching coach.
BOURN AGAIN?
During a recent interview with SiriusXM radio, Braves GM Frank Wren acknowledged that the team could still bring back free agent Michael Bourn, who turned down a one-year qualifying offer of $13.3M earlier in the offseason to seek out a multi-year deal. Bourn has quickly seen his options dwindle and could return to the Braves on a short deal. Bourn, 30, hit .274 last year with the Braves. Atlanta moved quickly after Bourn turned down the deal, signing 28-year-old B.J. Upton to a five-year deal to play center field. If Bourn re-signs with Atlanta, the team would have to decide who would move to left field as Martin Prado would be moved to third base. Should the team bring Bourn back, it would lose the MLB compensation round pick as Bourn was a qualifying free agent.
ON THE ROAD …
The Braves Country Caravan hits the road Jan. 22 across Georgia, South Carolina, Tennessee and Alabama before wrapping up Feb. 2. The tour schedule can be found at atlantabraves.com