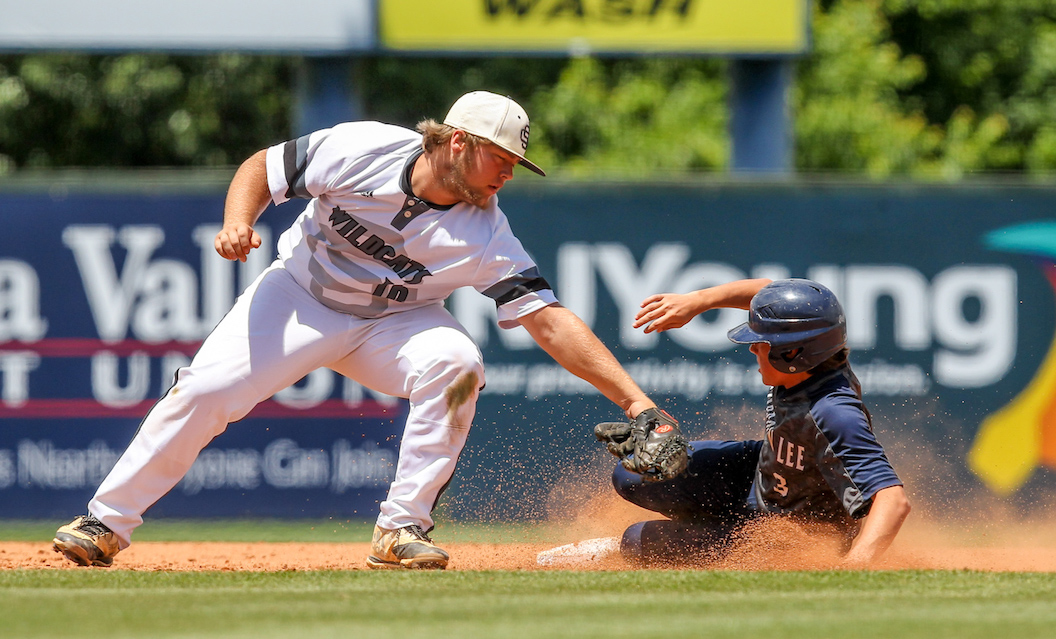 At 10-2, defending state champion Parkview sits at No. 1 in Class AAAAAAA. Walton comes in at No. 2 at 7-4-1, and beats out No. 3 Hillgrove, despite the Hawks defeating Walton 7-6 on March 3. Hillgrove would've gotten the edge, but back-to-back one-run losses (4-3 to Kennesaw Mountain, 2-1 to Harrison) impacted its placement. North Gwinnett (9-3) and Etowah (10-2) round out the top 5.
In Class AAAAAA, Winder-Barrow is No. 1 with an 8-3 record—all three losses have occurred outside of the classification. Alpharetta defeated defending state champion Pope 3-2 in eight innings and is No. 2 with a 7-2 record. Pope comes in at No. 5 after an 8-6 loss to North Atlanta on March 12 and Harrison and Valdosta edge the Greyhounds in the top 5.
Buford sits at the top of class AAAAA, following directly by the 2018 champions Loganville. The Red Devils' recent 3-2 loss to the Wolves keeps them from claiming the top spot for now. 2018 semifinalist Starr's Mill sits at the five spot with only two losses on the season and a perfect region record of 6-0. The Carrollton Trojans got off to a hot start with a six-game winning streak before dropping their first loss of the season to Northgate. They sit at the four-spot with two upcoming games against Kell.
Blessed Trinity fell 8-2 to Cartersville in February, but defeated the Canes 2-0 on March 8, and hold Class AAAA's top slot. Cartersville sits at No. 2 and Northwest Whitfield is No. 5. Third-ranked Marist and fourth-ranked Flowery Branch join Blessed Trinity to crowd the top 5 with three teams out of a loaded Region 7-AAAA. Northwest Whitfield is 8-2 and both of its losses came to Ringgold. Woodward Academy is No. 6 with a 4-5 record, but all five losses have come outside the classification. No. 7 Stephens County is 7-4-1, and like Woodward Academy, the Indians are yet to drop a game to an in-class opponent. The program did, however, fall 2-1 in nine innings to reigning state champion Jefferson this week, but Jefferson was reclassified to AAA this season. No. 8 West Laurens defeated East Laurens 11-0 to extend its win-streak to four games and is 9-3. Cairo is No. 9 at 7-2 and Northside-Columbus rounds out the top 10 with its 11-4 start.
Class AAA newcomer and top-ranked Jefferson is the team to beat with a flawless 9-0, 3-0 record. The Dragons are coming off a 2-1 victory on the road at Stephens County in a 9-inning affair. On March 7, they beat Monroe Area twice, 10-5 and 12-0. Lovett, the defending champions, are ahead of the state runner-up Westminster Wildcats. Redan is fourth with Morgan County rounding out the top-5.
With two wins over Callaway on the season, Bremen sits one spot ahead of the Cavaliers at the top of the class. After a stop into the 2018 class AA semifinals, Jeff Davis this season sits at the seven-spot. With one loss on the season, served by Appling County, the Yellowjackets await a matchup against Tift County as they look to continue their stellar start to the season. Model ended their 2018 season with a 12-1 loss to Chattooga and no playoff appearance. Now, they sit at the ten-spot with a chance to defeat Cedartown and Chattooga over the next three days. This pair of high caliber wins would surely place the team higher than their current rank.
Schley County has accumulated six shutouts on their way to the top of the class. They'll have plenty of opportunity to hold onto their spot leading up to their March 20th game against fourth-ranked Johnson County. With just one loss on the season to Glenwood of Alabama, Baconton has put together five wins with 10 or more runs. They sit just two spots ahead of Telfair County, the team that knocked Baconton out of the 2018 quarterfinals. Following two losses to start the season, Telfair County put together an 8-game win streak before falling to sixth-ranked Clinch County by just one run.
With a perfect 11-0 record on the season, the 2018 Class A-Private champions Tattnall Square reclaim their spot at the top of the class. The fourth-ranked Mt. Vernon Mustangs also boast a flawless record, outscoring opponents 59-10 over their first seven games. A 7-3 loss to Wesleyan keeps Holy Innocents' at the eight-spot, but an upcoming game against Strong Rock Christian gives the Golden Bears a chance to grab a strong win and advance in the rankings.
Class AAAAAAA
1. Parkview
2. Walton
3. Hillgrove
4. North Gwinnett
5. Etowah
6. South Forsyth
7. Kennesaw Mountain
8. Mountain View
9. North Paulding
10. North Cobb
Class AAAAAA
1. Winder-Barrow
2. Alpharetta
3. Harrison
4. Valdosta
5. Pope
6. Allatoona
7. Greenbrier
8. Heritage-Conyers
9. Stephenson
10. Houston County
Class AAAAA
1) Buford
2) Loganville
3) Locust Grove
4) Carrollton
5) Starr's Mill
6) Whitewater
7) Ola
8) Riverwood
9) Decatur
10) McIntosh
Class AAAA
1. Blessed Trinity
2. Cartersville
3. Marist
4. Flowery Branch
5. Northwest Whitfield
6. Woodward Academy
7. Stephens County
8. West Laurens
9. Cairo
10. Northside-Columbus
Class AAA
1. Jefferson
2. Lovett
3. Westminster
4. Redan
5. Morgan County
6. Ringgold
7. Pike County
8. Calhoun
9. Appling County
10. Pace Academy
Class AA
1) Bremen
2) Callaway
3) Elbert County
4) Rockmart
5) Thomasville
6) Harlem
7) Jeff Davis
8) Toombs County
9) Heard County
10) Model
Class A-Public
1) Schley County
2) Gordon Lee
3) Baconton
4) Johnson County
5) Telfair County
6) Clinch County
7) Charlton County
8) Commerce
9) Irwin County
10)Emanuel County Institute
Class A-Private
1) Tattnall Square
2) Savannah Christian
3) Fellowship Christian
4) Mt. Vernon Presbyterian
5) Wesleyan
6) Strong Rock Christian
7) George Walton
8) Holy Innocents'
9) Hebron Christian
10) First Presbyterian Day