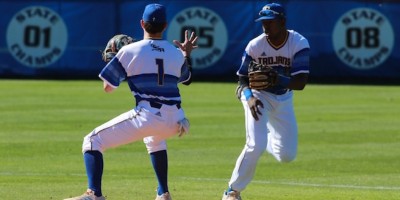 In Class AAAAAAA, 2-time defending state champion opens at No. 1. The Panthers (3-1) dropped a 2-1 loss to No. 2 North Gwinnett, but then followed it with a three-game winning streak that featured a combined 40-1 scoring advantage. North Gwinnett is also 3-1 after falling 2-1 to Flowery Branch. Brookwood, Mill Creek and Walton round out the top 5.
Houston County, Allatoona, Winder-Barrow, Pope and Greenbrier stack the top 5 in Class AAAAAAA and Buford comes in at No. 1 in Class AAAAA ahead of 3-time defending state champion Loganville, which fell 6-1 to Parkview.
In Class AAAA, No. 1 Blessed Trinity is getting set to host No. 2 ranked Loganville on the road this Friday in a highly-anticipated showdown. Undefeated Flowery Branch (6-0) comes in at No. 2 in Class AAAA and defending state champion Northside-Columbus opens at No. 3.
Westminster is No. 1 in Class AAA with North Hall at No. 2. The Trojans have picked up six-straight victories after falling short in their opener and will host Pace Academy Tuesday night.
Class AA's top team is Rockmart with defending state champion Jeff Davis coming in at No. 2. Two-time defending state champion Gordon Lee gets the nod for No. 1 in Class A-Public and Wesleyan starts off as Class A-Private's top team ahead of two-time defending state champion and second-ranked Tattnall Square.
Class AAAAAAA
1. Parkview
2. North Gwinnett
3. Brookwood
4. Mill Creek
5. Walton
6. North Paulding
7. Woodstock
8. Mountain View
9. West Forsyth
10. Hillgrove
Class AAAAAA
1. Houston County
2. Allatoona
3. Winder-Barrow
4. Pope
5. Greenbrier
6. Coffee
7. Glynn Academy
8. Lee County
9. Harrison
10. Cambridge
Class AAAAA
1. Buford
2. Loganville
3. Carrollton
4. Locust Grove
5. Decatur
6. Ola
7. Harris County
8. Whitewater
9. Starr's Mill
10. East Paulding
Class AAAA
1. Blessed Trinity
2. Northside-Columbus
3. Flowery Branch
4. Denmark
5. Marist
6. North Oconee
7. West Laurens
8. Cairo
9. LaGrange
10. Woodward Academy
Class AAA
1. Westminster
2. North Hall
3. Calhoun
4. Lovett
5. North Hall
6. Monroe Area
7. Redan
8. Benedictine
9. Dawson County
10. Worth County
Class AA
1. Rockmart
2. Jeff Davis
3. Vidalia
4. Bacon County
5. Thomasville
6. Bleckley County
7. Elbert County
8. Westside-Augusta
9. Bremen
10. Callaway
Class A-Private
1. Wesleyan
2. Tattnall Square
3. Hebron Christian
4. Savannah Christian
5. Fellowship Christian
6. Mt. Vernon
7. Mount de Sales
8. First Presbyterian Day
9. Pinecrest Academy
10. Strong Rock Christian
Class A-Public
1. Gordon Lee
2. Schley County
3. Johnson County
4. Wilcox County
5. Telfair County
6. Commerce
7. Clinch County
8. ACE Charter
9. Pelham
10. Marion County