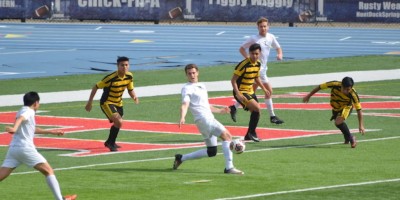 Lambert opens the 2021 soccer season leading the state's highest classification entering a much-awaited season after last year's campaign was cut short due to the coronavirus pandemic. The Longhorns won the 2019 state championship, defending their 2018 title, however the senior Longhorns were not able to try for a third-straight title in 2020.
Brookwood enters the season at No. 2 ahead of Peachtree Ridge, Hillgrove and South Forsyth in the top 5. Mill Creek is sixth ahead of Alpharetta, Pebblebrook, Dunwoody and Harrison.
In Class 6A, Dalton, the 2019 state champion, opens the year at the top of the class leading Rome, Central Gwinnett, Sequoyah and Lassiter in the top 5. Dalton is 5-0-1 on the season after a 1-1 draw against 4A No. 1 Southeast Whitfield Friday. McIntosh has won two of the past three state titles in Class 5A (2017, 2019) and enters the year at the top of the poll. Starr's Mill, McIntosh's crosstown-rival, debuts at No. 2. Cross keys, St. Pius X and Woodward Academy fill the top 5.
Southeast Whitfield leads Class 4A ahead of Marist, Flowery Branch, Columbus and Chestatee. In Class 3A, Westminster – the three-time defending champions – open at the top of the class. Pike County, West Hall, Oconee County and Coahulla Creek fill the top 5 in 3A.
Bremen tops Class 2A at 3-1 with victories over South Paulding (7-0), Chapel Hill (4-0) and North Paulding (5-2). Putnam County, Thomasville, Pace Academy and Gordon Central round out the top 5.
Georgia Military tops Class A Public and after a state championship in 2019, the Bulldogs are back for the program's second state title. Drew Charter, Lake Oconee Academy, ACE Charter and Armuchee fill the top 5. In Class A Private, Atlanta International leads the pack with St. Anne Pacelli, Athens Academy, Savannah Christian and Paideia chasing.
Class 7A
1. Lambert
2. Brookwood
3. Peachtree Ridge
4. Hillgrove
5. South Forsyth
6. Mill Creek
7. Alpharetta
8. Pebblebrook
9. Dunwoody
10.  Harrison
Class 6A
1. Dalton
2. Rome
3. Central Gwinnett
4. Sequoyah
5. Lassiter
6. River Ridge
7. Tucker
8. Kennesaw Mountain
9. Johns Creek
10.  Carrollton
Class 5A
1. McIntosh
2. Starr's Mill
3. Cross Keys
4. St. Pius X
5. Woodward Academy
6. Clarke Central
7. North Springs
8. Johnson-Gainesville
9. Veterans
10. Blessed Trinity
Class 4A
1. Southeast Whitfield
2. Marist
3. Flowery Branch
4. Columbus
5. Chestatee
6. Benedictine
7. Jefferson
8. Northwest Whitfield
9. East Hall
10. Druid Hills
Class 3A
1. Westminster
2. Pike County
3. West Hall
4. Oconee County
5. Coahulla Creek
6. Richmond Academy
7. North Murray
8. White County
9. Mary Persons
10. Greater Atlanta Christian
Class 2A 
1. Bremen
2. Putnam County
3. Thomasville
4. Pace Academy
5. Gordon Central
6. Jeff Davis
7. Lovett
8. Fitzgerald
9. Model
10. Toombs County
Class A Public
1. Georgia Military
2. Drew Charter
3. Lake Oconee Academy
4. ACE Charter
5. Armuchee
6. Towns County
7. Trion
8. Mount Zion-Carroll
9. Atkinson County
10. Social Circle
Class A Private
1. Atlanta International
2. St. Anne Pacelli
3. Athens Academy
4. Savannah Christian
5. Paideia
6. Landmark Christian
7. King's Ridge
8. Whitefield Academy
9. Holy Innocents'
10. Wesleyan