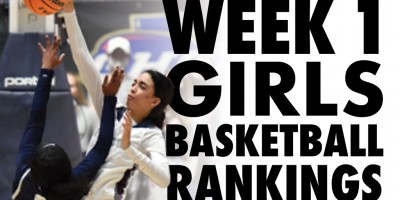 Very few changes happened from the preseason rankings to the Week 1 poll leading up to the Thanksgiving tournaments next week. In Class 7A, Brookwood tops the poll and leads Norcross, South Forsyth, Archer and Buford.
In Class 6A, Lovejoy leads the pack ahead of River Ridge, Forest Park, Rockdale County and Brunswick. Warner Robins is at the top of Class 5A with Northside-Columbus, Hiram, Kell and Greenbrier chasing. In Class 4A, Griffin leads Luella, Holy Innocents', Baldwin and Stockbridge in the top 5.
Lumpkin County tops Class 3A and leads Hebron Christian, Wesleyan, Lakeview-Fort Oglethorpe and Carver-Columbus. In Class 2A, Central-Macon leads ahead of Josey, Mount Paran, Landmark Christian and Laney.
Elbert County tops Class A Division I with Galloway, St. Francis, Rabun County and Swainsboro in the top 5. In Division II, Taylor County leads Lake Oconee Academy, Schley County, Clinch County and Turner County in the top 5.
Class 7A
1. Brookwood
2. Norcross
3. South Forsyth
4. Archer
5. Buford
6. Carrollton
7. Cherokee
8. Peachtree Ridge
9. Lowndes
10. Hillgrove
Class 6A
1. Lovejoy
2. River Ridge
3. Forest Park
4. Rockdale County
5. Brunswick
6. North Forsyth
7. Woodstock
8. New Manchester
9. Hughes
10. Woodward Academy
Class 5A
1. Warner Robins
2. Northside-Columbus
3. Hiram
4. Kell
5. Greenbrier
6. Bradwell Institute
7. Arabia Mountain
8. Jackson-Atlanta
9. Union Grove
10. Greater Atlanta Christian
Class 4A
1. Griffin
2. Luella
3. Holy Innocents'
4. Baldwin
5. Stockbridge
6. Westminster
7. Chestatee
8. East Forsyth
9. Trinity Christian
10.  Southwest DeKalb
Class 3A
1. Lumpkin County
2. Hebron Christian
3. Wesleyan
4. Lakeview-Fort Oglethorpe
5. Carver-Columbus
6. Pickens
7. Cross Creek
8. Monroe
9. White County
10.  Oconee County
Class 2A
1. Central-Macon
2. Josey
3. Mount Paran
4. Landmark Christian
5. Laney
6. Fannin County
7. Banks County
8. Murray County
9. Northeast-Macon
10.  Dodge County
Class A Division I
1. Elbert County
2. Galloway
3. St. Francis
4. Rabun County
5. Swainsboro
6. Woodville-Tompkins
7. Screven County
8. Heard County
9. Trion
10.  Bryan County
Class A Division II
1. Taylor County
2. Lake Oconee Academy
3. Schley County
4. Clinch County
5. Turner County
6. Charlton County
7. Montgomery County
8. Mount Zion-Carroll
9. Greenforest
10. Telfair County