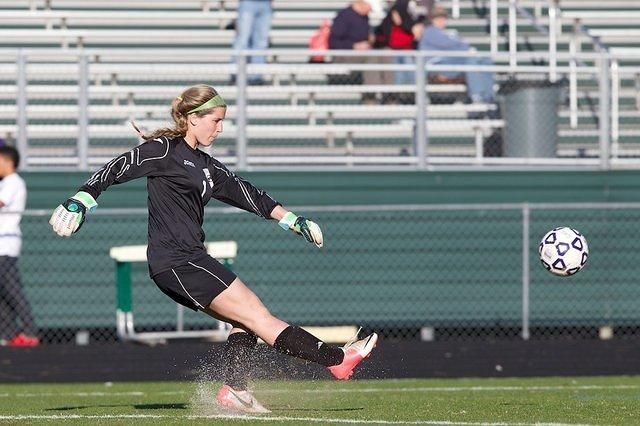 Photo by Richard Craine
In Class AAAAAA, Lambert debuts at No. 1 with its 6-0 start. The Longhorns topped Lovett 3-2 to open the regular season and have outscored opponents 17-0 since. No. 2 Lassiter owns a 24-0 scoring advantage during its 5-0 start and No. 3 Walton's only loss came in a 2-1 defeat to Class AAAA No. 2 Marist on Monday. Defending champion Grayson debuts at No. 4 and is off to a 4-1 start, with its only loss coming to St. Pius 4-0. No. 5 Pope pushed Marist to a 2-2 tie on Feb. 23 and defeated No. 7 Harrison 2-1 on Feb. 12.  South Forsyth occupies No. 6 after a flawless 4-0 start and 20-0 advantage in goals.
In Class AAAAA, defending champion and top-ranked Starr's Mill has taken advantage of an easy schedule to start the season and has outscored its first five opponents 47-0. No. 2 McIntosh improved to 4-0 with an 11-0 win over Stockbridge on Tuesday and Northgate opens the year at No. 3 with a 4-0 start. That puts three Region 4-AAAAA teams at the top of the Class AAAAA poll.
Class AAAA is capped by three-time defending state champion St. Pius and rival Marist. St. Pius (6) and Marist (4) have combined for 10 state titles since 2008, but this will be just the second year that both schools reside in Class AAAA. Region 6 neighbor Grady comes in at No. 3 and Woodward Academy sits at No. 4 after a 3-1 start.
Defending champion Westminster debuts at No. 1 in Class AAA and last year's runner-up Blessed Trinity takes the No. 2 spot, leaving a battle for No. 3. Decatur challenged Woodward Academy in a 1-0 defeat on Monday and sits at No. 3, while an 0-2 loss to a talented Forsyth Central team placed Dawson County at No. 4.
Two-time defending champion Greater Atlanta Christian edged Lovett for the top spot in Class AA. Lovett's only loss came in a 3-2 match with Class AAAAAA No. 1 Lambert on Feb. 11. Greater Atlanta Christian defeated Lambert 3-0 in a scrimmage and its only loss came in a 6-2 matchup with Class AAAA No. 1 St. Pius. Undefeated Wesleyan, Pace Academy and Holy Innocents' round out the top 5, which puts five Region 6 teams at the top of the Class AA poll.  At No. 6 is undefeated St. Vincent's Academy, which shows how talented Class AA projects to be this season.
In Class A, First Presbyterian opened its season with an 11-1 win over Jones County and takes over No. 1. Fellowship Christian debuts at No. 2 and last year's defending champion Hebron Christian takes over No. 3 after a 2-2 start. No. 4 Stratford Academy opens its season on Thursday with Deerfield-Windsor. No. 5 Savannah Christian defeated No. 8 Atlanta International 3-2 on Feb. 12 and a 0-0 tie with Dawson County on Feb. 19 gives No. 6 Athens Academy the edge over No. 7 Savannah Country Day.
Class AAAAAA
1. Lambert
2. Lassiter
3. Walton
4. Grayson
5. Pope
6. South Forsyth
7. Harrison
8. Milton
9. East Coweta
10. Collins Hill
Class AAAAA
1. Starr's Mill
2. McIntosh
3. Northgate
4. Columbus
5. Evans
6. Gainesville
7. North Atlanta
8. Lakeside-Evans
9. Rome
10. Forsyth Central
Class AAAA
1. St. Pius
2. Marist
3. Grady
4. Woodward Academy
5. Buford
6. Whitewater
7. Pike County
8. Veterans
9. Chestatee
10. Cartersville
Class AAA
1. Westminster
2. Blessed Trinity
3. Decatur
4. Dawson County
5. Lumpkin County
6. Savannah Arts
7. Oconee County
8. Adairsville
9. Pierce County
10. Calhoun
Class AA
1. Lovett
2. Greater Atlanta Christian
3. Wesleyan
4. Pace Academy
5. St. Vincent's
6. Holy Innocents'
7. East Laurens
8. Long County
9. Fitzgerald
10. Union County
Class A
1. First Presbyterian Day
2. Fellowship Christian
3. Hebron Christian
4. Stratford Academy
5. Savannah Christian
6. Athens Academy
7. Savannah Country Day
8. Atlanta International
9. Paideia
10. Aquinas