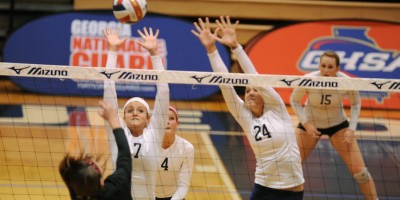 The first rankings of the 2020 Volleyball season are heavily shaped by the results of this past season and account for the massive changes to the landscape that resulted from the GHSA's reclassification and region realignments. Of the 70 schools that appeared the final rankings this past season, a total of 19 find themselves in new classifications heading into this season. Not surprisingly, the Walton Raiders are the No. 1 team in Class 7A. The program picked up its 14th all-time state title this past season with a sweep over rival Lassiter—which will now be competing in Class 6A. Etowah, which made a run to the 7A semifinals this past season, debuts at No. 5. The Eagles will be looking to replace the production of reigning Gatorade Player of the Year Savannah Bray, who broke the state's all-time record for career kills with 2,304 before taking her talents to Army West Point. Georgia's top classification was also impacted by the arrival of powerhouses Harrison and Alpharetta from their previous spots in Class 6A. Mill Creek, which closed out last season at No. 5 will debut at No. 7 following a 25-17, 25-11 season-opening loss to Class AA/A-Private No. 1 Hebron Christian this Tuesday.
In Class 6A, defending champion Allatoona tops the poll with Lassiter, Sequoyah, Pope and Kennesaw Mountain rounding out the top 5. Like Lassiter, Kennesaw Mountain arrives to the classification after previously competing in Class 7A. Buford debuts at No. 6 and joins the classification after a successful run in Class 5A.
McIntosh, Blessed Trinity, Starr's Mill, Whitewater and St. Pius lead the top 5 in Class 5A and Marist returns at No. 1 in Class 4A. Marist will likely benefit from the departure of powerhouses Blessed Trinity, St. Pius, Northside-Columbus, Sandy Creek and Woodward Academy from the classification.
In Class 3A, Westminster tops the polls with Sandy Creek coming in at No. 2 and Greater Atlanta Christian sitting at No. 3. Three-time defending Class 3A state champion Pace Academy is now in Class AA/A-Private and makes its debut at No. 1 ahead of defending state champion Hebron Christian. Additionally, three-time defending champion Coosa tops the Class AA/A-Public poll.
It is worth noting that the season and schedule has already experienced interferences due to the ongoing COVID pandemic. Today, it was announced that all 10 member high schools of the Savannah Chatham County School District would be delaying the start of their seasons until Sept. 1. As of now, Thursday, Aug. 13 marks the first significant day of games on the statewide schedule and next week's polls will reflect the results from this first wave of matches.
Class AAAAAAA
1. Walton
2. Alpharetta
3. Harrison
4. Roswell
5. Etowah
6. Lambert
7. Mill Creek
8. Cherokee
9. Norcross
10. Brookwood
Class AAAAAA
1. Allatoona
2. Lassiter
3. Sequoyah
4. Pope
5. Kennesaw Mountain
6. Buford
7. Riverwood
8. Lakeside-Evans
9. Riverwood
10. Carrollton
Class AAAAA
1. McIntosh
2. Blessed Trinity
3. Starr's Mill
4. Whitewater
5. St. Pius
6. Chamblee
7. Calhoun
8. Locust Grove
9. Northside-Columbus
10. Woodward Academy
Class AAAA
1. Marist
2. Northwest Whitfield
3. Jefferson
4. Columbus
5. Heritage-Catoosa
6. Luella
7. Fayette County
8. Islands
9. Central-Carroll
10. Hardaway
Class AAA
1. Westminster
2. Sandy Creek
3. Greater Atlanta Christian
4. LaFayette
5. North Hall
6. Morgan County
7. Dawson County
8. Ringgold
9. Cherokee Bluff
10. White County
Class AA/A-Private
1. Pace Academy
2. Hebron Christian
3. Holy Innocents'
4. Walker
5. Mt. Paran
6. Savannah Christian
7. ELCA
8. Trinity Christian
9. Wesleyan
10. Athens Academy
Class AA/A-Public
1. Coosa
2. Elite Scholars Academy
3. Woodville Thompkins
4. Gordon Lee
5. Pepperell
6. Rabun County
7. Armuchee
8. Model
9. Dade County
10. Union County