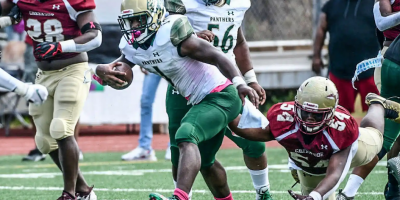 West Forsyth came away with a narrow 14-7 road win over Gainesville in a Region 6 matchup defined by defensive stands, leaving the Wolverines and Red Elephants with identical records at 3-1 in region play and 5-3 on the year. The West Forsyth defense set the tone for the night on Gainesville's opening drive with a stop on 4th-and-short, then forced a three-and-out following a missed Wolverine field goal. West Forsyth's offense had better luck on the last drive of the opening frame, taking a 7-0 lead on sophomore quarterback Keegan Stover's pass to Oscar Delp. Gainesville again turned the ball over on downs to start the second quarter before Naim Cheeks tied it up on the next Red Elephant possession with a rushing score. Stover quickly answered with another touchdown with less than two minutes remaining in the half, this time on a screen pass on 3rd-and-long that William Orris took 24 yards to the end zone. Gainesville nearly knotted the game again, but the 27-yarder from quarterback Gionni Williams to Lenny Chatman was called back on a holding penalty for a 14-7 Wolverine advantage that stood through the remainder of the game. Grey Brockman added an interception for the West Forsyth defense early in the fourth, and Gainesville came up with a crucial block on a Wolverine field goal at the 1:44 mark to stay within a score. The defense finished the job for West Forsyth, however, sealing the win with a final stop. The Wolverines are on the road again next week and will face a Lambert team that has lost five straight games after starting the season 4-0.
Here is the Friday Night Wrap by Todd Holcomb
Class 7A
Archer 55, Discovery 0
Archer quarterback Vashaun Stockmann added a stellar, five-touchdown performance to his breakout season, and the No. 10 ranked Tigers continued their tear through the backend of their schedule with a 55-0 region win over Discovery. The Archer offense has been unstoppable with Stockmann at the helm, outscoring the Tigers' last four opponents 222-21 with the help of an equally formidable defense. Stockmann finished the night 16-of-20 for 241 yards and a trio of touchdown passes to Frank Osorio (40 yards), DJ Moore (4 yards) and Trent Lee (9 yards), in addition to a pair of rushing scores that both came from 35 yards out. Archer also got scores on the ground from Renaldo Spivey Jr (4 yards) and DeAngelo Whitfield (8 yards), and Javier Vazquez was a perfect 6-for-6 on PATS. The Tiger defense held Discovery to 77 total yards of offense (59 rushing, 18 passing) while forcing seven three-and-outs and two turnovers — including Ethan Bowen's 33-yard pick-six that provided the final points of the night. Archer has now won five straight games after starting the season 0-3 and will look to extend the streak to six when the Tigers host the 5-3 Duluth Wildcats next week.
Colquitt County 40, Lowndes 10
Colquitt County won a Region 1 matchup between two unbeatens by handling Lowndes at home behind three total touchdowns from quarterback Xavier Williams. Lowndes led 3-0 after a 37-yard field goal by Preston Hart in the first quarter, but the Packers dominated from there as Williams passed for a 9-yard touchdown in the first quarter, rushed for a 10-yard touchdown in the second and threw for a 23-yard score in the third to put Colquitt County ahead 31-3. The Packers then sacked Lowndes quarterback Jacurri Brown in the end zone for a safety to take a 33-3 lead in the third quarter before Lowndes scored its lone touchdown on a 10-yard rush by Brown in the fourth. Colquitt County also got an interception for a touchdown by Jaheim Ward, a 70-yard touchdown run by Charlie Pace and a 34-yard field goal by Emmanuel Perez.
East Coweta 45, Campbell 14
Quarterback Daniel Shoch threw four touchdown passes to Amariyon Moss to lead No. 6 East Coweta past visiting Campbell. Jayden Bolton rushed for two touchdowns and Ethan McCawley threw a 67-yard touchdown pass to Bryson Foley that gave the Indians a 45-6 lead.
Collins Hill 42, Mountain View 7
Sam Horn threw three touchdowns and Spenser Anderson rushed for two scores and caught a touchdown for visiting Collins Hill against Region 8 opponent Mountain View. Horn's touchdown passes went to Anderson, Clint Gilbert and Travis Hunter, who threw a touchdown of his own to Sean Norris.
Mill Creek 31, Newton 0
Mill Creek jumped out to a 17-0 lead in the first quarter and a 24-0 halftime lead in its home non-region win over Newton. The Hawks got a touchdown pass from Hayden Clark to Christian McIntyre for 21 yards, an interception return for a touchdown from Caleb Downs and a 29-yard Brock Pellegrino field goal to take a 17-0 lead with 31 seconds remaining in the first quarter. Joshua Battle rushed for a 17-yard touchdown in the second quarter to give Mill Creek a 24-0 halftime lead, and Donovan Journey rushed for a score with 5:25 remaining in the fourth quarter.
Norcross 56, Duluth 0
Norcross quarterback Mason Kaplan threw two touchdown passes and Jahni Clarke and Kaleb Jackson rushed for a pair of scores apiece in the Blue Devils' home Region 7 win. Kaplan found D'Andre Golden for a 14-yard touchdown in the first quarter and Nakai Poole for a 68-yard touchdown in the third. Clarke rushed for touchdowns of 12 and 1 yards, and Jackson had rushing scores of 9 and 6 yards for Norcross, which also got a 2-yard rushing TD from Michael Porter in the first quarter.
Lambert 43, Forsyth Central 42
Lambert trailed 35-21 after three quarters before outscoring Forsyth Central 22-7 in the final frame to come away with the win. Ashton Smith found Braden Bamburowski in the end zone to start the fourth and bring the Longhorns within a touchdown before Noah Choal responded with a rushing score for Forsyth Central to expand the lead to 42-28. Lambert's James Tyre then proceeded to take over the game for the Longhorns with a rushing score and a touchdown pass to Brandon Jones to bring the score to 42-41. Tyre connected with Smith for the two-point conversion to give Lambert its first lead of the night with 2:12 left to play, and Tre Drewery intercepted a pass in the end zone on the following possession to seal the Lambert win.
Harrison 51, Marietta 28
James Ziglor III rushed for touchdowns of 38, 13, 3 and 1 yards in the Region 3 matchup between reigning state champions (Harrison's 2019 title came in Class 6A) to lead the Hoyas to a 51-28 win over Marietta. Ziglor also threw a 51-yard touchdown pass to Marques Owens on a halfback pass. Marcus Bleazard rushed for a 7-yard touchdown and Tripp Richardson added a 73-yard score for the Hoyas, who also got points on a safety with a sack in the end zone. Harrison led 21-7 at halftime.
North Cobb 39, Hillgrove 14
North Cobb quarterback Malachi Singleton threw two touchdown passes and rushed for a score in North Cobb's Region 3 win on the road. Singleton completed touchdown passes to Christian Moss for 80 yards and Xavier Clark for 15 yards and rushed for a 3-yard score. The North Cobb defense intercepted Hillgrove four times; Montrel Jenkins had two picks — one of which he returned for a touchdown — and Darius Pace had a pair as well. Zarrian Cook also had a 20-yard touchdown run and Ben Moran made a 32-yard field goal for the Warriors, who led 21-14 at the break before outscoring Hillgrove 18-0 in the second half.
Denmark 36, South Forsyth 22
Amon Williams had three touchdowns in Denmark's 36-22 win over South Forsyth, including two in the second half that helped the Danes pull away following a narrow 15-14 lead at halftime. Azari Brown also had a score, and Kenon Dicks hauled in a key interception during the second-half momentum grab. Denmark remains undefeated in region play and can clinch the Region 7 title with a win over Gainesville next week.
Parkview 28, South Gwinnett 21 (OT)
South Gwinnett gave Parkview a scare, but the Panthers escaped with a 28-21 victory in overtime. The Panthers took a 21-7 lead into the break with three straight scores, including two from Tyler Curtis. The Comets notched a safety as Elijah Johnson tackled Colin Houck in the end zone before a 6-yard touchdown run by Khoreem Miller and Nigel Hussey's scoring strike to Rion White from 29 yards out — each followed by an unsuccessful PAT attempt — knotted the game. Bryce Fleetwood's 13-yard TD reception in overtime gave Parkview the win and a 2-1 record in Region 8 play.
Cherokee 28, Alpharetta 14
Cherokee jumped out to a 14-0 first-half lead before Alpharetta tied it up with scores in the second and third quarters. Running back Keith Adams Jr. responded with a 32-yard touchdown run for the Warriors near the end of the third, then sealed the win on a 42-yard run with just over two minutes remaining.
Newnan 31, Pebblebrook 28
No. 8 ranked Newnan trailed 28-24 heading into the fourth quarter before quarterback Michael Maginnis connected with Nick Owens on a 34-yard touchdown to lift the host Cougars to victory. Maginnis also threw a 59-yard touchdown to Reid Brass that put Newnan up 21-7 before Pebblebrook rallied with a 21-0 scoring burst. Newnan's other touchdowns came on runs by Bryson Moss and Aubrey Carter.
Class 6A
Glynn Academy 7, Richmond Hill 5
Glynn Academy preserved its 7-5 halftime lead in order to topple No. 5 ranked Richmond Hill. The visiting Wildcats took a 2-0 lead off a blocked punt that rolled out of the end zone for a safety, but Glynn Academy responded with a 38-yard TJ Lewis touchdown run to put the Terrors up 7-2. Richmond Hill cut into the lead with a 31-yard field goal before the half.
Johns Creek 35, Centennial 10
Johns Creek running back Dylan Parr scored first-half rushing touchdowns of 1, 12, and 70 yards to give the Gladiators a comfortable lead early on, and John Stegenga's 66-yard pick-six brought the score to 28-3 at halftime. Tank Pritchett's 3-yard touchdown run late in the third quarter ultimately sealed the Veterans Cup matchup for the Gladiators, who move to 4-3 on the season.
River Ridge 35, Sequoyah 9
Missed opportunities on both sides kept the game close in the first half, but River Ridge would ultimately pull away in the second with a well-executed offense and key plays by Knights DE Brian Bradley that included multiple sacks, a forced fumble, and several tackles for loss. Amehre Morrison entered the night as the state's second-leading rusher, and he added a pair of scores to his impressive season — including a 75-yarder late in the third quarter. Quarterback Carson Lathem threw touchdown passes to Hunter Coleman and Jackson Head, and River Ridge WR Andrew Bingham scored the game's final touchdown on a long run in the final period to help River Ridge advance to 8-0.
Rome 31, Alexander 14
The visiting Rome Wolves defeated the Alexander Cougars with a steady offensive attack throughout the night. Rome held a 28-14 halftime lead, with Reece Fountain having a hand in 21 Wolves' points. Fountain had a rushing score and touchdown passes to Shaun Nelson and  DeKaylon Daniels, and Nelson also scored on the ground in the first quarter. Alexander's only points came in the second frame off a rushing touchdown from Tyren Curd and a touchdown by Tavis Malloy off a pass from Donovan Hoskins. Fernando Lopez-Romero completed a field goal for Rome in the third.
Carrollton 35, East Paulding 7
East Paulding answered a Carrollton safety and field goal with a touchdown to take a 7-5 lead before the No. 9 ranked Trojans closed the game with 30 unanswered points. James McCauley threw a touchdown pass to Terrell Carmicheal following another safety by the Trojan defense, and Keshawn Ridley contributed 174 total yards on the ground and a pair of rushing scores. Carrollton moves to 5-0 in the region and can clinch a share of the region title next week with a win over Alexander.
Westlake 56, North Atlanta 12
Jakari Christian had two touchdowns for the Lions and No. 6 ranked Westlake received contributions from every unit in its 56-12 win over North Atlanta. Avieon Terrell returned an interception for a touchdown, and Nate Wiggins added scores on a run and a kickoff return. Westlake moves to 3-0 in Region 4 and will face Lovejoy next week, who remains undefeated ahead of Saturday's matchup with Hughes.
Class 5A
Starr's Mill 42, Whitewater 0
Starr's Mill used an unstoppable rushing attack en route to a statement win at home Friday. Devin Barnett struck first with a short touchdown run in the opening frame, and the second quarter saw a 99-yard touchdown run by Greigh Joseph and a 12-yard score from Wes Haney set up by William Yarborough's 63-yard jaunt downfield. Yarborough then capitalized on an interception by the defense with an 8-yard passing touchdown to Marc Stampley for a 28-0 lead as the half expired. Yarborough opened the second half with a 39-yard touchdown, and Dorsey Benefield's 31-yard trip to the end zone capped the scoring late in the third.
Calhoun 44, Cass 14
The visiting Calhoun Yellow Jackets stormed to a 44-0 halftime in a comfortable victory over the Cass Colonels. Christian Lewis threw touchdown passes to Cole Speer and Quin Smith, and the QB added a rushing score as well. Jerrian Hames had two touchdowns, Carlos Orozco completed a field goal, and Christopher Lewis scored off a pick-six. The first Cass touchdown of the night came late in the third quarter off a pass from Devin Henderson to Jayden Avalos, and Josh Varnum added a touchdown for Cass in the final frame.
Clarke Central 35, Loganville 19
No. 9 ranked Clarke Central built a 35-19 lead in the first three quarters before closing out the visiting Red Devils. Will Robinson (3) and Lucian Anderson (1) combined for four Gladiators touchdown passes and Will Richardson contributed a 68-yard touchdown run that made it 35-19.
St. Pius X 36, M.L. King 6
Mason Benefield rushed for two touchdowns and St. Pius X scored the first 36 points of the game to overwhelm visiting M.L. King. Benefield scored on a 20-yard run to make it 22-0 at halftime and then opened the third quarter with a score from four yards out. The Golden Lions also got touchdown runs from Cameron Debose and Dennis O'Shea. Debose set up his own five-yard score with a 60-yard scamper on the previous play. Big-play ability was on display from start to finish for the home team, which opened the scoring in the first quarter with a 60-yard punt return for a touchdown by Jack Tchienchou.
Cartersville 47, Woodland -Cartersville 0
The Cartersville Purple Hurricanes shut out the Woodland Wildcats with well-rounded offense and suffocating defense. Cartersville held a 35-0 halftime lead after a touchdown pass from Carlos Del Rio-Wilson to Sam Philips, two rushing scores by Quante' Jennings, and two touchdowns by Amarai Orr — one of which came off a pick-six, and the other off a pass from Del Rio-Wilson. Oscar Hernandez completed a field goal in the third quarter. In the final frame, a botched Woodland punt resulted in a safety, and a touchdown by Malachi Jefferies added to the final tally.
Harris County 42, Northside-Columbus 21
Harris County exploded to a 35-0 halftime lead and cruised past the visiting Patriots to notch a key Region 2 victory. Cooper Corey threw three touchdowns and also rushed for a 23-yard touchdown in the first half and KD Hutchinson had a 59-yard rushing score to go with his 21-yard touchdown reception that gave the Tigers their 35-0 lead at the break.
Class 4A
North Oconee 31, Cedar Shoals 7
The North Oconee Titans inched closer to a showdown with Jefferson with a 31-7 win over Cedar Shoals. Bubba Chandler tossed touchdowns to Eli Washington and Khalil Barnes to jump to a quick 14-0 advantage before the Jaguars found their only points on the night on Jerdavian Colbert's scoring plunge set up by a faked punt. Dominic Elder and Chandler each had short touchdown runs in the second half. North Oconee is now 4-1 in Region 8 and will play unbeaten Jefferson next week for a chance to take the region title.
Islands 26, New Hampstead 14
Islands quarterback Jadon Adams rushed for two touchdowns and completed a 12-yard touchdown pass to John Dickerson to lead the Sharks past host New Hampstead in a battle of undefeated teams. Rodney Wade ran in a New Hampstead touchdown in the first half and then scored shortly after a blocked punt to tie the game at 14-14 with 2:57 left in the third. Adams' 18-yard touchdown run put the Sharks back up 20-14 and then Bubba Chisholm iced the game with a 95-yard interception return for a touchdown with 8:47 left.
Fayette County 19, Mt. Zion-Jonesboro 6
Fayette County's Dustin Waters threw an 18-yard touchdown pass to Josh Thomas to give the Tigers a 7-0 lead at the half. Mt. Zion-Jonesboro cut the deficit to 7-6 with a touchdown in the third quarter before Fayette County closed out the victory with 12 unanswered points. Waters added his second touchdown on a 5-yard run that pushed the lead to 13-6 with 10:44 left, and Andre Wright contributed a touchdown run before the defense forced a turnover on downs to clinch the victory.
Flowery Branch 49, Madison County 7
The Flowery Branch Falcons defended home field in a dominating win over the Madison County Red Raiders. Quarterback David Renard and Ryan Lusco connected three times for touchdowns, and Renard also had a score on the ground. Flowery Branch running backs Jaizen Ellingham, Myles Ivey and Malik Dryden added rushing touchdowns as well.
Cairo 25, Thomas County Central 13
Cairo built a 9-0 halftime lead and limited the host Yellow Jackets to just 30 total yards of offense in the first half. Kevin Speed ran in a 4-yard touchdown and Noah Jones kicked a 44-yard field goal to put the Syrupmakers up 9-0. Thomas County Central marched 80 yards for a touchdown to open the second half, but Cairo answered with a 1-yard Kevin Speed touchdown run and an 8-yard Tay Solomon rushing touchdown that made it 25-6 with 6:58 left in the final frame.
LaGrange 38, Spencer 7
LaGrange (6-3) jumped out to a 32-0 halftime lead before closing out Spencer and securing the program's first winning season since 2009. Running back Kale Gibbs ran in a pair of Grangers touchdowns and quarterback Jaylan Brown rushed for a score and found Magic Johnson through the air for a 13-yard touchdown. LaGrange also got on the board with a Trae Cole punt return touchdown and a Tyreeq Carston fumble return touchdown.
Central-Carroll 27, McDonough 0
Central-Carroll led 20-0 and held off visiting McDonough in a non-region home game. Running back Deuce Levett ran in three touchdowns and Vicarri Swain returned a punt for a touchdown with 22 seconds left in the first half. Levett's second touchdown run was set up by a Ty Brewer interception.
Class 3A
Rockmart 45, Adairsville 7
No. 7 ranked Rockmart took a commanding 31-0 lead over host Adairsville. Jai Penson and quarterback Javin Whatley rushed for touchdowns in the first half, Jose Alegria kicked a 19-yard field goal, Whatley connected with Dennis Sims for a touchdown and Terrion returned a fumble for a touchdown to put the Yellow Jackets up 31-0. Adairsville quarterback Conner Crunkleton connected with Chris Roper for a 39-yard touchdown to put the Tigers on the board. Keyshaun McCullough added a 30-yard touchdown run with 5:53 left and then a blocked field goal was returned by Dennis Sims for a touchdown with less than a minute to play to mark the final tally.
Oconee County  35, Monroe Area 16
Oconee County jumped out to a 28-0 lead in the first half of a dominant road win over Monroe Area to improve to a perfect 8-0 on the season. Quarterback Jacob Wright connected with Jake Johnson for the game's first touchdown late in the first quarter and tossed a pair of scoring strikes to Darius Johnson Jr. in the second, and Justin Coleman's interception near the end of the half led to a Whit Weeks touchdown run with 0:21 on the clock. Monroe Area managed to get 8 points off a 100-yard kickoff return and successful two-point conversion before the half expired, but a forced fumble recovery for a touchdown by Oconee County in the third quarter kept the Warriors firmly in control.
Sonoraville 42, LaFayette 38 
Host LaFayette went up 32-14 on a 5-yard Jamario Clements touchdown run midway in the third quarter before Sonoaraville rallied back with a 28-6 scoring burst. Sonoraville went on a 28-0 run before a Clements touchdown reception from Jaylon Ramsey made it 42-38 with 1:05 left and the Ramblers' unsuccessful onside kick attempt sealed the Phoenix victory.
Cherokee Bluff 28, Dawson County 27
Cherokee Bluff kept its perfect season alive with a thrilling victory over host Dawson County. Junior Jayquan Smith provided all four Bears' touchdowns—including his game-winning 78-yard rushing score that put Cherokee Bluff ahead 28-27 in the fourth quarter.
North Murray 56, Murray County 8
Dante Tidwell caught a 25-yard touchdown pass from Seth Griffin and ran for three early touchdowns to give the host Mountaineers an 28-0 lead. North Murray's Cade Petty and Jadyn Rice each finished with a pair of rushing touchdowns and Murray County's lone touchdown came on a Justice Knotts 47-yard pass to Darryl Carpenter.
White County 49, Lumpkin County 13
White County stormed out to a 35-0 lead in the first quarter and went into the half with a 49-0 lead. Junior Silas Mulligan had three touchdown runs and hauled in a 68-yard touchdown pass from J. Ben Haynes in the first quarter. Haynes also threw touchdown passes to Reece Dockery and Jimmy King and Seth Stonecypher's 2-yard touchdown run put the Warriors up 49-0.
Cedar Grove 24, Westminster 10
No. 1 ranked Cedar Grove trailed 10-9 at the half before outscoring the Wildcats 15-0 in the second half Thursday night at Buck Godfrey Stadium. Saints quarterback Austin Smith finished with 290 passing yards and three touchdowns. Westminster's lone touchdown came after a Cedar Grove turnover inside their own redzone and the Saints limited the Wildcats to just one yard on their five second-half possessions.
Class 2A
Pace Academy 42, Towers 6
MJ Morris threw four touchdown passes as Pace Academy romped to a victory over visiting Towers. The Knights put this game away quickly, leading 14-0 after one quarter and 42-0 at halftime before an uneventful second half saw nothing more than a late fourth-quarter touchdown for the Titans. Morris' first two scoring strikes went to Jayden Thomas, the second of which came on a 50-yard bomb. Jae Williams had the next two receiving touchdowns. The Lions also got rushing touchdowns by Christian Johnson and Deuce Jordan.
Lovett 35, Columbia 8
Preston Lusink threw three touchdown passess–all in the first half–as Lovett rolled to a win over visiting Columbia. Lusink connected with Stevie Bracey from 28 yards out, hit Alan Pope with a 50-yarder, and found Michael Hollingsworth in the endzone for a two-yard scoring strike. Christopher Fielden capped off the Lions' scoring with a two-yard run during the third quarter. Their unflappable defensive performance included a fumble return for a touchdown when Hollingsworth forced a fumble and then lateralled it to Wade Shepherd, who took it the rest of the way. Lovett led 13-0 after one quarter, 28-0 at halftime, and 35-0 through three. Columbia eventually got on the scoreboard thanks to a touchdown run by Royce Tolbert.
Heard County 26, Haralson County 12
Heard County built a 13-6 halftime lead before toppling No. 4 ranked Haralson County and celebrating a massive road victory over the Rebels Thursday night. Jackson Akins accounted for 12 tackles, Anthony Graley posted 11 and Skylar Thomas notched 10 tackles—giving Heard County three players with double-digit tackles in their strong showing against Harlason County's offense. The Braves offense was led by quarterback Marice Fench's three touchdown performance and running back Aston Bonner's 132 rushing yards and touchdown.
Rabun Gap 21, Union County 6
Union County's turnover woes continued Thursday against a Rabun Gap defensive effort that produced four takeaways on the night — including two directly on the heels of an interception and fumble recovery by the Panthers defense in the third quarter. The Panthers struck first with a field goal before the Eagles took the lead in the second quarter, twice converting on 3rd-and-11 en route to a 9-yard touchdown pass from Aidan Semo to Coleman Bryson. Union County added its final points of the night on another field goal, then escaped a fumble recovery by Linus Zunk for the Eagles with a defensive stand ended in a missed field goal attempt as the half came to an end. The third quarter began with an interception by Union County, a fumble by each team, and Remez Lockhart's interception for Rabun Gap that led to TD completion by Semo to Frans Saarelainen. Lockhart added another interception in the final frame, and Semo capped the scoring with a 24-yarder to Marlin Klein.
Pepperell 14, Model 7
The Pepperell Dragons earned a hard-fought 14-7 road win over the Model Blue Devils on Friday night that evened the two teams' records at 4-4 but bolstered Pepperell's shot at the No. 2 seed with an edge over Model in Region 7 play (3-1 and 2-2, respectively). The teams exchanged punts on their opening drives before the Dragons got on the board with an 11-yard touchdown run by DJ Rogers. Pepperell then blocked Model's punt on the following drive, and Trey Forcier recovered it for the Dragons deep in Blue Devil territory to set up another Rogers TD for a 14-0 lead that stood until Richmond Sims' 40-yard punt return touchdown for Model midway through the fourth. Model got the ball back at the 5:37 mark, but the comeback attempt was quashed with a fourth-down interception by the Dragons defense and a 9-play drive that ate up the final five minutes of game clock. The victory was Pepperell's fifth-straight against Model, and the Dragons will host Chattooga next Friday.
Class A Private
Wesleyan 49, Providence Christian 8
Wesleyan followed a scoreless first quarter with 28 points in the second on its way to a home win over Providence Christian. Ryan Rose rushed for two touchdowns and also threw a 36-yard scoring strike to Andrew Van Wie. JD Chipman scored three times on the ground before Andrew Cook capped off Wesleyan's onslaught with a five-yard touchdown run. Wyatt Hodges set up two of his team's first three touchdowns with a pair of picks, including one he returned 62 yards to the Providence Christian 2-yard line. The Storm finally got on the scoreboard late in the fourth quarter when Connor Jones tossed a touchdown pass to Matthew Miller.
Fellowship Christian 63, Mt. Pisgah 10
The No. 3 ranked Paladins closed out a perfect regular season on the road while matching a school record with 63 points — all of which came in the first three quarters. Murphy Reeves scored a 61-yard rushing touchdown on the first play of the game and added two more scores from 3 and 49 yards out. Quarterback Eli Hildebrandt connected with Jordan Brewer for a 50-yard touchdown and ran in a 7-yard touchdown, and Fellowship Christian also got scores on the ground from Josh Cole (45 yards), Matt Rogers (1 yard) and Lawson Haigler (5 yards). Jayven Hall added a 50-yard fumble recovery touchdown.
Class A Public
Irwin County 58, Charlton County 16
Irwin County quarterback Cody Soliday threw touchdown passes to Gabe Benyard and Malachi Hadden and also rushed for a touchdown. Benyard added a pair of rushing touchdowns and recorded a safety on the defensive side of the ball, and Kam Ward and Donovan Thomas scored on the ground as well.
Commerce 48, Social Circle 22
No. 4 ranked Commerce jumped out to a 26-0 halftime lead over the host Redskins. Trey Huff threw touchdown passes to Tyelon Brook and Shawn Cunningham and also rushed for a 7-yard touchdown. Brock also had a 5-yard touchdown run, Michael Sherman ran in two Tigers touchdowns and Sammy Brown added a 51-yard Commerce rushing score. Social Circle's Amarion Russell ran in two touchdowns and hauled in a 19-yard touchdown pass from Logan Cross and a 2-point conversion.