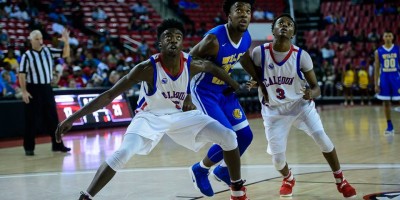 The top three of McEachern, Pebblebrook and Norcross stay the same in Class AAAAAAA, but Newton shoots up to No. 4 after wins over Class AAA Morgan County, one of the best teams in the state regardless of level, and a ranked Grayson squad. Collins Hill falls from No. 7 to No. 9 after splitting with Discovery since our last rankings.
Gainesville returns to its preseason ranking of No. 1, notching a big win against Buford. Bradwell Institute knocks off previous No. 1 Brunswick for the first time in three tries this season; Bradwell moves up one place and Brunswick falls to No. 3. Lanier stumbled against a sub-.500 Centennial team and falls from No. 7 to No. 10.
Buford swapped places with Warner Robins and took No. 1 in Class AAAAA following the Demons' 80-65 loss to Class 7A Newton. Southwest DeKalb suffered a 55-46 overtime loss to Columbia that dropped the Panthers to No. 7 and put Columbia in the poll for the first time at No. 9. Eagle's Landing jumped to No. 6 and sent Stockbridge down to No. 10 with a 62-54 victory.
In Class AAAA, No. 1 Upson-Lee (21-0) demolished Mary Persons 89-58 and cruised past West Laurens 77-50 to record its 53rd straight victory. St. Pius leads the rest of the field at No. 2, while Americus-Sumter's climbed to No. 3 with a key region victory over previous No. 5 Carver-Columbus (the Tigers dropped to No. 9.) Westover slid from No. 6 to No. 10 following a 70-54 loss to Northside-Columbus.
Despite dropping a game to Class AAAAAAA No. 3 Newton, Morgan County holds the top spot again this week. With a victory over previous No. 2 Jenkins, new No. 2 Johnson-Savannah moves up one spot in the polls to No. 2. Jenkins settles for third.
Top-ranked Glenn Hills, without two of its starting players, fell to No. 3 Laney 59-49, its first loss of the season. Previously second-ranked Thomasville dropped a game to Class A-Public Pelham, 60-59, and dropped to fifth.
After solid performances by each team in the top three of Class A-Public, their positions remain unchanged. Lanier County is the only team among the three to have a region loss. Central suffered three losses before ending their losing streak against Marion County. This allowed Woodville-Tompkins to jump to the No. 4 spot.
All remains the same in the top three spots of Class A-Private. No positions have changed, and each team remains undefeated in the region while having a winning streak of at least eight. After previously losing to Christian Heritage by one in quadruple overtime, North Cobb Christian walked away from its second meeting with a 71-52 win to advance it ahead of the previous No. 4 team.
Class AAAAAAA
1. McEachern
2. Pebblebrook
3. Norcross
4. Newton
5. Mountain View
6. Peachtree Ridge
7. Grayson
8. Meadowcreek
9. Collins Hill
10. Wheeler
Class AAAAAA
1. Gainesville
2. Langston Hughes
3. Brunswick
4. Cambridge
5. Douglas County
6. Tri-Cities
7. Bradwell Institute
8. Creekview
9. Jonesboro
10. Lanier
Class AAAAA
1. Buford
2. Warner Robins
3. Miller Grove
4. Lithonia
5. Jackson-Atlanta
6. Eagle's Landing
7. Southwest DeKalb
8. Villa Rica
9. Columbia
10. Stockbridge
Class AAAA
1. Upson-Lee
2. St. Pius
3. Americus-Sumter
4. Baldwin
5. Mary Persons
6. Salem
7. Cartersville
8. Sandy Creek
9. Carver-Columbus
10. Westover
Class AAA
1. Morgan County
2. Johnson-Savannah
3. Jenkins
4. Greater Atlanta Christian
5. Cedar Grove
6. Westside-Macon
7. Windsor Forest
8. Pace Academy
9. Towers
10. Central-Macon
Class AA
1. Glenn Hills
2. Laney
3. South Atlanta
4. Dublin
5. Thomasville
6. Chattooga
7. Swainsboro
8. Therrell
9. Washington County
10. Banks County
Class A-Public
1. Manchester
2. Calhoun County
3. Lanier County
4. Woodville-Tompkins
5. Georgia Military
6. Macon County
7. Pelham
8. Montgomery County
9. Central-Talbotton
10. Wilcox County
Class A-Private
1. St. Francis
2. Aquinas
3. Eagle's Landing Christian
4. Stratford Academy
5. North Cobb Christian
6. Christian Heritage
7. Lakeview Academy
8. Holy Innocents'
9. Prince Avenue
10. Mt. Vernon Presbyterian