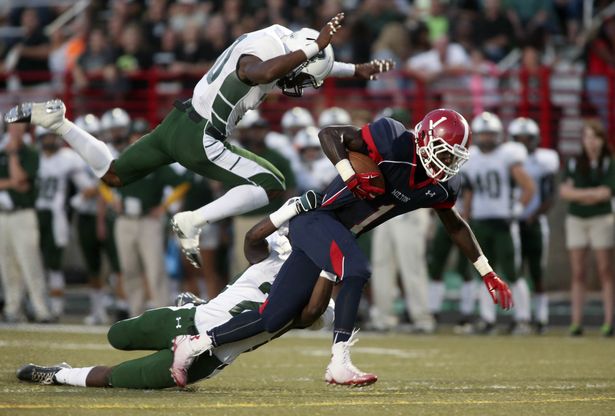 In Class AAAAAAA, No. 1 Roswell survived a 17-14 battle with a talented Etowah team, but it wasn't enough to drop the Hornets from No. 1 or introduce Etowah into the poll. However, one team did benefit from Etowah's performance. North Cobb improved to No. 8 due to its 24-20 win over Etowah and its 41-26 win over Cherokee, which also defeated Etowah. Brookwood jumped to No. 9 after battling past Parkview 24-23 in overtime.
In Class AAAAAA, Dalton held off Harrison 31-14 in their battle of unbeatens and the poll saw a noteworthy shift. Dalton climbed to No. 3 with the win and Harrison fell to No. 7. Lee County lost its second straight game to slid to No. 9.
Carrollton used a 34-14 win over Kell to move into the Class AAAAA top 3 and in Class AAAA, Stephens County replaced Ridgeland in the top 10 after defeating Oconee County 16-9.
In Class AAA, No. 2 Westminster held off No. 9 Lovett 17-10, dropping the Lions one spot. No. 3 Peach County continued its Middle Georgia dominance, scoring their third straight shutout. Over their past three games, wins over Central-Macon, Rutland and Kendrick, the Trojans have combined to outscore the opposition 135-0. Looming on the schedule on the final week of the season is No. 8 Jackson. The Red Devils will host the Trojans with a chance to shake up the region standings heading into the state playoffs.
No. 2 Fitzgerald smashed No. 10 Brooks County in AA action, 40-7. The loss drops the Trojans four spots. Brooks County's only other loss came to AAA No. 7 undefeated Crisp County 16-14. No. 3 Rabun County separated itself from the pack with a blowout 42-10 win at previously No. 9 ranked Elbert County. The Blue Devils are replaced by No. 9 Vidalia who returns to the poll at 6-2.
Class A-Private saw some major shuffling after Landmark Christian bested Wesleyan 21-17. Landmark rises from No. 4 to No. 2, jumping No. 3 Prince Avenue. The Wolves fall from No. 2 to No. 6. Tattnall Square Academy now finds itself at No. 4 with a showdown looming at No. 10 Stratford Academy.
Class A-Public was status quo as there were no upsets in the Top 10.
Class AAAAAAA
1. Roswell (8-0)
2. Mill Creek (9-0)
3. Grayson (7-1)
4. McEachern (7-1)
5. Norcross (8-0)
6. Lowndes (8-1)
7. Colquitt County (5-4)
8. North Cobb (6-2)
9. Brookwood (6-2)
10. Parkview (5-3)
Class AAAAAA
1. Valdosta (7-1)
2. Northside-Warner Robins (8-1)
3. Dalton (8-0)
4. Mays (7-1)
5. Alexander (8-0)
6. Tucker (7-1)
7. Harrison (7-1)
8. Glynn Academy (7-1)
9. Lee County (6-2)
10. Coffee (5-3)
Class AAAAA
1. Buford (7-1)
2. Stockbridge (8-0)
3. Carrollton (7-1)
4. Rome (6-2)
5. Kell (6-2)
6. Ware County (4-3)
7. Grady (7-1)
8. Arabia Mountain (7-1)
9. Woodland-Stockbridge (6-2)
10. Loganville (7-1)
Class AAAA
1. Cartersville (9-0)
2. Thomson (8-0)
3. Woodward Academy (8-1)
4. Jefferson (7-1)
5. Cairo (7-1)
6. Blessed Trinity (7-2)
7. Mary Persons (6-2)
8. Burke County (7-1)
9. Stephens County (7-1)
10. Marist (5-3)
Class AAA
1. Greater Atlanta Christian (8-1)
2. Westminster (6-2)
3. Peach County (7-1)
4. Cedar Grove (6-2)
5. Liberty County (7-1)
6. Calhoun (7-2)
7. Crisp County (8-0)
8. Jackson (6-2)
9. Lovett (5-3)
10. Jenkins (6-1)
Class AA
1. Benedictine (8-0)
2. Fitzgerald (7-1)
3. Rabun County (7-0)
4. Callaway (8-0)
5. Jefferson County (8-0)
6. Pepperrell (6-1-1)
7. Screven County (7-1)
8. Washington County (6-2)
9. Vidalia (6-2)
10. Brooks County (6-2)
Class A-Private
1. Eagle's Landing Christian (8-0)
2. Landmark Christian (8-0)
3. Prince Avenue (8-0)
4. Tattnall Square Academy (8-0)
5. Fellowship Christian (8-0)
6. Wesleyan (6-2)
7. Calvary Day (6-0)
8. Athens Academy (8-0)
9. Mt. Paran (7-1)
10. Stratford Academy (6-2)
Class A-Public
1. Clinch County (7-1)
2. Emanuel County Institute (8-0)
3. Mt. Zion (8-0)
4. Manchester (8-0)
5. Twiggs County (6-2)
6. Macon County (6-2)
7. Commerce (6-2)
8. Pelham (7-1)
9. Marion County (6-2)
10. Mitchell County (7-1)