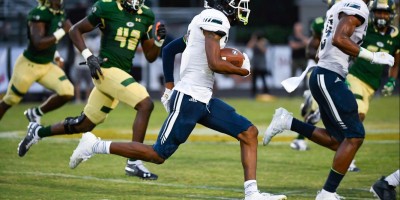 Class 7A No. 1 Grayson scored a 58-17 win over Brookwood—which was dropped out of the polls after its second-straight loss. Colquitt County's 40-10 win over Lowndes sent the Packers up to No. 2 and dropped Lowndes to No. 4 behind No. 3 Norcross. Additionally, Milton makes its debut at No. 8 after scoring a 20-14 win over Roswell—which fell to No. 10 after the loss. Also, North Cobb edged out Cherokee in the polls and comes in at No. 9.
In Class 6A Lovejoy's 20-18 loss to Hughes sent the Wildcats from No. 4 to No. 8 and allowed Hughes to make its debut in the poll at No. 7. Richmond Hill dropped out the poll after a 7-5 loss to Glynn Academy.
Class 5A did not experience any movement this week and Class 4A only saw Stephenson drop from No. 4 to No. 9 after its 23-0 loss to No. 1 Marist. The top-ranked War Eagles are now 6-0 and are only allowing 1 ppg this season—holding a 197-6 scoring advantage over its opponents this year.
In Class 3A, the teams did not shift with Cedar Grove, Oconee County, Appling County, Peach County and Crisp in the top 5. Fitzgerald took over control of Class 2A with Callaway, Rabun County, Lovett and Thomasville leading the pack.
Prince Avenue Christian tops Class A Private with Eagle's Landing Christian, Fellowship Christian, Athens Academy and Wesleyan chasing. Metter leads Class A Public ahead of Irwin County, Commerce, Brooks County and Dublin.
Class 7A
1. Grayson
2. Colquitt County
3. Norcross
4. Lowndes
5. Newnan
6. East Coweta
7. Collins Hill
8. Milton
9. North Cobb
10. Roswell
Class 6A
1. Lee County
2. Allatoona
3. Buford
4. Valdosta
5. Westlake
6. Carrollton
7. Hughes
8. Lovejoy
9. Dacula
10. River Ridge
Class 5A
1. Blessed Trinity
2. Warner Robins
3. Ware County
4. Cartersville
5. Calhoun
6. Coffee
7. Starr's Mill
8. St. Pius
9. Clarke Central
10. Ola
Class 4A
1. Marist
2. Jefferson
3. Carver-Columbus
4. Benedictine
5. Bainbridge
6. Islands
7. Flowery Branch
8. Cedartown
9. Stephenson
10. Baldwin
Class 3A
1. Cedar Grove
2. Oconee County
3. Appling County
4. Peach County
5. Crisp County
6. Rockmart
7. Greater Atlanta Christian
8. Pierce County
9. Cherokee Bluff
10. Richmond Academy
Class 2A
1. Fitzgerald
2. Callaway
3. Rabun County
4. Lovett
5. Thomasville
6. Early County
7. Fannin County
8. Jefferson County
9. Pace Academy
10. Northeast
Class A-Private
1. Prince Avenue Christian
2. Eagle's Landing Christian
3. Fellowship Christian
4. Athens Academy
5. Wesleyan
6. Christian Heritage
7. North Cobb Christian
8. Trinity Christian
9. George Walton Academy
10. Savannah Christian
Class A-Public
1. Metter
2. Irwin County
3. Commerce
4. Brooks County
5. Dublin
6. Macon County
7. Pelham
8. Washington-Wilkes
9. Chattahoochee County
10. Wilcox County