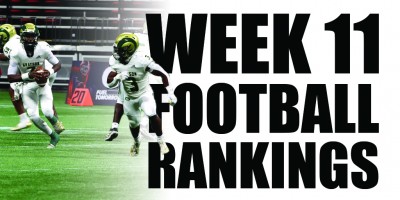 In Class 7A, Walton moved up to No. 8 after Valdosta's departure from the poll and Parkview also exited the poll after its loss to Brookwood. As a result, Milton makes its debut at No. 9 and Brookwood returns to the poll at No. 10.
The Class 6A poll did not see any shifts and the most notable result was No. 2 Thomas County Central improving to 9-0 with a 39-0 win over No. 7 Lee County. Northside-Columbus replaced Jones County at No. 10 in Class 5A and defeated McIntosh 57-14 on Friday to close out a 9-1 regular season and capture the program's first-ever region title.
In Class 4A, Stockbridge debuts at No. 10 and replaced Trinity Christian after the Lions' 50-15 loss to No. 4 Troup—which earned its first region title since 1987 with the victory.
Cedar Grove remains atop Class 3A and leads Calvary Day, Sandy Creek, Carver-Atlanta and Thomasville. Fitzgerald tops Class 2A with South Atlanta, Thomson, Appling County and Callaway chasing.
In Class A Division I, Prince Avenue remains atop the poll with Rabun County, Swainsboro, Irwin County and Brooks County in the top 5. In Class A Division II, Bowdon is the team to beat and leads Johnson County, Early County, Charlton County and Schley County in the top 5.
Class 7A
1. Buford
2. Colquitt County
3. Mill Creek
4. Carrollton
5. Grayson
6. North Cobb
7. Lambert
8. Walton
9. Milton
10. Brookwood
Class 6A
1. Hughes
2. Thomas County Central
3. Roswell
4. Gainesville
5. Rome
6. Woodward Academy
7. Marist
8. Lee County
9. Houston County
10. Northside-Warner Robins
Class 5A
1. Ware County
2. Coffee
3. Creekside
4. Cambridge
5. Cartersville
6. Calhoun
7. Jefferson
8. Warner Robins
9. Dutchtown
10. Northside-Columbus
Class 4A
1. North Oconee
2. Cedartown
3. Perry
4. Troup
5. Benedictine
6. Bainbridge
7. Burke County
8. Whitewater
9. LaGrange
10. Stockbridge
Class 3A
1.. Cedar Grove
2. Calvary Day
3. Sandy Creek
4. Carver-Atlanta
5. Thomasville
6. Stephens County
7. Peach County
8. Carver-Columbus
9. Oconee County
10. Adairsville
Class 2A
1. Fitzgerald
2. South Atlanta
3. Thomson
4. Appling County
5. Callaway
6. Pierce County
7. Worth County
8. Rockmart
9. ELCA
10. North Cobb Christian
Class A Division I
1. Prince Avenue Christian
2. Rabun County
3. Swainsboro
4. Irwin County
5. Brooks County
6. Elbert County
7. Darlington
8. Metter
9. St. Francis
10. Whitefield Academy
Class A Division II
1. Bowdon
2. Johnson County
3. Early County
4. Charlton County
5. Schley County
6. McIntosh County Academy
7. Clinch County
8. Manchester
9. Lincoln County
10. Wilcox County