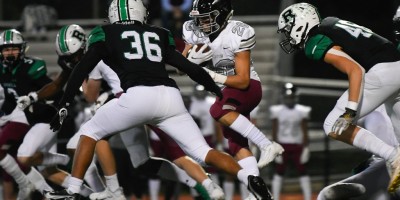 No. 8 ranked Archer blew open an 8-8 tie with three scores and two forced turnovers in the final 2:36 of the first half before coasting to a comfortable 43-8 Week 11 win at home over Region 5 rival Duluth.
The Tigers entered the matchup with a five-game win streak and a 222-21 margin of victory over their previous four opponents, bolstered by a stifling defense and the steady play of quarterback Vashaun Stockmann.
Archer jumped out to a quick 8-0 lead over the Wildcats with Schmari Campbell's 25-yard touchdown and Stockmann's keeper for the successful two-point conversion, but the Tigers offense was relatively quiet through the next twenty minutes of play. Duluth QB Lonnie Ratliff IV knotted the game on the next drive when he threw a 17-yard pass to Jaiden Jones and found Nyle Ervin for two, and the 8-8 score stood until Andrew Spearman intercepted Ratliff for a 65-yard pick-six late in the second quarter. The Tigers recovered a Duluth fumble on the ensuing kickoff to set up Jiaquez Thorpe's 40-yard rushing score with 1:39 remaining in the half, then tacked on another touchdown as the clock expired with a 68-yard HB option pass from DJ Moore to Frank Osario for a 29-8 advantage at the break.
Special teams stepped up again in the second half with Jackson McCrary's end-zone fumble recovery off a low snap on the Wildcat punt, and Chase Sellers provided the final points of the night with a 19-yard touchdown late in the third for the 43-8 final. Archer closes out its regular season with a trip to Norcross next week, where the Tigers and 9-0 Blue Devils will play for the Region 7 title.
Here is the Friday Night Wrap by Todd Holcomb.
Here is the Friday Night scoreboard.
Class 7A
Collins Hill 28, Mill Creek 17
Brookwood 29, South Gwinnett 28
Brookwood quarterback Dylan Lonergan took the field for the first time since suffering a leg injury in Week 9, overcoming a shaky start and a 28-13 fourth-quarter deficit to snap the two-game losing streak that began in his absence. Senior RB Khoreem Miller gave the Comets a quick 14-0 lead on a pair of touchdowns, with the first coming from 47 yards out, and the second following Michael Haynes' interception of Comets QB Rion White and South Gwinnett's recovery of a Brookwood fumble on back-to-back snaps. Jumal Prothro returned the ensuing kickoff into Comet territory, and Lonergan connected with Conley Davis to put Brookwood on the board. The next two Broncos drives ended in an interception and a punt, however, and Miller added to his big night with a 74-yard trip to the end zone. Brookwood responded with a fake punt on 4th-and-12 that kicker Dan Le-Hernandez took 19 yards for a fresh set of downs before sending a 32-yarder through the uprights. White connected with Corey Johnston after another Le-Hernandez field goal in the third to give South Gwinnett its final points of the night before Lonergan's 45-yarder to Stone Bonner in the fourth brought the score to 28-20. Niles Prince's apparent interception of a deflected South Gwinnett pass and return to the 5-yard line was called back — the refs determined the receiver was down prior to coughing up the ball —  but the Broncos defense forced a turnover on downs at the Brookwood 38 at the 7:02 mark. Lonergan's keeper cut the Comets lead to 28-26 (the two-point attempt was no good), and the defense forced a South Gwinnett punt to put the ball back in his hands at the Brookwood 28 with 2:18 to play. After defensive pass interference on 4th-and-9 kept the drive alive, Bonner took a screen pass from Lonergan deep into Comet territory to set up the game-winning field goal from Le-Hernandez.
Grayson 37, Newton 0
Grayson moved to 9-0 and 4-0 in Region 4 with its home win over Newton, clinching the region's No. 1 seed. The first Rams touchdown came on an 80-yard wide-receiver pass from Jamal Haynes to fellow wideout Jaden Smith, and Haynes put the Rams up 14-0 with a punt return for a touchdown shortly after. Quarterback Jake Garcia found running back Phil Mafah for a touchdown pass at the end of the first, and the Rams led 34-0 at halftime following Mumu Bin-Wahad's fumble return for a TD and a touchdown run by Joseph Taylor. Jimmy Gonzalez added a field goal in the third quarter for Grayson.
Peachtree Ridge 36, Mountain View 35
Peachtree Ridge entered the fourth quarter down 28-14 before scoring 22 unanswered points for a 36-35 comeback victory at home. Jakobe Bea had a receiving touchdown for the Lions as well as the game-winning two-point conversion, which he took from the wildcat formation in the final minute. Senior RB Brandon Cade had rushing touchdowns in the first and fourth quarters, and Nehemiah Laniyonu contributed a rushing score and a 2-point conversion in the fourth. Senior QB Nick Best scored on the ground as well, in addition to a passing touchdown earlier in the game. "We never quit and kept fighting and fighting until the very end," coach Reggie Stancil said before praising his offense's successful execution of formations they'd practiced all week and Eddie Park's onside kick that Jordan Grant recovered to complete the comeback.
Lowndes 28, Camden County 21
Lowndes quarterback Jacurri Brown threw three touchdowns and rushed for another to help the Vikings hold off visiting Camden County. Brown threw touchdowns of 81 yards and 52 yards to Dominique Marshall, with the latter giving Lowndes a 21-7 lead at the 2:37 mark of the third quarter. Camden County's Jamie Felix answered with an 8-yard touchdown run to make it a one-possession game just a minute later, but Brown pushed the lead back to two scores with a 57-yard TD run with 7:36 left to play. Brown's second touchdown pass went to Chase Belcher for 13 yards at the end of the second for a 14-7 Lowndes lead at halftime. Brown finished 11-of-20 passing for 240 yards and rushed 10 times for 110 yards, and Marshall caught five passes for 184 yards. For Camden County, Felix rushed for a game-high 113 yards on 21 carries with one touchdown.
Milton 52, Woodstock 21
No. 10 ranked Milton seized control of its road match against Woodstock with a 38-0 scoring run in the first half and a dominant, four-touchdown performance by junior running back Jordan McDonald. Woodstock struck on its opening drive before the Eagles got back-to-back touchdowns by McDonald in under a minute — one from 50 yards out and the other set up by sophomore LT Overton's sack for a fumble. A Milton field goal, rushing scores by Jack Nickel and Bryce Thornton, and a touchdown completion from Devin Farrell to Brooks Bortle capped the run before Woodstock scored again at the end of the half. McDonald, who finished the night with 169 yards on 10 carries and 1 reception for 35 yards, added another pair of touchdowns in the third.
South Forsyth 52, North Forsyth 7
South Forsyth won big against North Forsyth behind a dominant performance from Kyle Durham, who had a hand in 35 War Eagles' points. Durham had a pair of rushing scores and completed TD passes to Chris Nelson and Mitch Thompson in the first half alone, and Nelson and Devin McGlockton scored on the ground as well for a 42-7 lead at the break. Durham threw his third touchdown pass of the night to McGlockton in the third quarter, and Alex Urias completed a field goal before a scoreless final frame. North Forsyth's Brady Meitz exited the game with an injury in the second quarter.
Walton 28, Harrison 14
Walton trailed 14-7 in the first half but scored 21 straight points to pick up a road win over Harrison. Zak Roszman threw the first of his two touchdown passes to tight end Stone McKnight late in the second quarter for a 14-14 tie at the break, then found Tannor Daniels midway through the third for his second scoring strike to put the Raiders ahead by two touchdowns. A.J. Brown had an interception in the fourth quarter to help seal the win for Walton and also had a short rushing touchdown from a direct snap to put the Raiders ahead 21-14 at the 9:19 mark of the third quarter. Braylen Stokes scored Walton's first touchdown in the first quarter on a 2-yard run that was set up by a 78-yard pass from Roszman to Nate Lyons on the first play of the two-play drive.
Newnan 34, Campbell 7
Newnan dominated on both sides of the ball to stay undefeated with a road win over Campbell. Bryson Moss rushed for 121 yards and four touchdowns, while the Cougars' defense held Campbell's offense to zero points (the Spartans' lone touchdown came on a 38-yard fumble return by Kaeto Nwosisi). Newnan also got a 29-yard scoring strike from Michael Maginnis to Johnathan Clark on the way to a 27-0 halftime advantage. The Cougars' stout defensive effort was highlighted by a Denzel Boston interception in the end zone to halt what was a promising Campbell drive.
West Forsyth 42, Lambert 27
West Forsyth trailed 21-6 at the break before going on a 36-0 run — including a 29-point third quarter — en route to a 42-27 win over Lambert. The comeback began with a touchdown pass from Keegan Stover to Cooper Johnson, and a safety by the West Forsyth defense and Ryder Stewart's rushing score knotted the game at 21-21. Riley McKee returned a fumble recovery for another touchdown before Stover connected with Johnson for the second time to give West Forsyth a 35-21 edge headed into the fourth, and Stover sealed the win with a final touchdown pass to Stewart. Braden Bambrowski scored Lambert's final points, and Kojo Antwi had two touchdowns for Lambert in the first half.
Denmark 24, Gainesville 21
Denmark led 21-7 at the end of the third quarter before Gainesville tied it up with back-to-back scores, but the Danes snuffed out the Red Elephants' comeback attempt with a 24-yard field goal by Trey Glymph in the final two minutes of the game. Two of Denmark QB Aaron McLaughlin's three first-half touchdown passes went to WR Azari Brown, and  WR Teddy Davenport hauled in the other. The Danes remain at the top of the Region 6 standings with the home win.
North Paulding 35, Hillgrove 28
The North Paulding Wolfpack snapped a six-game losing streak in a back-and-forth battle with Region 3 foe Hillgrove for their first-ever victory over the Hawks in program history. Hillgrove quarterback Chase McCravy connected with Caleb Ballton for a 35-yard touchdown to knot the game at 28-28 before Jaylen Poe found the end zone for what would prove to be the game-winning score. The 35-28 North Paulding win evens the two teams' region records at 1-3, placing them in a three-way tie with Marietta for the No. 4 seed heading into the final week of the regular season.
Class 6A
Rome 16, Douglas County 15
An 11-yard touchdown pass from Reece Fountain to Jay Wise put Rome ahead of Douglas County midway through the third quarter, and Jimmy Inman connected with Kobe Harris later in the frame to reclaim a 12-7 lead. Fountain and Wise connected for another touchdown pass in the opening minutes of the fourth quarter for a 13-12 Wolves advantage. Douglas County went up 15-13 with 4:34 remaining, but a 40-yard game-winning field goal by Fernando Lopez-Romero in the game's final seconds secured the Rome victory
Kell 38, Sprayberry 31
Corbin LaFrance threw a 19-yard touchdown pass to Jaylon Brown with under a minute left to give host Kell — which trailed 31-30 before the score — a 36-31 lead after a failed two-point conversion attempt. A Sprayberry fumble out of the end zone for a safety with 23 seconds remaining sealed the win for Kell. Two of LaFrance's four touchdown passes went to Brown, and the others were hauled in by Xavier Parris and Jamal Hill. Colby Kerns made a 30-yard field goal, and Zakar Yisrael rushed for a 3-yard touchdown for the Longhorns. The victory put Kell alone in second place in Region 6 with a 5-1 region record and dropped Sprayberry to 4-2 in league play and fourth place.
Alexander 23, Carrollton 22
Alexander knocked off No. 7 ranked Carrollton with a 23-22 victory, overcoming a 15-point deficit with the help of a clutch, three-field goal performance by Jacob Tucker. The Cougars trailed 22-20 in the final minutes of the game when Tucker kicked the 23-yard, go-ahead field goal, and Alexander's defense held strong during Carrollton's final drive to seal the win. Travis Maloy rushed for a touchdown for Alexander, while quarterback Donovan Hoskins piled up over 200 yards on the ground. Alexander is now 6-3 heading into the regular-season finale with South Paulding.
Cambridge 40 Chattahoochee 21
Phillip Michael-Collins had four touchdowns and Christian Isibor added two more as Cambridge rode a strong start to a 40-21 win over Chattahoochee. Michael-Collins and Isibor scored the first two touchdowns of the night, and Cambridge led 19-0 before Chattahoochee got on the board. With the victory, Cambridge remains a game ahead of Sequoyah for fourth place in Region 7, but the Bears wrap up the regular season next week at undefeated River Ridge.
Dacula 20, Central Gwinnett 16
Kyle Efford rushed for 227 yards and two scores to lead No. 6 ranked Dacula to a 20-16 win over Central Gwinnett. The Falcons trailed 16-13 before Efford's second touchdown of the night put them on top, and the Dacula defense held the Black Knights scoreless to protect the lead. The victory sets up a winner-take-all match for Region 8 between Dacula and fellow unbeaten Buford.
Buford 45, Winder-Barrow 7
Dylan Wittke was 8-of-10 passing for 173 yards and three touchdowns to lead Buford to a home win. Wittke found Jake Pope for a 9-yard touchdown in the first quarter and a 41-yard touchdown in the third quarter. Wittke gave Buford a 21-0 lead in the first quarter with a 4-yard touchdown pass to Boyd Farmer, who earlier had scored on defense by returning an interception 16 yards for a touchdown to give the Wolves a 14-0 lead. Buford's second quarterback, Ashton Daniels, threw a 51-yard touchdown pass to Isaiah Bond in the second quarter and rushed for a 20-yard score in the third quarter to cap the scoring. Alex Mata made a 24-yard field goal to give Buford a 31-7 lead at halftime. Buford hosts Dacula, also undefeated in region play, next Friday for the Region 8 title.
Allatoona 44, Lassiter 9
Allatoona came away with a comfortable 44-9 win over the Lassiter Trojans behind strong performances in all phases of the game. The Buccaneers were up 30-3 at halftime following rushing scores from Dean Maddox and Dequori Garrett, two touchdown passes from Elan Slim to Troy Glenn, and a safety off a botched first-quarter punt by Lassiter, and Tyler McGuire contributed a rushing score as well as a touchdown pass to Bryce Herring in the third. Kevin Kesser, Ty Thompson, and Ezra Odinjor all recovered fumbles for the Buccaneers defense, and Caleb Moore had an interception. Allatoona will face off against Pope next week.
Dalton 27, Paulding County 15
Dalton jumped out to a 14-0 lead after an Ashton Blackwell touchdown run and 49-yard touchdown pass from Blackwell to Luke Blanchard. Visiting Paulding County answered with a Tony Lauzurica 4-yard touchdown run and a Brayden Mauldin 25-yard touchdown pass to Si'les Modisett that cut the deficit to 14-12 at the half. The Patriots ate up eight minutes on their first drive of the second half before grabbing their first lead of the game (15-14) on a 27-yard Mattew Frey field goal, but Dalton answered with touchdown runs by Journey Boston and Blackwell in the final quarter to close out the win.
Shiloh 20, Lanier 17 (OT)
The Shiloh Generals scored two touchdowns and held the Longhorns out of the end zone in the third and fourth quarters to overcome a 14-0 halftime deficit and force the game into overtime. WR Antonio Meeks scored on a 10-yard run for Shiloh in the third quarter, and Robert Shumake added a 13-yard rushing touchdown shortly after. Neither team scored in the fourth. Lanier got the ball first in overtime and settled for a field goal before Meeks found the end zone again on a 1-yard run to end the game.
Class 5A
Starr's Mill 38, McIntosh 7
The visiting Starr's Mill Panthers led 24-0 game at halftime of their Week 11 matchup with McIntosh, courtesy of touchdowns by Brandon Mathis, Marc Stampley and Devin Barnett, and a field goal from Max Prozny. Cole Bishop and William Yarbrough contributed touchdowns in the third quarter before Ben Anderson scored for McIntosh in the fourth to avoid the shutout.
Ware County 42, Veterans 14
No. 3 Ware County outscored Veterans 14-0 in the second half after growing a 28-14 halftime lead. Quarterback Tommy Casto accounted for two touchdown passes and three rushing scores and Cartevious Norton also ran in a 60-yard touchdown for the Gators.
Blessed Trinity 48, Cass 0
Blessed Trinity used a dominant defense and huge plays on offense to overwhelm visiting Cass. Justice Haynes had touchdown runs of 55 and 37 yards, Evan Dickens found the end zone twice as well on scampers of 80 and 67 yards, and Englan Williams added a 48-yard touchdown run. The Titans also got a 21-yard scoring strike from Ducan Reavis to Brendan Hunt. Their defensive shutout included a fumble return for a touchdown by Michael Mitchler and interceptions by Charlie McCoy and Drew Stephenson. Blessed Trinity led 21-0 at the first-quarter mark, 35-0 at halftime, and by the final 48-0 margin after three.
Cartersville 31, Calhoun 14
The visiting Cartersville Hurricanes defeated the Calhoun Yellow Jackets thanks to a well-rounded offensive attack. The Hurricanes held a 17-7 lead at halftime following a rushing score from Quante' Jennings, a touchdown pass from Carlos Del Rio-Wilson to Devonte Ross, and a field goal from Oscar Hernandez. Christian Lewis scored for Calhoun in the second quarter, and Jerrian Hames added another score for the Yellow Jackets to cut the Cartersville lead 17-14 going into the final frame. Del Rio-Wilson then sealed the Hurricane victory with a touchdown pass to Jennings and a rushing score.
Greenbrier 26, Jackson County 12
Greenbrier junior quarterback Brooks Pangle threw two touchdown passes to Brayden Collett (70, 76 yards) and tossed a 65-yard touchdown pass to Jackson Smith to lead the Wolfpack past visiting Jackson County. Jackson County cut the deficit to 20-12 at the half before Pangle's 1-yard touchdown run late in the third quarter pushed the lead to 26-12.
Woodward Academy 28, Tri-Cities 7
Damari Alston rushed for 141 yards and three touchdowns on 21 carries to lead visiting Woodward Academy past Tri-Cities. The War Eagles also did plenty of damage through the air, as Banks Snellings completed 16 of 23 passes for 128 yards and got the scoring started with a 24-yard touchdown pass to Alan Wright midway through the first quarter. Wright finished with five receptions for 56 yards. Woodward Academy led 14-0 after the first and carried that same margin into the fourth quarter before extending its advantage to 28-0 with six minutes remaining.
St. Pius X 39, Stone Mountain 14 
St. Pius X scored 30 of its 39 points in the first quarter to cruise past visiting Stone Mountain. Mason Benefield had a 34-yard touchdown run during the 30-point onslaught, while Ben Dillon capped off the Golden Lions' scoring with a 2-yard touchdown plunge in the third quarter. For a game that was not particularly competitive, Stone Mountain's offense provided plenty of drama. Their first touchdown came on a 23-yard pass as time expired in the first half, and the next one was a 25-yard heave with five seconds left in the game. Both scoring strikes went from J'Von Roberts to Tajay McPherson.
Class 4A
Carver-Columbus 34, Hardaway 21
No. 3 Carver-Columbus built a 28-0 lead and held off Hardaway's fierce rally to improve to 7-0 on the season. Jaiden Credle opened the scoring on a 2-yard touchdown run and later iced the game with his 79-yard touchdown run in the final frame. DJ Riles ran in a pair of touchdowns in the first half and Jamari Riley's 41-yard touchdown run gave the Tigers a 28-0 lead. Hardaway quarterback DJ Lucas tossed touchdown passes to Aaron Pitts and Jordan Moultrie to cut into the deficit and then the Hawks recovered a fumble for a touchdown to make it a one-score game (28-21) with 5:14 remaining.
Marist 49, Miller Grove 0
Marist took control right from the start to remain undefeated at the expense of visiting Miller Grove. Eight different War Eagles accounted for touchdowns and Ian Otten was the only player who scored twice. Otten got the scoring started with a 5-yard run in the first quarter and hauled in a 26-yard pass from Champ Davis in the second. Marist's other score through the air came on a 10-yard strike from Hayden Richardson to Chandler Heath in the third. Lincoln Parker, Paul Flor, Andrew Mannelly, and Demetri Pappas added touchdown runs for the War Eagles. They led 14-0 after the first quarter, 28-0 at halftime, and 42-0 going into the fourth.
New Hampstead 44, Jenkins 20
New Hampstead broke open a 0-0 scoreless tie with 28 points in the final 4:52 of the first half. Quarterback Pauly Seeley threw three touchdowns and Terrell Headman recovered a fumbled kickoff for a touchdown, and Noddy Thomas opened the second half with a 3-yard touchdown run to push the Phoenix's lead to 35-0. Kyle Bryant and Damozzio Harris ran in Jenkins touchdowns and Luis Morales kicked a 34-yard field goal to add another three points for New Hampstead to make it a 38-14 game heading into the final frame. Jamell Coast scored on a 2-yard touchdown that pushed the lead to 44-14 and Patrick Blake found Kirhon Jones for a 15-yard touchdown on the final play of the game to cut the deficit to 44-20.
Cedartown 34, Central-Carroll 7 
Cedartown took a 34-0 lead into a running-clock fourth quarter and clinched the Region 7 title with its home victory over the Lions. Central-Carroll fumbled the opening kickoff and Cedartown recovered it at the 1-yard line to set up a Cedric Washington touchdown run. Washington added a 68-yard touchdown run on Cedartown's next possession and Reece Tanner pushed the lead to 20-0 before the half with a 62-yard touchdown pass to Jayden Johnson. Tanner hit Johnson for a 59-yard touchdown in the third quarter before Patrick Gardner's 5-yard touchdown run pushed the lead to 34-0.
Westside-Macon 22, Spalding 14
Westside-Macon roared back from a 14-0 deficit with 22 unanswered points to stun Spalding Thursday night at Griffin Memorial Stadium. With the victory, the Seminoles clinched a playoff seed out of Region 4 and eliminated Spalding's playoff hopes.
Shaw 21, Spencer 8
Shaw opened up a 21-0 halftime lead and held host Spencer scoreless until the Greenwave's late interception set up a rushing touchdown in the final minute. The Raiders increased their lead to 14-0 with a 35-yard touchdown run by Amir Harper in the first quarter and made it 21-0 just before the half with a Wason Davis 30-yard touchdown pass to Derrick Kelly Jr.
Fayette County 21, Luella 0
Missed field goals by both teams led to a scoreless first half before Fayette County tacked on three rushing scores to close out the road victory. Shaq Ancrum, Josh Thomas and Mike Graham provided the Tigers' trio of second-half rushing scores.
Columbus 63, Kendrick 14
Host Columbus trailed 8-7 after the first quarter before piling up a 56-6 scoring advantage in the next three quarters of Thursday night's Region 2 victory. Quarterback Jonathan Powell completed touchdown passes to Vaudree Bedford Jr. (15 yards) and Jahshua Jackson (25 yards) and also rushed for three touchdowns. Powell's third rushing score was set up by a Tyranny McGowen fumble recovery in the third quarter that followed back-to-back interceptions by Drew Kahmann and Jahari Jones — both of which were returned for Blue Devils touchdowns. Columbus also got a 38-yard Robert Edwards touchdown run and a Bryant Mansfield 10-yard rushing score that made it a 63-14 lead in the final frame.
Flowery Branch 61, Chestatee 20
Flowery Branch cruised to a dominant home win Friday night and secured the No. 2 seed in the Region 8 playoffs in the process. The 61-point effort by the Falcons offense included a rushing score and touchdown reception by Malik Dyrden, a 64-yard TD run by QB David Renard, and scores on the ground from Myles Ivey and Jaizen Ellingham. Flowery Branch led 42-6 at the break.
Class 3A 
Adairsville 42, North Murray 35
Adairsville took a 28-0 halftime lead and led 42-21 heading into the fourth quarter before closing out the home victory. Conner Crunkleton threw two touchdown passes and Adairsville also got rushing touchdowns from Jamary Johnson and Courtney Slocum to build the 28-0 halftime edge. North Murray's Seth Griffin rushed for two touchdowns and passes for a pair of scores, while teammate Dante Tidwell's 54-yard rushing score helped shrink the deficit. Eli Agnew and Johnson provided Adairsville with second-half touchdowns to help the Tigers hold off North Murray's 35-point effort in the second half.
Murray County 38, Lakeview-Fort Oglethorpe 35
Murray County held off visiting Lakeview-Fort Oglethorpe in a back-and-forth thriller. Jacob Brown finished with five touchdowns to provide Lakeview with all its scoring. Murray County quarterback Kaleb Jones rushed for a touchdown and also threw touchdown passes to Tyson Leonard and Aaron Flood. The Indians also got touchdown runs by Taylor Carrell, Elber Romero and Carson Voiler in the second half. Voiler's 8-yard touchdown run gave Murray County a 38-27 lead with 2:03 left before Brown's fifth rushing score cut the deficit to 38-35 with 51.7 left to play.
Hart County 49, East Jackson 9
Hart County jumped out to a 42-3 halftime lead before closing out its road win over East Jackson. JL Lackey rushed for three Bulldogs touchdowns in the first half, Austen Whitworth completed two Hart County touchdown passes and Malachi Thomas also ran in a score to build the 42-3 lead. Nori Moore's 7-yard touchdown run put Hart County up 49-3 with 8:53 left in the third quarter.
Greater Atlanta Christian 35, Carver-Atlanta 20
Deymon Fleming accounted for all five of Greater Atlanta Christian's touchdowns during a hard-fought road win over Carver-Atlanta. Fleming threw four touchdown passes and ran for another score to thwart the Panthers' comeback attempt. The Spartans led 21-6 early in the second quarter before Carver-Atlanta briefly cut its deficit to 21-20 thanks to kickoff return for a touchdown by DeAndre Buchannon and an eight-yard touchdown run by Jarveous Brown. That was Brown's second rushing score of the night. For the Spartans, Brooks Miller had two touchdown catches and an interception on defense while Luke Field hauled in Fleming's first scoring strike.
Class 2A 
Laney 12, Oglethorpe County 7
Oglethorpe County took a 7-0 lead on a Quentin Willis 27-yard touchdown run in the second quarter. Laney found the end zone in the opening minute of the fourth quarter, but missed the 2-point conversion and still trailed 7-6. The Wildcats faced a 4th and 12 with just over two minutes left in the game and converted it for a 51-yard gain on a completion from Keshaun Sanders to Carl Holmes. This set up Corey Alexander's game-winning 4-yard touchdown run to lift Laney to victory.
Heard County 21, Bremen 14
Bremen struck first on a Dilon McCoy 16-yard rushing touchdown before Heard County grabbed control of the game with a 21-0 scoring run. Maurice Fench tied it up 7-7 with a 6-yard rushing touchdown and Ashton Bonner put the host Braves up 21-7 after a 2-yard touchdown run and a 90-yard rushing score. Bremen's final touchdown came on Tucker Hendrix's 11-yard touchdown pass to McCoy with less than a minute left.
Therrell 7, Towers 6
Host Therrell built an early 7-0 lead in the first quarter and held off Towers' late comeback attempt in the fourth quarter. The Titans intercepted Therrell with seven minutes left and then got on the board with an Isaiah Logan touchdown pass to Keshawn Weathers before failing to convert the potential go-ahead 2-point conversion.
Class A Public
Commerce 28, Washington-Wilkes 17
No. 4 Commerce trailed 17-14 at the break before outscoring No. 8 Washington-Wilkes 14-0 in the second half to earn the road victory. Sammy Brown and Trey Huff scored Tigers touchdowns to give Commerce a 14-0 lead, but Washington-Wilkes grabbed the lead with touchdown runs by Corey Danner and Dalen Cobb and a 21-yard Eduardo Sandoval field goal at the buzzer. Huff rushed for two more touchdowns in the fourth quarter to give Commerce the 28-17 edge.
Pelham 48, Seminole County 6
Pelham quarterback Brantley Shiver threw five touchdown passes, Jamarquis Ross rushed for two scores and the Hornets also forced a safety to spark Thursday night's road win over the Indians. With the victory, the No. 7 ranked Yellow Jackets successfully swept their way to the Region 1 title with a flawless 5-0 record.
Gordon Lee 49, Armuchee 14
The Host Trojans jumped out to a 21-0 lead in the first quarter after a Jacob Neal interception return for a touchdown, a Cade Peterson 90-yard punt return touchdown and a Nate Dunfee 25-yard touchdown run. Peterson added a touchdown run and Blake Groce found Neal for a passing touchdown to grow the lead to 35-7 at the half. Gordon Lee's Brody Cobb (35 yards) and Bo Rhudy (75 yards) rushed for touchdowns in the third quarter to push the lead to 49-7 before Armuchee tacked on a touchdown in the final frame.
Class A Private
Darlington 46, Walker 7
Quarterback Patrick Shelley rushed for two touchdowns and threw for two more in Darlington's win over Walker. The Tigers held a 25-0 lead at the half, and scores on each of Darlington's first two second-half drives put the game out of Walker's reach. Harrison Allen contributed a pair of touchdown runs in the match as well, and Darlington ends the regular season at 6-4 (2-2 in region play).
Athens Academy 56, George Walton Academy 21
Athens Academy and George Walton Academy traded touchdowns early on before the Spartans closed out the game with 35 unanswered points. Charlie Chisolm followed a touchdown on the opening Bulldogs drive for the first tie of the night. Palmer Bush hit Deron Colzie in the end zone later in the game for the pair's second TD connection to kick off the scoring run.
Mt. Pisgah 38, King's Ridge 14
Mt. Pisgah quarterback Coleman Smith threw five touchdown passes to lead the host Patriots past King's Ridge. Nick Speros hauled in two touchdown passes and Gabe Carter, Tyler Hunnicutt and Garrett Sutherland also were recipients of Smith touchdowns.