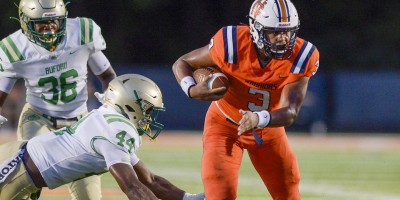 Click here for the GHSA playoff brackets.
Norcross secured the 7A Region 7 title with a 31-14 win over visiting Archer, finishing the regular season a perfect 10-0 for the first time since Coach Keith Maloof's Blue Devils won the 6A state championship in 2012. The Norcross defense silenced a Tigers offense that entered the matchup averaging more than 44 points per game over the past six weeks, with Archer's lone score over the first three quarters coming on a 92-yard kickoff return by Andrew Spearman before the break. Spearman also contributed a second-quarter interception after Norcross recovered an Archer fumble at the Tigers 7-yard line, but the Blue Devils added a 5-yard score from Kaleb Jackson on their next drive to Mason Kaplan's first-quarter touchdown pass to Lawson Luckie for a 14-0 advantage. Norcross took its biggest lead of the game in the third with Zion Alexander's 72-yard rushing score (24-6) before Archer found the end zone again with a run from Renaldo Spivey Jr in the fourth. The successful 2-point conversion brought the Tigers within 10, but Norcross put the game out of reach with another touchdown midway through the final frame.
Here is the full Friday Night scorelist.
Here is the Friday Night Wrap by Todd Holcomb.
Class 7A
Discovery 43, Meadowcreek 32
Discovery needed to win its season finale by seven points to earn its first playoff berth in the program's five-year history. The Titans trailed 26-14 at halftime before scoring 29 unanswered points — including 22 in the fourth quarter — to finish third in the Region 7 standings and set up a showdown with Denmark next week. Discovery quarterback Rashad Ray had three rushing touchdowns and two passing touchdowns on the evening. Darryl Walton caught a touchdown pass and a 2-point conversion pass from Ray, and Tavion Jackson had a 28-yard touchdown reception. Richard Seay Jr. had over 100 yards on 20+ carries, including the touchdown run that started the second-half Titans rally.
Marietta 36, Walton 24
Host Marietta got five total touchdowns from quarterback Tyler Hughes — three passing and two rushing — and withstood a late Walton rally. The Blue Devils took a 22-0 lead in the second quarter before a late Walton field goal made it a 22-3 score at halftime. Hughes found Milon Jones for a 14-yard touchdown in the first quarter, and a 22-yard Ben Parrot field goal put Marietta ahead 10-0. In the second quarter, Hughes threw a 30-yard touchdown pass to Christian Mathis and rushed for a 32-yard score. The teams each scored touchdowns in the third quarter, with Hughes finding Zuri Johnson for a 63-yard touchdown pass, and Marietta led 29-10 heading into the fourth. Walton briefly made it a two-possession game (29-18) in the final quarter after Kenny Djaha rushed for a 17-yard touchdown and A.J. Brown rushed for the 2-point conversion, but Hughes sealed the win with another 32-yard touchdown run with under five minutes remaining. Stone McKnight caught two touchdowns for Walton.
Brookwood 35, Parkview 25
The Brookwood Broncos survived a chaotic second half against visiting Parkview, thanks to a trio of touchdown passes by backup quarterback Jack Spyke and a rushing score from Jumal Prothro that finally put the game out of the Panthers' reach. Starting quarterback Dylan Lonergan scored on a keeper early in the second, but exited the match shortly before the break with a mild concussion and the score knotted at 7-7. Parkview took a 10-7 lead in the third, and the Broncos responded with a 48-yard scoring strike from Spyke to Kaleb Commings. Jared Brown, who scored Parkview's first-half touchdown as well, reclaimed the lead with a 65-yard rushing score late in the third before back-to-back touchdown completions from Spyke to Conley Davis gave Brookwood a 28-17 lead with 9:16 remaining. Brown then returned the ensuing kickoff all the way to the end zone, and Colin Houck found Jaxon Horne for the 2-point conversion to make it a three-point game before Prothro sealed the Brookwood win with his 10-yard touchdown run.
Mill Creek 40, Peachtree Ridge 3
The Mill Creek Hawks are headed to the playoffs after a dominant win over the Peachtree Ridge Lions. Quarterback Hayden Clark and kicker Brock Pellegrino helped the Hawks jump out to a 19-0 first-quarter lead, with two completed field goals by Pellegrino, a rushing score by Hayden, and a touchdown pass from Hayden to Tim Page. Clark added two more touchdown passes — the first to Caleb Downs and the second to Page — and Joshua Battle tacked on a rushing score in the fourth. Peachtree Ridge's only points were off a field goal in the second quarter.
Roswell 42, Woodstock 12
Roswell quarterback Robbie Roper threw three touchdown passes for the host Hornets, two of which went to Michael Fitzgerald. Roper found Fitzgerald on scoring passes of 25 and 13 yards in the first half and threw a 13-yarder to running back Ryan Hill in the third quarter to cap the scoring. Hill also rushed for a 29-yard touchdown in the first half to help Roswell to a 28-12 halftime lead. Evan Plunkett had a 43-yard interception return for a touchdown in the first half and returned a kickoff for a touchdown to begin the second half.
Etowah 12, Alpharetta 6
Etowah's first win of the year came in the final game of the season in a dramatic upset over Alpharetta at home on Friday night. Elijah Washington put the Eagles on the board first, and the 6-0 score stood until Alpharetta tied the game in the third quarter. Klivert Many then added another Etowah touchdown in the fourth, which proved to be enough for the Eagles to avoid their first winless season since 1985.
Gainesville 17, North Forsyth 0
A 59-yard Naim Cheeks touchdown run for Gainesville early in the second quarter ended a scoreless tie against North Forsyth at home on Friday night. Chamarion Bush's interception late in the third set up a successful 32-yard field goal attempt by Giovanni Martinez for a 10-0 Gainesville lead before Cheeks added a 39-yard touchdown run late in the final frame to secure Gainesville's No. 3 seed in the state playoffs.
East Coweta 27, Newnan 26
No. 5 ranked East Coweta handed Newnan its first loss of the season, blocking the Rams' game-tying extra point to seal the 27-26 victory and Region 2 title. The Indians led 10-0 in the opening frame following Daniel Shoch's touchdown completion to Amariyon Moss and a 37-yard field goal from Beau Beldon. Bryson Moss put Newnan on the board early in the second with a 17-yard run (the PAT was blocked), but Jayden Bolton answered with a rushing score to bring East Coweta's lead to 17-6. Newnan quarterback Michael Maginnis III found Joshua Harris for the first of the pair's three touchdown completions before the break, and again midway through the third on a 53-yarder to put the Rams ahead 20-17. Shoch connected with Hazaia Phillips to reclaim the lead on East Coweta's next drive, and another field goal from Beldon in the fourth put the Indians up by a touchdown. Maginnis and Harris teamed up for the last time with 1:16 remaining before East Coweta blocked the PAT and ran out the rest of the clock.
North Gwinnett 59, Mountain View 14
The North Gwinnett Bulldogs took care of business on the road with a comfortable 59-14 victory over Mountain View. North Gwinnett led 22-7 after the first quarter and 36-7 at the break, with quarterback Ethan Washington finding Seth Anderson for a 49-yard touchdown completion and Washington, Barrett Carter (47 yards), Kayden McDonald (9 yards) and Marcus McFarlane contributing first-half rushing scores. Washington added a pair of touchdown runs in the third, and McFarlane provided the final points of the night with another trip to the end zone in the fourth.
West Forsyth 20, Denmark 10
West Forsyth trailed Denmark 10-7 at halftime, but the Wolverines scored 13 straight points in the second half to get the home win and secure the Region 6 title. West Forsyth quarterback Keegan Stover threw a touchdown pass to tight end Oscar Delp with 2:13 remaining in the first quarter to take a 7-0 lead before a Trey Glymph field goal and a short QB keeper from Aaron McLaughlin put Denmark ahead 10-7. A QB sneak on the goal line from Stover gave the Wolverines a 13-7 lead with 3:29 remaining in the third quarter, and Ryder Stewart rushed for an 8-yard touchdown with 1:11 left in the fourth quarter after West Forsyth recovered a fumbled snap at the Denmark 12-yard line.
Class 6A
Carrollton 23, Douglas County 7
Carrollton got on the board first with a field goal by Preston Gentry before a Justin Franklin touchdown put Douglas County up 7-3. Carrollton reclaimed the lead with a third-quarter touchdown by Jared Nedd, who scored again in the fourth before KeShawn Ridley added a final touchdown to seal the Carrolton win. Ridley led all rushers with 102 yards on 22 carries.
Glynn Academy 28, Statesboro 0
Dual-threat quarterback and Louisville commit TJ Lewis led Glenn Academy to a 28-0 win over Statesboro, securing the Region 2 title for the Red Terrors. Lewis paced the offense through an efficient, steady performance that included a touchdown drive in each of the game's four quarters, and Glynn Academy's defense earned its second shutout of the season.
Creekview 19, Johns Creek 14
Creekview kept Johns Creek scoreless for two quarters while building a 19-0 lead with touchdowns by Andrew Cloy and Tyler Stevens, a completed field goal by J.D. Casteen and a safety. Gladiators quarterback Luke Richards threw second-half touchdown passes to Terian Williams and John Stegenga, but Johns Creek was unable to close the gap any further. Creekview secured the No. 2 seed for Region 7 with the win.
Kell 58, Lassiter 0
Kell quarterback Corbin LaFrance threw four touchdowns and rushed for one in the Longhorns' home win. Kell backup quarterback Davion Hampton also threw a touchdown pass, and Sawain Simmons had a 6-yard rushing score. Daivon Bailey finished with a pair of touchdown receptions, and Xavier Parris, Jaylon Brown and Savion Riley each hauled on in as well. The Kell defense forced three turnovers.
East Paulding 14, Dalton 7
Skyler Melton led a long, run-heavy drive and scored from two yards out on a quarterback keeper late in the opening frame. The Catamounts evened it up when Ashton Blackwell hit Luke Blanchard for a 9-yard touchdown, and the score held until Justin Williams ran it in from five yards out halfway through the third quarter.
Allatoona 30, Pope 14
Pope refused to go down without a fight, but the Allatoona Buccaneers came away with a 30-14 road win to finish the regular season a perfect 9-0. A first-quarter field goal by Gray Kelley and Quarterback Elan Hall's rushing score and touchdown completion to Troy Glenn put Allatoona ahead 17-0 in the third before Peyton Cariaco put Pope on the board with a short run set up by Quinn Kerce's fumble recovery. Jaylen Ponder's 92-yard touchdown and a rushing score from Justin Quince gave Allatoona a 30-6 lead in the fourth, and Cariaco answered with a 45-yard touchdown pass to Joseph Stellmach. Michael Dwyer then recovered the onside kick for Pope, but the Greyhounds were held scoreless the rest of the game.
Rome 56, Paulding County 27
EJ Burks rushed 25 times for 237 yards and four touchdowns to help Rome secure a home playoff game with a victory over visiting Paulding County. Burks had 199 yards and three scores by halftime, at which point the Wolves led 28-13. They extended their advantage to 42-20 going into the fourth quarter and coasted the rest of the way. Rome also got two rushing touchdowns from freshman Shaun Nelson, a scoring strike from Reece Fountain to Martel Hight, and a 99-yard kickoff return to the end zone by Jaquavious Wise. An interception by Jyrine Griffin set up Nelson's fourth-quarter touchdown run. Brayden Mauldin threw three touchdown passes for the Patriots, including a pair to Kahlil Jones.
Winder-Barrow 17, Lanier 14
Winder-Barrow's J.C. Green scored in the second quarter to give the Bulldogs a 7-0 lead, and Lanier's Tyler Washington tied the game with a kickoff return for a touchdown to start the second half. A pick-six by Drew Lewis put the Bulldogs ahead before Lanier again knotted the contest with a Bryan Williams touchdown with 5:09 to play, but Ivan Rodriguez's field goal in the final minute gave Winder-Barrow the win.
Westlake 42, Tucker 7
Host Tucker scored first on a 4-yard rushing touchdown by Bryce Bowens in the first quarter, but Westlake dominated the rest of the game at Adams Stadium. Westlake got two long touchdown passes from R.J. Johnson to Leo Blackburn — one for 87 yards in the second quarter and one for 75 yards in the third quarter — to give Westlake a 28-7 lead. Zina Mulbah rushed for touchdowns of 36 and 24 yards for the Lions, who led 14-7 at halftime. Johnson was 16-of-22 passing for 275 yards and two scores.
Lovejoy 39, North Atlanta 10
Lovejoy outscored North Atlanta 27-8 in the second half of Thursday's home victory over North Atlanta. With the win, the Wildcats secured the No. 3 seed out of Region 4.
Class 5A
Creekside 42, Woodward Academy 17
St. Pius X 28, Decatur 9
St. Pius X clinched the Region 5 title by pulling away from visiting Decatur. The Bulldogs cut a 14-0 deficit to 14-9 at halftime thanks to a 6-yard touchdown run by Marquis Hood and a 28-yard field goal from Kriston Esnard, but they could get no closer. Luke Jacobellis' second touchdown run of the night late in the third quarter put the Golden Lions in front 21-9, and Jack Graham capped off the scoring with a 5-yard scamper in the fourth. St. Pius X got interceptions from Mason Benefield and Jack Tchienchou to lead the defensive effort, and Benefield returned his 60 yards to the end zone.
Warner Robins 49, Veterans 21
Warner Robins jumped out to a 28-0 halftime lead with a Jalen Addie touchdown pass, a Jahlen Rutherford touchdown run and Malcom Brown's touchdown runs of 82 and 59 yards. Addie tossed his second touchdown pass to Cian Lewis in the third quarter and teammate Ahmad Walker added a touchdown run before Jafredrick Perry capped the scoring with an 8-yard touchdown pass to Cary Payne III. Veterans' points came with quarterback Blake Ethridge's three touchdown passes.
Blessed Trinity 49, Woodland-Cartersville 0
Blessed Trinity dominated in all three phases of the game to cruise past visiting Woodland-Cartersville. Justice Haynes and Englan Williams rushed for a pair of touchdowns apiece to lead the Titans, with Haynes scoring on scampers of 77 and 47 yards. Both of those came in the first quarter, after which the Titans led 28-0. They took a 42-0 advantage into halftime and led by the final 49-0 margin at the end of the third quarter. Zach Bolden opened the scoring with a 60-yard run, and Evan Dickens capped it off with a 4-yard touchdown dive in the second half. Blessed Trinity's shutout included an interception by Nolan Tully and the home team also returned a blocked punt for a touchdown.
Ware County 42, Wayne County 7
Ware County built a 42-0 lead heading into a running clock fourth quarter against the host Yellow Jackets. Tommy Casto rushed for three touchdowns and completed touchdown passes to Brandon Mills and RayRay Kennedy to spark the Gators' offense and teammate Cartevious Norton also rushed for a 5-yard touchdown in the victory.
Class 4A
Jefferson 47, Madison Co. 0
The Jefferson Dragons cruised to an undefeated season Friday night behind a monster game from Kam Robinson that included three punt return touchdowns in the first half alone. Robinson had a 59-yard touchdown run in the third quarter as well and finished the night with a total of 326 all-purpose yards. Dragons QB Malaki Starks also connected with Jordan Perry for a pair of first-half touchdowns, and Carter Stephenson added a score on the ground in the second quarter.
Marist 52, Mays 21
Marist gave up a touchdown for the first time this season but had no trouble remaining undefeated at the expense of visiting Mays. The Raiders ultimately scored three touchdowns, but were already trailing 52-0 by the time their offensive success began late in the third quarter. Marist led 22-0 after one quarter, 32-0 at halftime, and 52-7 going into the fourth to maintain control from start to finish. Josh Moore had two interceptions for the War Eagles, one of which he returned 74 yards for a score. They also got a pick-six from Tyler Hare. Ian Otten, George Parker, Champ Davis, Paul Flor, and Joseph Patin added touchdowns for Marist. Patin's came on a 78-yard scamper in the third quarter.
Perry 23, Baldwin 20
Sophomore Caden Camp kicked a game-winning field goal with just seconds left to lift Perry to victory, giving the Panthers the program's first region title since 1959.
Flowery Branch 55, East Hall 14
No. 5 ranked Flowery Branch scored 48 points in the first half of its road victory over East Hall on Thursday. The victory gives the Falcons the No. 2 seed out of Region 8 and extends their winning streak to five games heading into next week's First Round contest with Luella.
LaGrange 20, Hardaway 19
LaGrange took a 20-19 lead with four minutes to play on Kale Gibbs' 12-yard touchdown run before a slew of Grangers broke through to swallow up visiting Hardaway's potential game-winning field goal attempt and seal the victory. First-year head coach Matt Napier's Grangers led 10-0 early in the second quarter following a Micah Prophett field goal and a 53-yard touchdown pass from sophomore quarterback Jaylan Brown to Kobe Jones that was set up by Tae Snead's interception. Hardaway got on the board with a 12-yard run by Jordan Moultrie, but still trailed at the break after the Granger defense broke up DJ Lucas' pass in the end zone to end the half. The Hawks then answered another Prophett field goal with back-to-back touchdowns by Moultrie from 5 and 26 yards out. The two scores ended in a blocked PAT by Jones and Montavious Martin's interception on the 2-point conversion attempt, however, resulting in a narrow 20-19 Hardaway lead. The Hawks got the ball back after Gibbs' go-ahead score and marched to the LaGrange 10-yard line with a 65-yarder from Lucas to Moultrie on fourth down before the field goal attempt was blocked with 0:05 to play. LaGrange finishes the regular season 7-3 after winning a combined six total games between 2016-2019 and will appear in the playoffs for the first time since 2014.
Cairo 23, Westover 14
Westover jumped out to a 7-0 lead before Cairo took a 16-7 halftime edge following a Kevin Speed 6-yard touchdown run and three Noah Jones field goals. The Patriots chipped into the lead with a touchdown in the third quarter (16-14), but Cairo closed out the victory with John Carter's 3-yard touchdown run in the final frame and an interception and forced fumble down the stretch to preserve the win.
Class 3A
White County 49, Cherokee Bluff 7
No. 9 ranked Cherokee Bluff's hopes for its first-ever undefeated season were dashed as White County beat the Bears, 49-7. White got the scoring started when J. Ben Haynes found Darius Cannon from 12 yards out, and the pair connected again for a 14-0 lead. Haynes finished with four touchdown passes and Silas Mulligan had two late scores. Sebastian Irons provided Cherokee Bluff's lone points on a 1-yard plunge. Cherokee Bluff secured the Region 7 title before this week's loss.
Sonoraville 33, Coahulla Creek 12
Sonoraville trailed 6-0 after the first quarter before outscoring the visiting Colts 33-6 in the final three quarters. Brady Lackey completed a 67-yard touchdown pass to Jaxon Pate and rushed for a 6-yard score to put the Phoenix up 13-6. Sonoraville's defense padded the lead with Joseph McDaniel's 46-yard interception return for a touchdown and Davin O'Neal scored Sonoraville's final touchdown on a 1-yard run.
North Murray 49, LaFayette 42
Host North Murray held off the Ramblers in a back-and-forth shootout. Seth Griffin accounted for a rushing touchdown and four touchdown passes to give the Mountaineers a 35-21 halftime lead. LaFayette made it a 49-42 game with Jaylon Ramsey's 45-yard touchdown run with 4:10 left, but the Ramblers failed to recover the onside kick and North Murray was able to close out the victory.
Greater Atlanta Christian 42, Redan 8
The Spartans closed out a perfect 9-0 regular season on Thursday at Avondale Stadium. Deymon Fleming threw a 12-yard touchdown pass to Will Hardy, who found the end zone on a 13-yard rushing touchdown as well. Fleming also connected with Josh Sharpe and Christian Alvear for 8-yard touchdown passes. Greater Atlanta Christian's other points came on a 6-yard touchdown run that put the Spartans up 35-0 at the half.
Class 2A
Pace Academy 42, KIPP Atlanta 14
MJ Morris threw three touchdown passes as Pace Academy rolled to a convincing win over visiting KIPP Atlanta. The Knights scored the first 42 points of the game, building leads of 14-0 after one quarter, 28-0 at halftime, and 42-0 early in the third quarter. Morris connected on a pair of scoring strikes with Deuce Jordan while also throwing an 18-yarder to Jae Williams. Justin Johnson added touchdown runs of 51 and 12 yards before Christian Johnson capped off Pace Academy's scoring with an 18-yard scamper.
Union County 7, Gilmer 0
Union County closed out its season with a road victory over Class 3A Gilmer on Thursday. Senior running back Jonah Daniel's 4-yard touchdown run in the second quarter proved to be the game-winner. Gilmer quarterback Seth Darling was held to just 9-of-23 passing for 81 yards and an interception in the defeat.
Class A Public
Commerce 17, Lincoln County 7
Lincoln County took a 7-0 lead on Tevin Gartrell's 4-yard touchdown run, but Commerce tied it up 7-7 at the half with Sammy Brown's rushing score. The tie held through the start of the fourth quarter, where the Tigers tacked on a field goal and a Dreylan Martin rushing score.
Gordon Lee 50, Trion 13
Gordon Lee jumped out to a 26-6 lead over host Trion at the half. Cade Peterson rushed in four touchdowns, including a 48-yard carry in the fourth quarter that gave Gordon Lee a 50-13 lead. Brody Cobb chipped in with two touchdown runs and Nate Dunfee also rushed for a score.
Dublin 47, Montgomery County 7
Dublin's Markelle Mitchell ran in three touchdowns and also threw for a touchdown to build visiting Dublin's 35-0 halftime lead. Jiquarion Mundie added a 34-yard touchdown run in the third quarter that extended the lead to 42-0 before Montgomery County found the end zone to spoil the shutout.
Irwin County 46, Turner County 14
Kam Ward scored two rushing touchdowns for Irwin County, which won its fourth-straight region title. Ward's first touchdown came on a 23-yard run in the first quarter, and the second came from 4 yards out off a direct snap to give the Indians a 33-0 lead with 6:37 remaining in the first half. Cody Soliday was 9-of-14 passing for 223 yards and two touchdowns (a 54-yarder to Gabe Benyard in the first quarter and a 26-yard pass to Eli Roberts in the fourth). Benyard set himself up for his second touchdown, intercepting a pass on defense and then rushing for a 25-yard touchdown on the ensuing Irwin possession. Derrick Taylor returned a punt 82 yards for a touchdown for the Indians in the fourth quarter, and Marcus Edwards capped the scoring with a 75-yard kickoff return for a touchdown for Irwin.
Class A Private
Wesleyan 24, Mount Vernon Presbyterian 0
Wesleyan clinched its first region championship in 11 years by shutting out visiting Mount Vernon Presbyterian. Griffin Caldwell rushed for three first-half touchdowns to help the Wolves take control early. They led 14-0 after one quarter, 21-0 at halftime, and by the final 24-0 margin going into the fourth. Brooks Sturgeon capped off the night's scoring with a field goal. The Mustangs' best chance to score came midway through the second quarter while trailing 14-0, but they turned the ball over on downs when Wesleyan's JD Chipman came up with a big sack.
Prince Avenue Christian 55, Athens Christian 9
Prince Avenue Christian earned the Region 8 title with its 55-9 defeat of Athens Christian. After an early Eagle field goal, the Wolverines scored six unanswered touchdowns to put the game out of reach. UGA-commit Brock Vandagriff threw seven touchdowns, including three to Zac Dyer for 55, 65 and 14 yards.
Mt Paran Christian 33, Walker 7
Mt. Paran Christian clinched the No. 4 seed of Region 7 with a 33-7 victory over Walker. Quarterback Sam Griffith-Tesch threw for three touchdowns, and the Eagles built a 19-0 lead before Walker got on the board in the third quarter. Mt. Paran will visit Fellowship Christian in the first round.