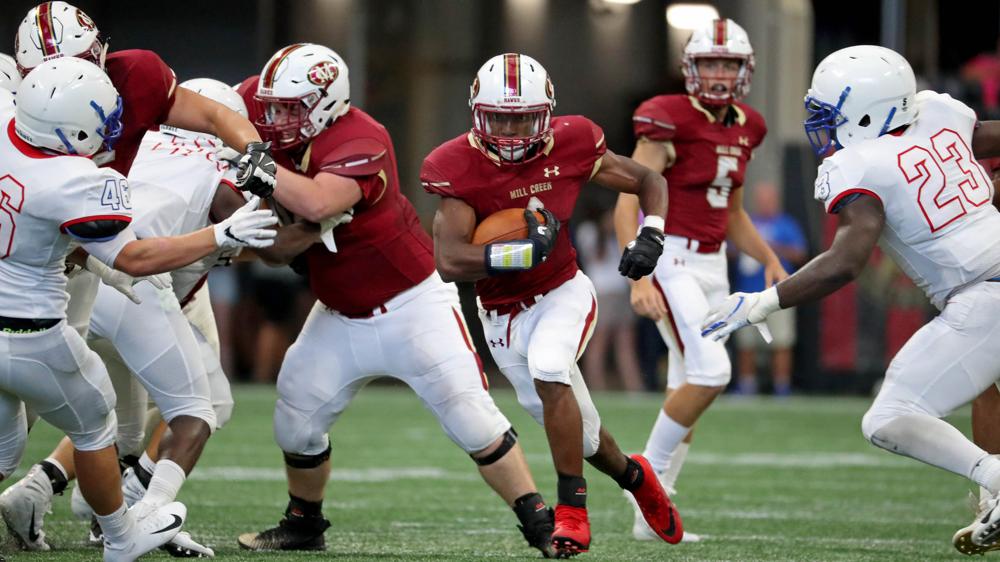 Mill Creek coasted to a 24-0 victory over the visiting Collins Hill Eagles to secure the No. 2 seed in the Class 7A playoffs (visit HERE to download all GHSA State Playoff brackets). The Hawks scored on their first drive of the game after a Collins Hill personal foul on the Mill Creek punt attempt led to a fresh set of downs and a touchdown run by Josh Battle. Battle scored again later in the opening frame, and Parker Wroble set himself up for a trip to the end zone with his 33-yard punt return for a 21-0 lead at halftime. The Hawks added only a field goal in the second half, but the Mill Creek defense completed the shutout—holding Collins Hill to a total of 63 yards on offense, 22 of which came on the ground.
Class AAAAAAA
Walton 30, Woodstock 7
The visiting Walton Raiders bounced back from a home loss to Roswell with a strong win at Woodstock to finish their regular season at 9-1. Senior running back D.J. Soyoye ran for three rushing scores and had 164 all-purpose yards as the Walton offense was led by quarterback Christian Kirksey, who went 15-of-21 with 230 yards. Kendall Alford was the leading receiver with 63 yards. Senior kicker Jack Westbrock had three made field goals in the first half, and Senior linebacker Connor West was the leading tackler with 7.5 total tackles. Head coach Daniel Brunner said he was very proud of the way his defense played tonight as well. Walton is locked into a 2-seed for the playoff as they finish 5-1 in region play.
Grayson 35, South Gwinnett 7
Visiting Grayson was tied 7-7 with South Gwinnett late in the second quarter, but forced a safety and scored a quick touchdown after the ensuing kickoff to take a 16-7 halftime lead. The Rams got a 1-yard touchdown run from quarterback J'Kori Jones to go up 7-0 in the first quarter, but Jones had to leave the game after taking a hit in the second quarter, giving way to C.J. Dixon. Dixon hit Phil Mafah for a 34-yard touchdown pass just before halftime. The Rams defense forced another safety in the third quarter, and Jonathan Halyard ran for 33-yard touchdown in the third quarter and a 35-yard score in the fourth. Garwood Collins capped the scoring with a 28-yard field goal in the fourth quarter.
Norcross 42, Meadowcreek 10
The Norcross Blue Devils finish their season on a high note as they routed the home team Mustangs 42-10. Senior quarterback Louis Williams completed 16 of his 20 pass attempts for 240 yards and 4 touchdowns. Senior receivers Christian Sims and Isiah Wilson were the most notable beneficiaries of their quarterback's big night as Sims caught three touchdowns and Wilson grabbed the fourth. Linebacker Tyler Moore also scored with a 40-yard interception return for a touchdown. Both teams ended their regular seasons at 6-4.
Brookwood 52, Lakeside-Atlanta 7
The Broncos trounced the visiting Lakeside Vikings at home to finish the season 7-3. Chris Carter Jr had touchdown runs of 21 and 15 yards in the first half, and Dean Shaffer's 25-yard run, a 20-yard passing touchdown from Griffin Jamison and a 19-yard Dylan Schefske field goal gave Brookwood  a 31-0 lead at half. Shaffer added a 44-yard score in the third before Michael Killebrew's interception return for a touchdown. Senior Suhayb Ahmed's trip to the end zone before the start of the fourth gave Brookwood its final points of the night, and Peter Mulbah saved Lakeside from the shutout with a score with 1:34 left in the game.
Cherokee 26, Lassiter 23 (OT)
Cherokee hosted Lassiter in a thrilling overtime win at home. Keith Adams Jr., a 14-year-old freshman had the first score of the night with a 6-yard touchdown rush in the first quarter. At 10:19 left in the second quarter, Lassiter responded with a Mitch Storm touchdown pass to Buchi Nwaubi. Cherokee then gained a 10-point  lead with a 42-yard field goal from David Trinidad and a 16-yard touchdown catch by Devin Ellison. Just before the half ended, Lassiter's Ivan Yates caught an interception that lead to a short touchdown run by Mitch Storm. The halftime score was 17-14 Cherokee after an eventful second quarter. With 0:06 left in the third, David Trinidad tacked on another field goal—this one from 37 yards out—to put Cherokee up 20-14. With 2:02 left in the game, Lassiter recovered a fumble and capitalized on it with a touchdown, but missed the PAT and ended the fourth with a 20-20 tie. Lassiter would make a field goal with the opening possession in overtime, but the young freshman, Keith Adams Jr., ran in the walk-off touchdown and ended the night with 135 yards. Cherokee's Garrett Miles had 90 yards rushing as well. Coach Shaw said he was also impressed with his defense as they had two interceptions and held Lassiter to a field goal in overtime.
Archer 35, Shiloh 7
The Archer Tigers routed the visiting Shiloh Generals 35-7 to finish their regular season at 8-2. It was a big night for the seniors as receiver Braylon Weems had two touchdown catches, running back Mikkael Reynolds had a rushing touchdown and defensive back Jalyn Phillips ran back an interception for a touchdown. Coach Andy Dyer said he was proud of the way the players prepared this week and how they handled themselves as they prepare for the first round of the 7A playoffs next week.
Roswell 34 Etowah 10
Roswell finished their regular season at 9-1 with the No. 1 seed in Region 4-AAAAAAA after beating Etowah handily on the road. Etowah initially had a 10-7 lead after a 71-yard touchdown run from Nick Maddox and a 38-yard field goal from Sean Hopper, but Roswell then scored 27 unanswered points. Defense and special teams was the theme of the night as the Hornets recovered a fumbled Etowah punt and ran it back for a touchdown in the third quarter, then had an interception returned for a touchdown in the fourth. Kicker Caden Long made two field goals and all four PAT's. Roswell quarterback Ethan Roberts had their lone rushing and passing touchdowns and finished 4-of-8 with 85 yards passing.
Forsyth Central 28, Lambert Longhorns 27
Forsyth Central held a 14-0 lead at the end of the first thanks to a 62-yard rushing touchdown from Devran Orsan and a 10-yard touchdown pass from Bronson Landreth to Dalton Edmunds. Landreth took it to the endzone himself with 3:37 left in the second to bring the score 21-0, but Lambert's Zach Obogu scored off an 18-yard rush to cut the Bulldogs' lead to 21-7 at the half. Lambert's Peyton Rich scored two touchdowns on the ground in the third to tie the game going into the fourth. With 4.9 seconds left in regulation, Lambert was unable to complete a field goal, forcing the game into overtime. Orsan scored for Forsyth Central on the first play with a 15-yard run. On the following Lambert possession, Rich connected with Edmunds to bring the score 28-27. Lambert went for two but was unable to convert.
Marietta 42, Kennesaw Mountain 22
The Marietta Blue Devils offense put the pedal to the metal in the first half, scoring four touchdowns on the back of Junior running back Kimani Vidal. His longest scoring rush of the game came on his first touchdown—a 41-yard sprint downfield. Vidal struck again later in the quarter off a 4-yard run and added two more scores in the second quarter. The Junior's last touchdown came in the third to put the Blue Devils up 35-7. Freshman quarterback Tyler Hughes ending the scoring spree in the fourth with a 24-yard pass to Kobe Stewart.
McEachern 34, North Paulding 27
McEachern held on to win at home after a fourth-quarter North Paulding touchdown made it 34-27, getting a late first-down scramble from quarterback Carlos Del Rio-Wilson and kneeling to run out the clock. Jordan Simmons rushed for touchdowns of 74 yards and 2 yards, the second set up by a long interception return by Stephen Benn to the North Paulding 2-yard line. Del Rio-Wilson hit Lawrence Shadd III for a 14-yard touchdown pass, and Paris Brown rushed for a 3-yard score. Ruben Rodriguez made two field goals for the Indians. The score was tied 17-17 at halftime.
West Forsyth 24, South Forsyth 14
The game went scoreless until the second quarter when South Forsyth's Jordan Brunson scored off a 39-yard run, but the extra point was blocked. West Forsyth was able take the lead on the following possession when Drew Southern connected with Stephon Bland. Southern found Abe Camara for his second touchdown pass with 4:44 left in the second, giving West Forsyth a 14-6 edge to end the half. After a scoreless third quarter, South Forsyth tied the game with ten minutes remaining thanks to a rushing touchdown from Drew Morris, and a successful two-point conversion by Brunson. West Forsyth's Saxby Waxer scored off a 67-yard run, and Parker Hannon completed a 40-yard field goal, giving West Forsyth the win.
Pebblebrook 38, Wheeler 35
Pebblebrook rallied from a 21-7 deficit to steal a victory on the road against Wheeler Friday night. The Wildcats drew first blood with a fumble recovery touchdown early in the first quarter. The Falcons responded with a solid drive that culminated in 1-yard touchdown run by the quarterback Jaquavious Jones. Wheeler maintained a 14-point lead midway through the second quarter until Falcons' fullback Kentavious Foreman muscled his way into the end zone for a 15-yard touchdown run to make the score 21-13. On Wheeler's ensuing possession, Pebblebrook safety Jordan Mckie returned a blocked punt 51 yards for a touchdown to even the score at 21 with four minutes to go in the first half. The Falcons scored again—another short touchdown run by Jones—right before halftime to take a 28-21 lead into the locker room. Pebblebrook received the second-half kick off and used a trick play score its final touchdown of the evening; this time Falcons' running back Kentavious Foreman threw a 59-yard touchdown pass to Sincere Street to give Pebblebrook a commanding 35-21 lead early in the third quarter. Wheeler would score two more touchdowns before the game was over, but a 32-yard field goal from Pebblebrook's Axel Blanco midway through the fourth quarter secured the Falcons victory.
Class AAAAAA
Lanier 6, Gainesville 2
After a scoreless first quarter, the Red Elephants started the second with a safety to go up 2-0 when Lanier Senior quarterback Zach Calzada fell backwards into his own endzone. Lanier missed a chance to gain the lead on a missed 20-yard field goal attempt with 5:49 in the third. With 2:48 left in the game, Calzada threw the first and only touchdown of the game to take the lead. A failed two-point conversion kept the score at 6-2, but the Longhorns kept Gainesville scoreless for the rest of the game to claim the win.
North Atlanta 46, Chattahoochee 41
The Chattahoochee Cougars were one onside kick recovery and a few plays away from what would have been their first and only win of the season, but North Atlanta would not allow it to happen. The Warriors ground game had four touchdown runs of 22, 25, 59 and 70 yards on the night in addition to two passing touchdowns. North Atlanta's Tk Mack scored three rushing touchdowns, including the 70-yard dagger late, while Wiley Hartley added the 59-yarder to open the 3rd quarter. Chattahoochee put up a valiant effort, however, by answering North Atlanta's scoring drives with touchdowns of their own throughout the entire game. In the end, though, North Atlanta's star power and Special Teams outlasted Chattahoochee, giving the Warriors a 5-5 record on the season.
Johns Creek 34, Dunwoody 12
Johns Creek defeated host Dunwoody to finish 9-1 for the regular season and secure the Region 7-AAAAAA title. The Gladiators' first two touchdowns came courtesy of passes by Zach Gibson—one to Matt Casey in the first, and to Giovanni Dyer in the second. Jack Hogan scored for Dunwoody with 11 seconds left in the second to bring the score to 14-6 at the half. Will Watson scored both Johns Creek's touchdowns in the third, the second of which came off a 14-yard pass from Watson. Johns Creek final touchdown came with 8:30 left in the fourth thanks to a 36-yard pass from Lonnie Ratliff to Quincy Darnell. Nick Frame scored for Dunwoody when he recovered a Johns Creek Fumble with roughly four minutes to go in the game.
Dacula 28, Winder-Barrow 21
The Falcons built an early lead on the Bulldogs with a three-touchdown first-half performance. First to put points on the board was Junior Konata Mump, who caught a 49-yard sling from quarterback Jarrett Jenkins in the first quarter. Jenkins continued to find the open man when he connected with Senior Joseph Lopez for a 21-yard touchdown. Winder-Barrow found the end zone once themselves before the first half could end, but the Falcons continued to build on their lead when Jenkins tossed his third touchdown of the game to Junior Chris Scott to go up 20-7 at the half. Dacula's last touchdown came in the third, when Kyle Efford rushed seven yards into the end zone, helping offset a pair of second-half scores by the Bulldogs.
Sequoyah 17, Allatoona 0
After a scoreless first quarter, the Allatoona Buccaneers had a chance to take the lead on 4th-and-goal but were stopped by the Chiefs. Sequoyah then went on a 96-yard drive that ended with a 2-yard rushing score by Senior Cole Jacobs. Later in the quarter, Senior Jackson Smith rushed one yard into the end zone for the Chiefs' second touchdown of the night. The Chiefs didn't score again until a 23-yard field goal from Jordan Campbell in the fourth, but managed to shut out the Buccaneers. A three-way tie for the No. 2 seed between Sequoyah, Harrison and Allatoona was granted to the Chiefs based on a point differential.
Alpharetta 41, Cambridge 21
Tonight's win over Cambridge gave Alpharetta the No. 3 playoff seed in Region 7-AAAAAA. Alpharetta took a 10-0 lead to end the first quarter thanks to an 8-yard rushing touchdown from Kent Cherry and a 22-yard field goal from Matthew Ashe. A touchdown from Cambridge brought the score to 10-7 in favor of Alpharetta to end the half. Alpharetta outscored Cambridge 17-0 in the third. Ashe completed his second field goal of the night (30 yards), and quarterback Will Gerdes completed two touchdown passes—the first to Robbie Ruppel and the second to Joshua Grant. Gerdes threw his third touchdown pass with 10:20 left in the fourth when he connected with Ethan Leonard on a 33-yarder. Cambridge then scored the next two touchdowns.
Class AAAAA
Stockbridge 17, Jones County 10
Stockbridge came up with an incredible goal-line stand late in the fourth quarter to hold off host Jones County. Trailing 17-10, the Greyhounds were set up with 1st-and-goal inside Stockbridge's five-yard line with more than a minutes remaining but they could not punch the ball in the endzone. An eventual turnover on downs at the six-yard line sealed the deal in the Tigers' favor. In addition to their defensive heroics, the visitors got two touchdown passes from Jevon McDonald—the second one from 47 yards out to Isaiah Taylor. Jones County scored its lone touchdown on a 57-yard scamper by Semaj Ingram in the opening quarter.
Buford 45, Clarke Central 3
Buford held Clarke Central to 31 total yards and scored four third-quarter touchdowns to put a 17-3 game out of reach. The host Wolves got four rushing touchdowns from Derrian Brown, who ran for scores of 17 and 9 yards in the first quarter and 41 and 46 yards in the third. Brown rushed 18 times for 173 yards. Xyre Wilson had two touchdown receptions in the third, a 21-yard catch from Jarvis Evans and a 39-yard catch from Seth Auer. Hayden Olsen hit a 42-yard field goal for Buford in the second quarter.
Carrollton 55, Hiram 0
Carrollton's Kodee Brewer rushed for three touchdowns to lead the Trojans past Hiram 55-0. Carrollton jumped to a 21-0 lead after the first quarter and a 37-0 lead at the half. Brewer scored on runs of 12, five and one yards. Myles Morris passed to Isaiah Lancaster for a 13-yard touchdown. Keshawn Ridley (six yards), Brandon Marenco (17 yards) and Morris (16 yards) also had rushing touchdowns. Connor Smith-McCrum added a 43-yard field goal in the victory. Carrollton finished with 289 rushing yards and 47 passing yards while holding Hiram to just 55 yards of offense. Brewer finished with 77 yards and three touchdowns. Marenco had 108 rushing yards and a touchdown. Morris was 5-of-12 passing for 47 yards and a touchdown.
Kell 41, Woodland-Cartersville 18
Aside from an early turnover which led to a Woodland field goal, Kell was dominant in its season finale at home on Friday night. Xavier Parris started the scoring for the Longhorns with a 50-yard dash that set him up for a goal-line touchdown run and a 7-3 Kell lead early in the first quarter. After forcing a punt, Kell got the ball back and struck with a 56-yard touchdown pass from quarterback Evan Conley to wide receiver Jaylon Brown. Conley kept the ball for a red-zone touchdown run on Kell's next possession, which came early in the second quarter. Woodland responded with a touchdown of its own, but was unable to prevent Kell from driving down the field in a 2-minute situation that resulted in a 4-yard touchdown pass from Conley to Captain wide receiver Sam Blancato in the final minute of the second quarter. As a result, the Longhorns led 27-10 at halftime. Kell's defense was on its heels until Appalachian State-commit Nick Ross intercepted the ball and returned it 55 yards early in the third quarter, setting Conley up to throw a 21-yard touchdown pass running back Ebony Jackson. Kell's final touchdown of the night came on another Evan Conley touchdown pass, this one being a 67-yarder to Xavier Parris midway through the third quarter.
Class AAAA
St. Pius X 56, Stephens County 11
Mason Benefield and Samuel Schwaner both rushed for two touchdowns as St. Pius X took care of visiting Stephens County. The Golden Lions scored 42 unanswered points to begin the contest—21 in each of the first two quarters—and led 42-3 at halftime. Stephens County got a 10-yard touchdown run and ensuing two-point conversion from Trey Pittman before St. Pius X tacked on fourth-quarter insurance scores by Schwaner and Connor Egan, who accounted for three touchdowns in total. The senior quarterback tossed a 10-yard touchdown pass to Chris Miller in the first quarter and later found Gavin McElroy in the endzone from 13 yards away to make it 42-0. D.J. Mitchell added another score on the ground for St. Pius X.
Flowery Branch 28, Denmark 19
Denmark was first on the board when Junior quarterback Ben Whitlock connected with Sophomore receiver Teddy Davenport for a 15-yard score. The Falcons responded with a blocked punt that Aidan Lorenz scooped up and returned 10 yards into the endzone to tie the game. In the second, Flowery Branch blocked another punt that lead to a 1-yard rushing touchdown from Sophomore Jerzee Allentini. The Falcons kept the points coming later in the quarter when Elijah Gainey connected with Connor Larson for a 7-yard score. Flowery Branch opened up the second half with a strong drive fueled by Chase Dial-Watson, who carried the ball 3 times for 65 yards and a score. The Danes managed to reach the end zone twice more, but failed to create enough scoring opportunities to pull ahead.
Class AAA
Lovett 34, Westminster 28
Blaine McAllister threw three touchdown passes and rushed for another score, leading Lovett to a road win over rival Westminster. The Lions surged ahead 21-17 in the third quarter on a 62-yard strike from McAllister to Will Bray for the fifth and final lead change of the game. They extended their advantage to 34-20 in the fourth quarter on a 22-yard run by McAllister before Westminster mounted a late charge. The Wildcats inched closer on a six-yard touchdown pass from Parks Harber to Luke Jannetta with four minutes left and got the ball back with two minutes remaining while trailing 34-28, but K.J. Wallace came up with a game-clinching interception for Lovett—his second of the night. Nick Jackson had two touchdowns for the Lions.
Greater Atlanta Christian 37, Fannin County 14
Five different players accounted for all of Greater Atlanta Christian's touchdowns as the home team cruised past Fannin County. The Spartans led 14-0 after one quarter, 30-0 at halftime and 37-0 going into the fourth before the Rebels finally got on the scoreboard with two late touchdowns. Greater Atlanta Christian got touchdown runs by Chris Hinton, Choe Bryant-Strother, Tre Henry, and quarterback Josh Rose. Christian Thomas extended the advantage to 14-0 with an interception return for a score. Fannin County wrapped up the scoring with a 48-yard touchdown heave from Luke Holloway to Jalen Ingram.
Class AA
Thomasville 56, Early County 3
Kerry Lee put host Thomasville on the board with a first-quarter punt return touchdown, and Tan Gelin added a 4-yard run to make it 14-0. Bulldogs quarterback Chad Mascoe heated up, and threw the first of his four touchdown passes—a 27-yard toss to Kerry Lee. Kevin Cochran blocked an Early County punt that was recovered by teammate Ronald Smith for another Thomasville touchdown. Then Mascoe threw two touchdown passes to Payten Singletary and completed an 11-yarder to Ricardo Johnson that made it 49-3. Sharman O'Neal capped the scoring with his first varsity touchdown and a 1-yard run.
Class A
Wesleyan 17, Trinity Christian 10
Wesleyan used a whole lot of defense and just enough offense to withstand some heroics on special teams by visiting Trinity Christian. J.C. French put the Wolves on top with a two-yard touchdown run in the first quarter and he threw a 45-yard scoring strike to Micah Smith to make it 17-3 in the third quarter. The Lions got a 39-yard field goal from Ethan Aldridge and a 95-yard kickoff return for a touchdown by Shamari Reed, but a scoreless fourth quarter ended their comeback hopes. Wesleyan's Trent Bartlett came up with an interception at his own 18-yard line with 4:23 remaining before the offense ran out the clock.