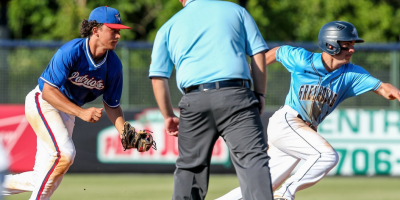 In Class 7A, No. 1 ranked Parkview dropped an 8-3 loss to Class 6A No. 5 Lassiter and North Paulding fell from No. 2 to No. 6 after a 6-3 loss to No. 5 Lowndes. Also, South Forsyth replaced West Forsyth at No. 8 and Walton debuted at No. 10 following a 3-1 start. Class 6A No. 1 ranked Buford opened its season last Friday with an 8-0 win over St. Pius. No. 2 Pope is off to a 4-0 start and No. 3 Houston County and No. 4 Allatoona are both 3-0.
In Class 5A, St. Pius dropped a spot to No. 3 following losses to Buford (8-0) and Cherokee (9-1). Also, Calhoun (4-0) replaced Starr's Mill (1-3) after its flawless start. In Class 4A, North Oconee ascended to No. 1 after its 3-0 start and former No. 1 ranked Marist fell to No. 2 after splitting its first two games. Also, LaGrange (3-0) replaced Perry (1-3) and debuts at No. 10
The Class 3A poll saw Pike County (5-0) replace Ringgold (1-3) and Cherokee Bluff move up two spots to No. 4 following its 3-0 start. Jeff Davis dropped from No. 1 in Class 2A to No. 3 following its 1-2 start and Pace Academy took over No. 1 following its 1-0 start. Class A Private No. 1 ranked Mt. Paran is off to a strong 3-0 start and Tattnall Square jumped Wesleyan for No. 2 following its 5-0 start. Finally, Emanuel County Institute used a 3-0 start to replace 0-2 Crawford County at No. 10 in the Class A Public poll.
Class 7A
1. Parkview
2. Woodstock
3. Denmark
4. Lambert
5. Lowndes
6. North Paulding
7. Brookwood
8. South Forsyth
9. East Coweta
10. Walton
Class 6A
1. Buford
2. Pope
3. Houston County
4. Allatoona
5. Lassiter
6. Carrollton
7. Cambridge
8. South Paulding
9. East Paulding
10. Valdosta
Class 5A
1. Loganville
2. Greenbrier
3. St. Pius
4. Wayne County
5. Ware County
6. Cartersville
7. Blessed Trinity
8. Decatur
9. Calhoun
10. Harris County
Class 4A
1. North Oconee
2. Marist
3. Benedictine
4. Cedartown
5. Troup
6. Heritage-Catoosa
7. Flowery branch
8. Jefferson
9. West Laurens
10. LaGrange
Class 3A
1. North Hall
2. Franklin County
3. Pierce County
4. Cherokee Bluff
5. Greater Atlanta Christian
6. Appling County
7. Mary Persons
8. Long County
9. Sandy Creek
10. Pike County
Class 2A
1. Pace Academy
2. Lovett
3. Vidalia
4. Jeff Davis
5. Thomasville
6. Bremen
7. Bleckley County
8. Elbert County
9. Callaway
10. Pepperell
Class A Private
1. Mt. Paran
2. Tattnall Square
3. Wesleyan
4. Fellowship Christian
5. Athens Christian
6. Calvary Day
7. Hebron Christian
8. Savannah Christian
9. First Presbyterian Day
10. Brookstone
Class A Public
1. Metter
2. Gordon Lee
3. Charlton County
4. Irwin County
5. ACE Charter
6. Wilcox County
7. Schley County
8. Claxton
9. Johnson County
10. Emanuel County Institute