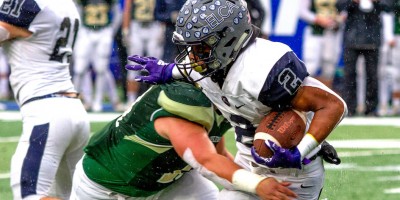 In Class 7A, No. 1 Grayson validated its status with a massive 51-13 victory over Jones County. The Rams are currently ranked No. 5 in the nation according the MaxPreps poll. Collins Hill jumped from No. 7 to No. 5 after opening up the year with a strong 46-24 win over Carrollton in the Corky Kell Classic. Additionally, Brookwood, Marietta and Archer replaced McEachern, Camden County and Harrison in the poll.
Carrollton dropped to No. 8 in the Class 6A poll after its loss to Collins Hill and Valdosta is now the No. 1 team ahead of Lee County, Buford and Richmond Hill—which defeated Camden County 28-11 this Friday. Allatoona climbed to No. 5 after defeating defending 6A state champion Harrison 27-17 and Dacula dropped from No. 5 to No. 7 after falling short to Brookwood in Thursday's 40-34 quadruple overtime thriller.
In Class 5A, St. Pius and Calhoun replaced Jones County and Dutchtown in the top 10. In Class 4A, Flowery Branch fell from No. 4 to No. 7 after its 38-28 loss to St. Pius. Also, North Oconee dropped from No. 5 to No. 10 after its 27-7 loss to Class 3A No. 4 Oconee County. West Laurens lost 27-19 to Bleckley County and fell out of the poll and Carver-Columbus debuts at No. 9.
Crisp County outlasted Class 7A Tift County 7-0 in its season opener and stays as the team to beat in Class 3A. Cedar Grove and Peach County did not play and are No. 2 and No. 3, respectively. Oconee County moved up to No. 4 with GAC at No. 5.
Callaway is at the top of Class 2A ahead of Rabun County, Fitzgerald, Pace and Lovett. In Class A-Private, ELCA is at the top after Week 1. Athens Academy, Wesleyan, Prince Avenue Christian and Fellowship Christian are chasing.
Irwin County leads Class A-Public ahead of Brooks County, Dublin, Marion County and Pelham.
Class 7A
1. Grayson
2. Lowndes
3. Parkview
4. North Gwinnett
5. Collins Hill
6. Colquitt County
7. Mill Creek
8. Brookwood
9. Marietta
10. Archer
Class 6A
1. Valdosta
2. Lee County
3. Buford
4. Richmond Hill
5. Allatoona
6. Rome
7. Dacula
8. Westlake
9. Carrollton
10. Kell
Class 5A
1. Blessed Trinity
2. Cartersville
3. Coffee
4. Ware County
5. Warner Robins
6. Woodward Academy
7. Calhoun
8. Veterans
9. Clarke Central
10. St. Pius
Class 4A
1. Marist
2. Bainbridge
3. Jefferson
4. Benedictine
5. Stephenson
6. Hapeville Charter
7. Flowery Branch
8. Jenkins
9. Carver-Columbus
10. North Oconee
Class 3A
1. Crisp County
2. Cedar Grove
3. Peach County
4. Oconee County
5. Greater Atlanta Christian
6. Sandy Creek
7. Pierce County
8. Hart County
9. Westminster
10. Thomson
Class 2A
1. Callaway
2. Rabun County
3. Fitzgerald
4. Pace Academy
5. Lovett
6. Thomasville
7. Bleckley County
8. Washington County
9. Heard County
10. Bremen
Class A-Private
1. Eagle's Landing Christian
2. Athens Academy
3. Wesleyan
4. Prince Avenue Christian
5. Fellowship Christian
6. Savannah Christian
7. Holy Innocents'
8. Hebron Christian
9. Darlington
10. Trinity Christian
Class A-Public
1. Irwin County
2. Brooks County
3. Dublin
4. Marion County
5. Pelham
6. Wilcox County
7. Metter
8. Mitchell County
9. Clinch County
10. Macon County