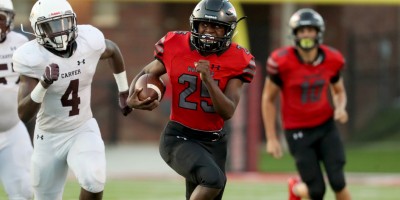 The Cherokee Warriors trailed visiting Sequoyah 20-14 at halftime before seizing back momentum from the Chiefs in the third quarter with key defensive plays and an opportunistic offense that put up 27 unanswered points en route to a 41-20 victory.
The home team was first on the board with a 55-yard touchdown pass from quarterback AJ Swann to fellow junior Adarrius Harshaw a minute and a half into the game, but Sequoyah also found the end zone on its opening drive with an 18-yarder from sophomore Matthew Traynor to senior Jaden Mitchell. Two second-quarter field goals from Sequoyah's senior kicker Steven Zurita — from 49 and 38 yards — bookended Cherokee's 48-yard touchdown by Keith Adams Jr off a screen pass before junior defensive end Harrison Hood snuffed out a Warriors drive with a sack at the 2:31 mark. The Chiefs then took the lead in the final moments of the half when Traynor found Jack Piskorz for a touchdown.
Sequoyah seemed poised to score again, but Chase Goddard forced a turnover on downs when the junior knocked down Traynor's 4th-down pass. Swann found Brady Bocherer and Hayden Shockley for back-to-back Cherokee touchdowns and a 28-20 lead with 1:06 remaining in the third. A fumble on Sequoyah's next possession put the ball back in Swann's hands before the end of the quarter, and the Warriors began the final frame at 3rd-and-goal from the Sequoyah 4-yard line.
The Chiefs defense held strong, and Cherokee settled for a 22-yard field goal from Joel Stahl. Stahl came through again from 23 yards out with 5:22 to go, and Adams Jr sealed the victory a few minutes later with a 65-yard trip to the end zone.
Class 7A
Grayson 55, McEachern 21
Top-ranked Grayson cruised to a 55-21 road win over McEachern to hand the Indians their first 0-2 start since 2017. The Rams took a quick 14-0 lead before McEachern got on the board with a touchdown from Rickley Motley Jr. Grayson scored again early in the second with Jaden Smith's 52-yard touchdown reception, and followed a disappointing turnover on downs on its next drive with a pick-six from Mumu Bin-Wahad for a 30-7 lead. McEachern's Bryce Archie found Sutton Smith for a 20-yard touchdown before the end of the half, and Smith scored again in the third following De'yon Cannon's touchdown pass to Jamal Haynes for Grayson to cut the Rams lead to 36-21. The Indians wouldn't score again, however. Jayvian Allen added a 25-yard fumble return for a touchdown, flanked by touchdown runs of 42 and 66 yards from Phil Mafah.
Newton 27, Alcovy 0
The visiting Newton Rams beat the Alcovy Tigers in a shutout. The Rams ended the first quarter with a 10-0 lead after a field goal by Abdiel Velasquez and a touchdown pass by Jevarra Martin to Nyland Green. Another field goal from Velasquez put the Rams up 13-0 to close the half. Newton outscored Alcovy 14-0 in the third quarter, allowing the Rams to seal the game. Green scored his second touchdown of the evening with a 97-yard kickoff return to start the quarter, and Martin completed his second touchdown pass to Tyrell Floyd.
North Forsyth 10, Harrison 9
The Hoyas started off the game with a quick three-and-out, but were gifted the ball back after a fumble by North Forsyth. With just under 8 minutes left in the first quarter, Harrison coughed up the ball on a fourth-and-goal from the 1-yard line, giving the Raiders a touchback. Early in the second, North Forsyth put the game's first points on the board when senior running back Jared Lucero barreled into the end zone from 4 yards out to put the Raiders up 7-0. North Forsyth added a 24-yard field goal before the end of the half, which proved enough to claim the win even as Harrison added 9 second-half points from a rushing touchdown and a field goal.
North Gwinnett 44, Jones County 21
North Gwinnett came back from a 21-9 third-quarter deficit to get the road win. North Gwinnett quarterback Ashton Wood found Bobby Ezzard for a touchdown pass to tie the game at 7-7 in the first quarter, but the Bulldogs trailed 14-7 heading into the second and were down 21-9 in the third before scoring five straight touchdowns. Wood threw a touchdown pass to Seth Anderson to pull North Gwinnett within five points (21-16), then Marcus McFarlane rushed for a touchdown after a North Gwinnett interception to give the Bulldogs a 23-21 lead in the third quarter. Still in the third, Brinston Williams rushed for a score to put North Gwinnett ahead 30-21 and ran for another touchdown in the fourth to make it 37-21. Austin Bookman closed the scoring with a touchdown run in the fourth. North Gwinnett picked up a safety on a bad Jones County punt snap in the second quarter.
Lambert 34, Lassiter 19
The Longhorns snagged the first points of the game with a 40-yard touchdown pass from Ashton Smith to Sophomore Brandon Jones. Lambert extended its lead in the second when Sophomore Kicker Ryan Degyansky knocked in a 41-yard field goal, followed by a 19-yard rush from Senior Robert Riddle to set up a touchdown from Darren Guy for a 17-0 lead at the half. Lambert's first mistake of the game came off a fumble in the third, which resulted in a Lassiter touchdown, but the Longhorns quickly made up for it when Junior Kojo Antwi scored on an 88-yard touchdown reception late in the third. The Longhorns added another score in the fourth off a short touchdown catch by Senior Braden Bamburowski and a field goal from Max Chapa Ponce to secure the win. The Lambert defense had an especially strong showing, holding the Lassiter offense to just one first down through the first three quarters.
Walton 34, Pope 10
After a narrow victory over Kell in the Corky Kell Classic, Walton had an easier time in Week 2. The Raiders came away with a 34-10 win against the Pope Greyhounds, though it took some time for them to hit their stride. Pope capitalized on a fluke play early in the game. Facing 4th-and-1 at their own 39, the snap was fumbled. Greyhound Jasper Merriman recovered and found a seam to the end zone for a 7-0 lead. AJ Brown started the Raiders rally with a short touchdown dive with about two minutes left in the first. After forcing a three-and-out, Walton wasted little time marching down the field, and Braylin Stokes ended the quarter with a punch-in score. In the second, Jeremy Hecklinski tossed a fade route to the corner of the end zone and Stone McKnight reeled it in from 10 yards out. Hudson Stansfest drilled a 52-yard field goal for Pope, making it 21-10 with a minute left in the half, but Walton quickly drove the ball down the field. The half ended with junior quarterback Zak Rozsman hitting Rawson MacNeill in the secondary. It was a footrace to the end zone and MacNeill won, the 60-yard strike giving the Raiders a 28-10 lead at the half. In the second, Walton's defense held firm, and a pair of Conor Cummins field goals gave Walton the final margin. Walton's undefeated record will be tested when the Raiders host Brookwood next week.
Class 6A
Evans 38, Hephzibah 13
Evans exploded to a 20-7 lead at the end of the first quarter and took a 32-13 lead into the half. Jofranstar Graham rushed for three touchdowns and Kaleb Jackson threw 58 and 24-yard touchdowns to Lleyton Lackey. Evans' other touchdown came on a 50-yard run from Joseph Hampton. Hephzibah's first touchdown came on a kickoff return in the opening quarter and a Marshall Chambers touchdown pass before the half. Evans maintained its 32-13 lead after a scoreless third quarter before Graham's third touchdown of the night capped the scoring on a 3-yard carry in the final frame.
Greenbrier 29, Harlem 22
The visiting Greenbrier Wolfpack came out victorious against the Harlem Bulldogs. Harlem's Jeremiah Ellis got the scoring going with a touchdown by Jeremiah Ellis, but Greenbrier responded with a touchdown from Beau Shugarts and a successful two-point conversion, making it an 8-7 game. The Wolfpack outscored the Bulldogs 14-8 in the second to hold a 21-15 advantage to end the half. Greenbrier's Brooks Pangle completed two touchdown passes in the quarter — the first to Brayden Collett, and the second to Malik Leverret. Cameron Garnett scored for Harlem. Harlem took a 22-21 lead to end the third with a touchdown by Ellis, but Pangle connected with Collett for a touchdown in the fourth, and a successful tw0-point conversion sealed the Greenbrier victory.
Northside-Warner Robins 14, Peach County 7
Coach Chad Alligood got his first win at Northside and it was a big one; the Eagles defeated mid-state rival 3A Peach County following a defensive stop of a possible game-tying drive by Peach County with under a minute left. The Eagles scored on a 4-yard touchdown run from senior running back Jaylen Cephus with 11 minutes left in the second quarter. Adam Lemond's PAT was good to put the Eagles up 7-0. Junior quarterback Elijah Robinson connected with Brayden Smith on an 11-yard pass to expand the Northside lead with six minutes left in the third quarter. Lemond's point after put the Eagles up 14-0. Peach County scored on a 7-yard touchdown pass with six minutes left in the game, but Northside's defense stopped the Trojans on the final drive.
River Ridge 22, Woodstock 17
River Ridge scored its first-ever win against a Cherokee County rival with its home victory over Woodstock. The Knights led 13-0 at the end of the first quarter after two Amehre Morrison touchdown runs and led 16-7 at halftime after Scott Rutherford made a 35-yard field goal as time expired in the first half. Woodstock took a 17-16 lead on a field goal with 6:23 remaining in the game, but River Ridge regained the lead at the 4:38 mark on a touchdown run by quarterback Carson Lathem. The Knights defense held on with a fourth-down stop deep in its own territory with under a minute to play.
Class 5A
Warner Robins 42, Archer 7
Jalen Addie passed for two touchdowns, rushed for one and caught another as Warner Robins earned a home win over Archer. Addie found Armon Porter to put the Demons up 7-0 in the first quarter, then the Demons second quarterback, Christon Lane, found Addie for a long touchdown pass to make it a 14-0 Warner Robins lead heading into the second. An Ahmad Walker rushing touchdown gave the Demons a 21-0 lead before Addie had a QB keeper for a touchdown and found Porter for another score to put Warner Robins up 35-0 at halftime.
Dutchtown 21, Wheeler 7
Dutchtown grabbed the lead on a 5-yard touchdown run by Khalid Cramer with 7:25 left in the first quarter.  The Bulldogs added a 4-yard rushing score by Arendez Fedd in the second quarter and then capitalized off a botched snap by Wheeler to push the lead to 21-0 heading into the final frame. Host Wheeler got on the board with 5:08 left in the game on a 35-yard touchdown pass.
Cass 27, Adairsville 17
The Cass Colonels defended homefield with a win over the Adairsville Tigers. Cass got on the board first with a field goal from Kaleb Speights. Speights' second field goal of the night gave the Colonels a 6-0 lead in the second quarter, before a field goal from Adairsville's Emmanuel Lopez cut the deficit in half. Cass' Devin Henderson connected with Zay Jackson to give the Colonels a 13-3 lead at the break. Adairsville outscored Cass 14-7 in the third frame. Conner Crunkelton completed a touchdown pass to Charlie Ray for Adairsville, bringing the Tigers within three. Henderson then found Connor Ray in the end zone to give Cass a ten-point lead, but a touchdown by Cass' Courtney Slocum made it a 20-17 game going into the fourth. Henderson threw his third touchdown pass of the night to C.J. Pipkin in the final quarter, giving Cass the win.
Whitewater 9, Fayette County 6
Whitewater took a 6-0 first-quarter lead after a fumble recovery by Ty Marshall put the Wildcats in position for a touchdown by Austen Millians. Fayette County was able to knot the game at 6-6 after Dustin Waters connected with Chase Turner in the end zone. Whitewater responded with a 24-yard field goal by Brennan Smith, which put the Wildcats up 9-6 at the half. Neither team would score for the remainder of the game.
Woodland-Cartersville 43, Osborne 17
Woodland-Cartersville got a pair of early touchdown runs from Asa James to open up a 14-0 lead with 8:32 left in the first quarter. Osborne answered with a 46-yard touchdown pass from Lawrence Isham to Joshua Horton and its successful two-point conversion left the Cardinals trailing 14-8. Woodland's Johnathan Thomas found the end zone on a 69-yard run on the next Wildcats possession to grow the lead to 20-8 and Osborne got on the board with a 37-yard field goal with 1:21 left in the opening quarter to make it a 20-11 game. Eli Jernigan's 12-yard touchdown run with 8:28 left in the half grew Woodland's lead to 27-11 heading into the break. Thomas connected with James through the air on a 45-yard touchdown pass to open up the third-quarter scoring and Thomas answered with a 4-yard Ben Agoruah Osborne touchdown run and an 82-yard rushing score to put the Wildcats up 43-17 heading into the fourth.
Cartersville 28, West Forsyth 17
After a back-and-forth first half between Cartersville and visiting West Forsyth, senior Quante' Jennings put the Purple Hurricanes ahead 28-17 on a 24-yard run for the lone second-half score. The teams traded touchdowns twice for a 14-14 tie early in the second quarter; Devonte Ross caught touchdown passes of 11 and 41 yards for Cartersville, and the Wolverines scored on a run from Daba Fofana and Keegan Stover's pass to Ashton Van Horn. West Forsyth took the lead midway through the second on a 50-yard field goal from senior Alex Wilson, but Jennings reclaimed the lead for Cartersville with a 10-yard rushing score in the final minute of the half. His touchdown with 8:46 left in the third brought the score to its final tally.
McCallie (TN) 38, Calhoun 22
After trailing Calhoun 14-13 at the break, McCallie took advantage of five Yellow Jacket turnovers as it blew the game open in the second half. Calhoun took a 7-0 lead from a 98-yard touchdown pass from Christian Lewis to Cole Speer with 2:43 left in the first quarter. The Blue Tornados turned an interception into a touchdown with 0:12 left in the first on a short run by BJ Harris to tie the game. Calhoun took a 14-7 lead on a 51-yard touchdown pass from Lewis to Williams Seamons early in the first quarter. McCallie took advantage of another interception and scored on a touchdown pass from Robert Riddle to Kenzie Paul. Riddle passed to Eric Rivers to give McCallie the 19-14 lead with 6:18 left in the third quarter. Calhoun regained the lead with a 70-yard touchdown pass from Lewis to Speer with two minutes left in the third quarter. Harris scored with 11:25 left in the game to give McCallie the lead 25-23, and again just 0:25 later on a run after a Calhoun fumble. The Blue Tornados got an interception from John David Testman and capitalized with a touchdown on a pass from Riddle to Rivers to put the game away.
Class 4A
Marist 43, Holy Innocents' 0
Junior quarterback Hayden Richardson rushed for two touchdowns and threw for a touchdown and a two-point conversion to give Marist a home shutout win. Richardson rushed for touchdowns of 23 and 9 yards in the first quarter and found Wright Formisano on a two-point conversion to give the War Eagles a 15-0 lead. Junior running back Andrew Mannelly added two rushing scores in the second quarter to give Marist a 29-0 halftime lead, and Richardson threw a 35-yard touchdown pass to Derek McDonald to make it 36-0 in the third quarter.
Benedictine 49, Effingham County 7
Evan Scarbrough opened the scoring with an interception and 40-yard touchdown return less than two minutes into the game to give visiting Benedictine a 7-0 lead. Effingham responded with a 14-yard touchdown pass from Zach Garcia to Keion Wallace with 3:17 left in the first quarter before the Cadets poured on 42 unanswered points. After Effingham County's touchdown, Benedictine's LeShon Brooks scored a 66-yard touchdown run on the following play to reclaim a 14-7 lead. Junior Holden Geriner added a 4-yard touchdown run with 9:52 left in the second quarter and the Cadets went into the locker room with a 21-7 lead after holding Effingham County to just 63 total yards of offense in the half. The third quarter was dominated by Geriner and wide receiver Trent Broadnax, who connected for touchdown passes from 14, 5 and 55 yards. Benedictine's Justin Thomas also scored on a 2-yard touchdown run in the third quarter to help build the lead to 49-7.
Jefferson 61, Central Gwinnett 7
Jefferson rushed for 526 yards on 35 carries, led by touchdowns of 71, 65 and 20 yards from Malaki Starks to cruise to victory over Central Gwinett. The Dragons only passed once in the game. Michael Sheehan added two rushing touchdowns, and Kolton Jones (59 yards), Kam Robinson (18 yards), Reese Johnson (5 yards) and Carter Stephenson (4 yards) each scored as well. Central Gwinnett's lone touchdown came on a 14-yard pass from Justin Johnson to Mekhi Mews.
Flowery Branch 45, Dawson County 42
The Falcons came out on top of this Friday night shootout in large part to a strong outing by Jaizen Ellingham, who rushed for a whopping five touchdowns and racked up 131 yards on the ground on 27 carries. Flowery Branch found itself in a ten-point hole in the second quarter, but managed to tack on two scores before the first half could end to take a 24-20 lead. The Tigers never faltered, scoring on the opening drive of the second half before adding another touchdown to reclaim a 10-point lead at 34-24. But the Falcons offense kept rolling, scoring three consecutive touchdowns to secure the win. The Falcons had 587 total yards of offense, with Senior Sal Sengson leading all pass catchers with 131 yards receiving.
Class 3A
Greater Atlanta Christian 10, Lovett 3
Class 2A
Fitzgerald 21, Irwin County 6
Fitzgerald led 14-6 when Purple Hurricane quarterback Chance Gamble pulled off a double-reverse 33-yard touchdown pass to Damarion Dixon with 6:15 left in the game to put it away.  Mario Clark – who finished the game with 25 carries for 132 yards – scored on two short touchdown runs. His 1-yard run with 8:25 left in the third quarter capped a 4-play, 62-yard drive in which Clark had a 41-yard run. Irwin County scored on a 63-yard touchdown pass from Cody Soliday to Gabe Benyard with 10:23 left in the third quarter. Gamble was 4-of-6 passing for 76 yards and a touchdown. He had eight carries for 30 yards. Benyard had three catches for 90 yards and a touchdown. Fitzgerald gained 247 yards of total offense. Irwin County amassed 187 yards. Soliday is the son of Irwin County head coach, Casey Soliday who is fighting the flu and COVID-19, which was reported by WALB early on Friday.
Callaway 27, Troup 7
Callaway broke open a scoreless game with a 14-yard Charlie Dixon touchdown run and an 18-yard touchdown pass from Demetrius Coleman to Jalin Shephard to grab a 14-0 halftime edge. Troup answered with 5:47 left in the third quarter with a 4-yard touchdown pass from Naeo Todd to Navelle Dean, but Osiris Rivas took the ensuing kickoff 95 yards for a touchdown to put Callaway up 21-7. The Cavaliers grew the lead again with 7:04 left in the final frame with Dixon's second touchdown run of the game—this one from 30 yards out.
Class A-Private
Brookstone 27, Walker 7
Brookstone came up to Marietta from Columbus and left with a 27-7 victory over Walker. The first half was finished in just over an hour, with the Brookstone Cougars finding the end zone twice. Jake Kilgore started things with a 34-yard rushing score, and Jack Schondelmayer took it in from almost the same distance. Brookstone held the Walker Wolverines to only two first down the entire half. Kilgore added another touchdown in the second half, this time from 10 yards out. Holder and quarterback Trey Sanders tried to throw a two-point conversion on what appeared to be a busted play. It fell incomplete, making the tally 20-0 at the end of the third. Brookstone Coach Blair Harrison put in the second team in the fourth quarter, but it didn't prevent Lane Cannon from scoring from 4 yards out for a 27-0 lead. With time running out, Wolverine quarterback Charlie Condon carved up the second-string Cougar defense. On an impressive drive, he hit Trent Harrison twice for big gains before avoiding the shutout with a 10-yard strike to Keon Smart with a minute and a half left. Caden Mamoun added the extra point for the final score. Brookstone stays undefeated at 2-0 while Walker remains winless at 0-2.
Wesleyan 24, Mt. de Sales 0
Cooper Blauser scored two touchdowns to help Wesleyan win its home opener. Blauser caught a 35-yard touchdown pass from Ryan Rose to give the Wolves a 7-0 lead in the first quarter and rushed for a 14-yard score in the second quarter to put Wesleyan ahead 14-0 at halftime.
Class A-Public
Commerce 32, Union County 14
Union County's Elijah Helton scored on a 40-yard fumble recovery touchdown with 5:53 left in the first quarter, but visiting Commerce evened it at 7-7 on a 70-yard touchdown run by freshman Sammy Brown. Commerce added two Dreylan Martin touchdown runs and a 72-yard touchdown pass from Trey Huff to Brown before the half to extend its lead to 25-14. The teams went scoreless in the third quarter and Tyelon Brown added a 14-yard touchdown run in the opening minute of the final frame to lift the Tigers to their 32-14 victory.