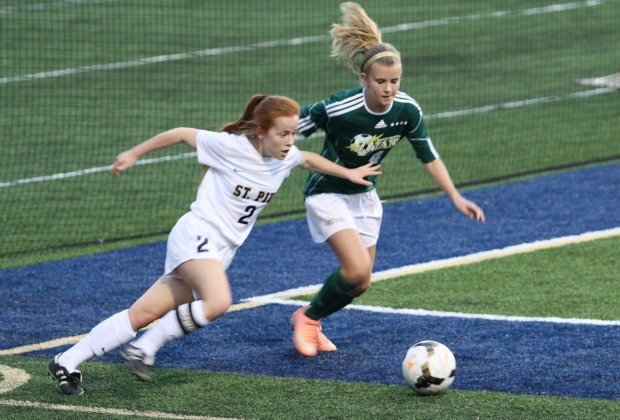 Photo by Billy Laube
In Class AAAAAA, Lambert dropped from No. 1 after suffering a 2-0 loss at Johns Creek on Friday and Lassiter vaulted to No. 1. Lassiter solidified its place at the top with a 1-0 victory over No. Pope. John's Creek debuts at No. 6 and Lambert settles in at No. 7. West Forsyth, which beat No. 9 South Forsyth 2-1 on Friday. In Class AAAAA, Rome was the only team from last week's poll that lost and fell out of the poll. Creekview defeated Rome 2-1 and made its debut at No. 10.
In Class AAAA, Marist ascended to No. 1 and St. Pius dropped to No. 2 with back-to-back losses to Westminster (2-0) and Starr's Mill (3-2) in the past week.
In Class AAA, Oconee County dropped from No. 7 to No. 10 after a 7-1 loss to Class AAAAA's Gainesville and Jefferson made its debut at No. 9. The Class AA poll saw no changes, at the top with Lovett at No. 1 and No. 2 Greater Atlanta Christian staying in pace after dropping a 2-1 match at Class AAAAAA's Peachtree Ridge last Friday. Wesleyan slid to No. 4 after falling to Dunwoody 2-1 and Alpharetta 3-0 in the past week and Pace Academy took over No. 3.
In Class A, Hebron Christian suffered its fourth loss of the season on Tuesday in a 3-2 match with Lakeview Academy and dropped out of the top 10 this week.
GIRLS
Class AAAAAA
1. Lassiter
2. Walton
3. Pope
4. Grayson
5. Harrison
6. John's Creek
7. Lambert
8. West Forsyth
9. South Forsyth
10. East Coweta
Class AAAAA
1. Starr's Mill
2. McIntosh
3. Northgate
4. Columbus
5. Evans
6. Gainesville
7. North Atlanta
8. Lakeside-Evans
9. Forsyth Central
10. Creekview
Class AAAA
1. Marist
2. St. Pius
3. Grady
4. Woodward Academy
5. Buford
6. Whitewater
7. Pike County
8. Veterans
9. Chestatee
10. Cartersville
Class AAA
1. Westminster
2. Blessed Trinity
3. Decatur
4. Dawson County
5. Lumpkin County
6. Savannah Arts
7. Adairsville
8. Pierce County
9. Jefferson
10. Oconee County
Class AA
1. Lovett
2. Greater Atlanta Christian
3. Pace Academy
4. Wesleyan
5. St. Vincent's
6. Holy Innocents'
7. East Laurens
8. Long County
9. Fitzgerald
10. Union County
Class A
1. First Presbyterian Day
2. Fellowship Christian
3. Savannah Christian
4. Stratford Academy
5. Athens Academy
6. Savannah Country Day
7. Atlanta International
8. Prince Avenue Christian
9. Mt. Pisgah
10. Paideia