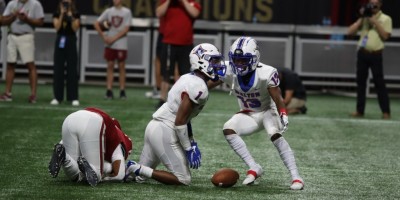 In Class 7A, East Coweta (3-0) replaced Cherokee at No. 10 and Class 6A saw several major shifts. Westlake dropped from No. 2 to No. 6 following its 27-20 loss to Creekside and Lee County moved up a slot to take over No. 2. River Ridge, Carrollton and Rome round out the top 5 and Brunswick remains at No. 7. Also, Creekview debuts at No. 8 and Valdosta exited the poll.
In Class 5A, Blessed Trinity dropped from No. 4 to No. 9 following back-to-back losses and St. Pius debuts at No. 7 after defeating the Titans 24-17. Also, Decatur makes its debut at No. 10. Class 4A saw Stephenson and New Hampstead replace Baldwin and Troup and Perry jumped from No. 8 to No. 3 following its 21-0 win over Crisp County and 2-0 start.
Oconee County tops Class 3A with Cedar Grove, Pierce County, Peach County and Westminster in the top 5. Callaway is the team to beat in Class 2A ahead of Fitzgerald, Rabun County, Thomasville and Northeast-Macon.
In Class A Private, Trinity Christian is at the top and leads Eagle's Landing Christian, Calvary Day, Prince Avenue Christian and Whitefield Academy. Irwin County is the team to beat in Class A Public with Brooks County, Macon County, Metter and Lincoln County chasing.
Class 7A
1. Collins Hill
2. Walton
3. Roswell
4. North Cobb
5. Mill Creek
6. Milton
7. Lowndes
8. Colquitt County
9. Marietta
10. East Coweta
Class 6A
1. Buford
2. Lee County
3. River Ridge
4. Carrollton
5. Rome
6. Westlake
7. Brunswick
8. Creekview
9. Hughes
10. Northside-Warner Robins
Class 5A
1. Ware County
2. Warner Robins
3. Coffee
4. Creekside
5. Woodward Academy
6. Cartersville
7. St. Pius
8. Calhoun
9. Blessed Trinity
10. Decatur
Class 4A
1. Jefferson
2. Marist
3. Perry
4. Benedictine
5. Flowery Branch
6. Carver-Columbus
7. Cedartown
8. New Hampstead
9. Stephenson
10. Bainbridge
Class 3A
1. Oconee County
2. Cedar Grove
3. Pierce County
4. Peach County
5. Westminster
6. Sandy Creek
7. Appling County
8. Thomson
9. Crisp County
10. Monroe Area
Class 2A
1. Callaway
2. Fitzgerald
3. Rabun County
4. Thomasville
5. Northeast-Macon
6. Lovett
7. Bleckley County
8. Dodge County
9. Heard County
10. Jeff Davis
Class A Private
1. Trinity Christian
2. Eagle's Landing Christian
3. Calvary Day
4. Prince Avenue Christian
5. Whitefield Academy
6. Athens Academy
7. Holy Innocents'
8. Wesleyan
9. Fellowship Christian
10. North Cobb Christian
Class A Public
1. Irwin County
2. Brooks County
3. Macon County
4. Metter
5. Lincoln County
6. Dublin
7. Pelham
8. Emanuel County Institute
9. Bowdon
10. Manchester