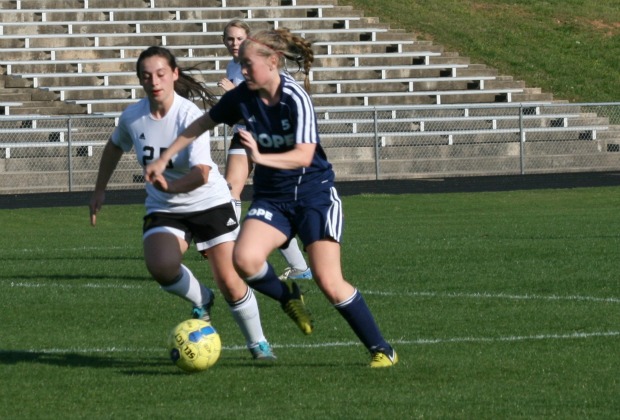 In Class AAAAAA, No. 1 Lassiter added road wins over No. 3 Pope (1-0) and Milton (3-1) to improve to 8-0 and 4-0 in region action. No. 2 Walton occupies No. 2 with its 7-1 record and only loss coming in a 2-1 contest with Class AAAA No. 1 Marist on Feb. 29. Walton is 5-0 in region play and its showdown with neighboring Lassiter does not come until April 16. Harrison jumped Grayson for No. 4 after the Rams dropped a 2-1 match to Dacula on Wednesday. John's Creek settles in at No. 5 after posting a fifth straight win and improving to 7-2 with its only losses coming to Marist and Pope. Parkview debuts at No. 10.
Starr's Mill tops the Class AAAAA poll with a 9-0 record and 70-2 goals advantage, while No. 2 McIntosh sits at 6-0 with a 50-1 scoring edge. No. 3 Northgate and No. 4 Columbus have each lost to McIntosh, but remain in the top 4 and undefeated Evans sits at No. 5 after stamping its seventh region victory of the season at Greenbrier on Monday.
In Class AAAA, North Oconee replaced Chestatee at No. 9, while Chestatee dropped to No. 10 and replaced Cartersville. Chestatee defeated Cartersville 2-0 back on Feb. 19 and North Oconee topped Chestatee 4-1 on March 1.
Decatur's 1-0 win over Blessed Trinity on March 11, switched the Class AAA standings as Decatur climbed to No. 2 and the Titans fell to No. 3. Oconee County hopped Jefferson for No. 9. The Class AA and Class A poll saw no significant shifts.
GIRLS
Class AAAAAA
1. Lassiter
2. Walton
3. Pope
4. Harrison
5. John's Creek
6. Pope
7. Lambert
8. West Forsyth
9. South Forsyth
10. Parkview
Class AAAAA
1. Starr's Mill
2. McIntosh
3. Northgate
4. Columbus
5. Evans
6. Gainesville
7. North Atlanta
8. Lakeside-Evans
9. Forsyth Central
10. Creekview
Class AAAA
1. Marist
2. St. Pius
3. Grady
4. Woodward Academy
5. Buford
6. Whitewater
7. Pike County
8. Veterans
9. North Oconee
10. Cartersville
Class AAA
1. Westminster
2. Decatur
3. Blessed Trinity
4. Dawson County
5. Lumpkin County
6. Savannah Arts
7. Adairsville
8. Pierce County
9. Oconee County
10. Jefferson
Class AA
1. Lovett
2. Greater Atlanta Christian
3. Pace Academy
4. Wesleyan
5. St. Vincent's
6. Holy Innocents'
7. East Laurens
8. Long County
9. Fitzgerald
10. Union County
Class A
1. First Presbyterian Day
2. Fellowship Christian
3. Stratford Academy
4. Savannah Christian
5. Athens Academy
6. Savannah Country Day
7. Atlanta International
8. Prince Avenue Christian
9. Mt. Pisgah
10. Paideia