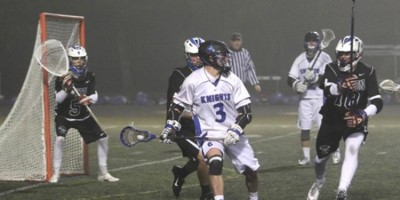 The top-ranked Lambert boys moved to 5-0 with a 14-3 win over Northview and Centennial jumped Lassiter for No. 2 after the Trojans fell 11-10 to Blessed Trinity. North Gwinnett remains No. 4 and Walton solidifies the top five. Walton's 7-0 start matches the best start in program history and the 7-0 start to their state championship campaign in 2011. No. 6 Grayson is 6-0 and will host North Gwinnett Thursday night for a big-time top 10 showdown. Pope was punished in last week's poll for their 12-11 overtime loss to Milton, but the Greyhounds collected a signature 9-8 win over Greater Atlanta Christian this week and are once again looking strong. Johns Creek sent Peachtree Ridge out of the poll with a 9-3 win and its only loss was a 4-3 double-overtime thriller with Grayson in its season opener. No. 9 Cambridge will be tested against a dangerous, but unranked, Roswell team that No. 10 Milton defeated 8-5 this season.
In Class A-5A, No. 1 Lovett survived a 12-11 double-overtime victory against Kell. No. 2 Westminster extended its winning streak to six games and the Longhorns are the new No. 3 after nearly taking down the top-ranked Lions. Blessed Trinity's only loss was a 14-5 battle with Class 6A-7A No. 1 Lambert, and the Titans take over No. 4 in this week's poll after their impressive 11-10 win over Lassiter.
BOYS
Class 6A-7A
1. Lambert (5-0)
2. Centennial (4-0)
3. Lassiter (3-1)
4. North Gwinnett (6-0)
5. Walton (7-0)
6. Grayson (6-0)
7. Pope (5-1)
8. Cambridge (3-3)
9. Milton (2-4)
10. Johns Creek (5-1)
Class A-5A
1. Lovett (4-0)
2. Westminster (7-1)
3. Kell (4-1)
4. Blessed Trinity (5-1)
5. Marist (1-1)
6. Greater Atlanta Christian (3-2)
7. Starr's Mill (7-1)
8. Wesleyan (3-1)
9. Whitefield Academy (5-1)
10. Woodward Academy (6-0)
The Class 6A-7A girls top three stayed the same, but North Gwinnett jumped Mill Creek for No. 4 after the Hawks fell to Kennesaw Mountain 8-6 Wednesday night and the Bulldogs topped Lambert 19-13.
In Class A-5A, Pinecrest Academy replaces Lovett at No. 9 after defeating the Lions 20-13, and the rest of the poll remains intact.
GIRLS
Class 6A-7A
1. Milton (4-0)
2. Lassiter (5-1)
3. Cambridge (5-1)
4. North Gwinnett (4-1)
5. Kennesaw Mountain (4-1)
6. Mill Creek (4-2)
7. Walton (2-1)
8. Northview (4-0)
9. West Forsyth (5-1)
10. Centennial (3-0)
Class A-5A
1. Blessed Trinity (6-0)
2. Kell (4-1)
3. Wesleyan (6-1)
4. Westminster (2-1)
5. Starr's Mill (3-0)
6. Marist (1-0)
7. St. Pius (2-2)
8. McIntosh (0-2)
9. Pinecrest Academy (2-0)
10. Woodward Academy (4-2)