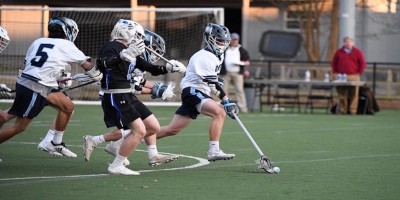 The Lambert boys remain No. 1 in Class 6A-7A and extended their winning streak to six games on Saturday with a 14-8 victory over No. 5 Johns Creek. Allatoona was replaced by Roswell at No. 2 following the Hornets' 15-9 win over the Bucs last Wednesday. Buford replaced Parkview and Walton improved to No. 9 after extending its winning streak to three games.
Class A-5A boys saw Pace Academy take over No. 1 and former No. 1 Starr's Mill fell to No. 3. Also, Blessed Trinity improved from No. 3 to No. 2.
On the girls side, undefeated Milton (4-0) leads the Class 6A-7A poll. West Forsyth was replaced by Cambridge at No. 2 and Walton made a jump from No. 7 to No. 3. In Class A-5A, Blessed Trinity sits at No. 1 with its 6-0 record and McIntosh ascended to No. 2 following a massive 20-8 win over No. 7 Whitewater.
BOYS
Class 6A-7A
1. Lambert
2. Roswell
3. Allatoona
4. Lassiter
5. Johns Creek
6. Mill Creek
7. Hillgrove
8. Milton
9. Walton
10. Buford
Class A-5A
1. Pace Academy
2. Blessed Trinity
3. Starr's Mill
4. Westminster
5. Greater Atlanta Christian
6. Marist
7. Benedictine
8. Lovett
9. King's Ridge
10. Woodward Academy
GIRLS
Class 6A-7A
1. Milton
2. Roswell
3.Cambridge
4. Walton
5. Chattahoochee
6. Hillgrove
7. West Forsyth
8. Creekview
9. Buford
10. Lambert
Class A-5A
1. Blessed Trinity
2. McIntosh
3. Lovett
4. Westminster
5. Kell
6. Starr's Mill
7. Whitewater
8. Fellowship Christian
9. Wesleyan
10. St. Pius