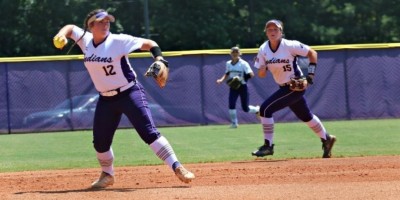 East Coweta is still flawless on the year and after victories over Starr's Mill (3-2) and Hampton (5-3) on Friday, the Indians moved to 11-0. Grayson is No. 2 this week ahead of No. 3 North Gwinnett, No. 4 North Forsyth and No. 5 Mountain View.
Creekview overtakes the top spot in Class AAAAAA ahead of Northgate this week. South Paulding moved to No. 3 and it edged out No. 4 Houston County. Pope is fifth this week after a drop from the top spot. Locust Grove remains on top of Class AAAAA ahead of Buford and Starr's Mill at No. 2 and No. 3, respectively. Carrollton is No. 4 and Walnut Grove is No. 5.
Northwest Whitfield takes over the No. 1 spot in Class AAAA ahead of Marist and Flowery Branch. Northside-Columbus fell to No. 4 ahead of No. 5 Eastside. In Class AAA, Calhoun is the team to beat with Franklin County at No. 2 and chasing. East Hall is No. 3 this week with Brantley County and Ringgold rounding out the top 5.
Banks County tops the Class AA poll this week with Heard County and Berrien at No. 2 and No. 3. Harlem is No. 4 and Rockmart is No. 5. In Class A-Public, Gordon Lee leads the with ACE at No. 2. Trion holds the No. 3 spot ahead of Marion County and Schley County. Wesleyan is the team to beat ahead of George Walton Academy. Eagle's Landing is No. 3 this week, edging out No. 4 Tattnall Square and Mount Paran rounds out the top 5.
Class AAAAAAA
1. East Coweta
2. Grayson
3. North Gwinnett
4. North Forsyth
5. Mountain View
6. Archer
7. Colquitt County
8. Parkview
9. South Forsyth
10. Newnan
Class AAAAAA
1. Creekview
2. Northgate
3. South Paulding
4. Houston County
5. Pope
6. Lee County
7. Alexander
8. Dacula
9. Evans
10. Sequoyah
Class AAAAA
1. Locust Grove
2. Buford
3. Starr's Mill
4. Carrollton
5. Walnut Grove
6. Harris County
7. Statesboro
8. Whitewater
9. Jones County
10. Ware County
Class AAAA
1. Northwest Whitfield
2. Marist
3. Flowery Branch
4. Northside-Columbus
5. Eastside
6. Central-Carroll
7. Heritage-Catoosa
8. Blessed Trinity
9. Hampton
10. Madison County
Class AAA
1. Calhoun
2. Franklin County
3. East Hall
4. Brantley County
5. Ringgold
6. Pike County
7. Haralson County
8. Jackson County
9. Jefferson
10. Sonoraville
Class AA
1. Banks County
2. Heard County
3. Berrien
4. Harlem
5. Rockmart
6. Vidalia
7. Bremen
8. Bacon County
9. Dade County
10. Oglethorpe County
Class A-Public
1. Gordon Lee
2. Academy for Classical Education
3. Trion
4. Marion County
5. Schley County
6. Bowdon
7. Commerce
8. Georgia Military College
9. Pelham
10. Wilcox County
Class A-Private
1. Wesleyan
2. George Walton Academy
3. Eagle's Landing Christian
4. Tattnall Square Academy
5. Mount Paran Christian
6. Mt. de Sales
7. Strong Rock Christian
8. Stratford Academy
9. Christian Heritage
10. Hebron Christian