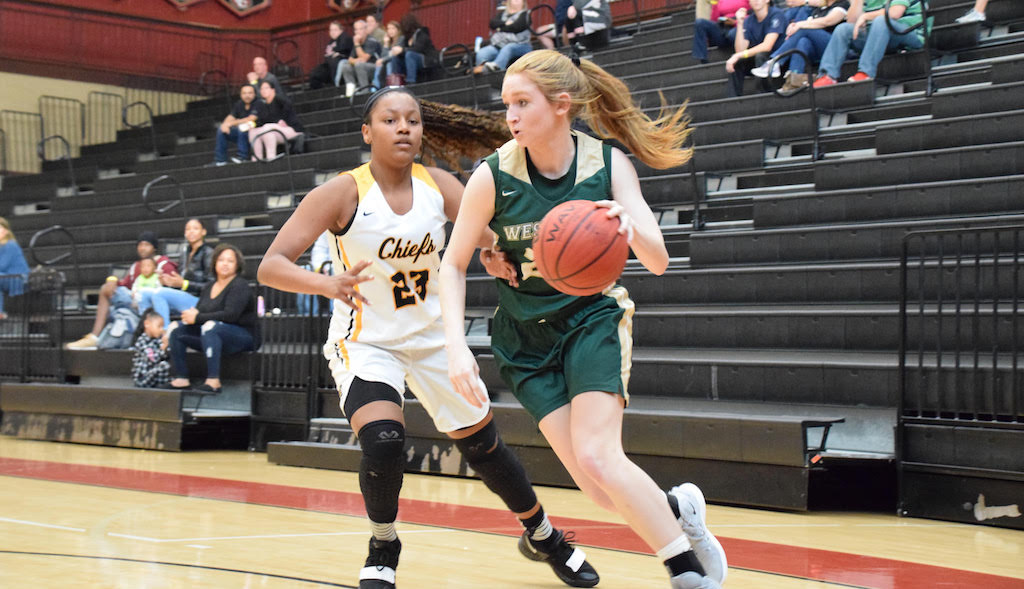 In Class AAAAAAA boys, No. 1 McEachern, No. 2 Norcross and No. 3 Grayson are each 6-0 on the season and No. 4 Milton is 3-1 with its loss coming in an 80-81 defeat to the third-ranked Rams. Wheeler remains at No. 5 and recently picked up a big 67-64 win over St. Francis at Holiday Hoopsgiving over the weekend. Shiloh jumped from No. 8 to No. 6 and is a perfect 6-0 so far. Also, No. 8 Pebblebrook scored a 64-54 win over Berkmar at Hoopsgiving and opened up an opportunity for undefeated Peachtree Ridge (5-0) to replace the Patriots at No. 10.
Class AAAAAA shuffled around with the exception of the top 3 and undefeated Pope is making a strong debut at No. 4. Mundy's Mill exited the poll from its previous position at No. 9.
In Class AAAAA, Kell's sizable 82-67 loss to Milton over the weekend dropped the Longhorns one spot to No. 4 and Hiram jumped up to No. 3. Also, Southwest DeKalb fell to No. 10 from its previous spot at No. 6 following its 53-50 loss to Columbia.
Sandy Creek dropped from No. 5 to No. 7 in Class AAAA following its 67-63 loss to East Coweta that resulted in a 3-3 start to the Patriots' season. Also, Baldwin was replaced by 3-0 North Clayton at No. 10.
In Class AAA, Jefferson dropped to 3-4 following its 71-68 loss to Monroe Area on Tuesday and was replaced in the top 10 by Beach, which debuts at No. 10 following its 6-1 start. Class AA saw Glenn Hills drop to No. 9 in front of No. 10 Butler which the Spartans defeated 62-61 on Nov. 19.
In Class A-Private, St. Francis was defeated for the first time this season on Saturday against Class AAAAAAA Wheeler 67-64, but followed it up with an 80-42 win over Lakeview Academy on Tuesday warrant their No. 1 status. No. 2 Greenforest Christian was also defeated by 3-points by a Class AAAAAAA program over the weekend, in this case a 54-51 loss to Norcross. As for the rest of the poll, previous No. 3 Walker was defeated by 4-1 Whitfield Academy 55-54 on Tuesday and the loss sent a wave of changes to the rest of the top 10. Wesleyan (2-0) moved all the way up to No. 3 and Christian Heritage jumped to No. 5 behind fourth-ranked Trinity Christian, which was defeated by Walker 77-68. Walker comes in at No. 6. Also, Mt. Pisgah resides at No. 7 and held off No. 8 Mt. Paran 47-46 on Tuesday to improve to 5-0. The Patriots' 1-point victory was sealed with a Chase Tucker free throw with just 3.4 seconds left and the make concluded a 7-0 run used by Mt. Pisgah to rally back for the win. Whitfield Academy's win over Walker gives them the No. 10 spot as Mt. Bethel exits the poll following an 0-2 start.
In Class A-Public, Wilkinson County defeated Hancock Central 64-61 on Saturday and jumped from No. 5 to No. 3. Hancock Central slid a spot to No. 4 and 3-0 Greene County rounds out the top 5. The No. 6-10 spots belong to Irwin County, Wilcox County, Pelham, Marion County and Clinch County—all of which will tip-off their seasons this Friday.
Class AAAAAAA
1. McEachern
2. Norcross
3. Grayson
4. Milton
5. Wheeler
6. Shiloh
7. East Coweta
8. Pebblebrook
9. Newton
10. Peachtree Ridge
Class AAAAAA
1. Tri-Cities
2. Tucker
3. South Cobb
4. Pope
5. New Manchester
6. Lanier
7. Chattahoochee
8. Alexander
9. Hughes
10. Allatoona
Class AAAAA
1. Lithonia
2. Eagle's Landing
3. Hiram
4. Kell
5. Jonesboro
6. Dutchtown
7. Jones County
8. Cedar Shoals
9. Lithia Springs
10. Southwest DeKalb
Class AAAA
1. Woodward Academy
2. Eastside
3. Americus-Sumter
4. Denmark
5. Marist
6. Cross Creek
7. Sandy Creek
8. St. Pius
9. Chapel Hill
10. North Clayton
Class AAA
1. Pace Academy
2. Windsor Forest
3. Dawson County
4. Johnson-Savannah
5. Hart County
6. Greater Atlanta Christian
7. Franklin County
8. Monroe
9. Murray County
10. Beach
Class AA
1. Therrell
2. South Atlanta
3. Vidalia
4. Spencer
5. Banks County
6. Woodville-Thompkins
7. Jeff Davis
8. Glenn Hills
9. Swainsboro
10. Butler
Class A-Private
1. St. Francis
2. Greenforest Christian
3. Wesleyan
4. Christian Heritage
5. Trinity Christian
6. Walker
7. Mt. Pisgah
8. Mt. Paran
9. Galloway
10. Whitefield Academy
Class A-Public
1. Calhoun County
2. Treutlen
3. Wilkinson County
4. Hancock Central
5. Greene County
6. Irwin County
7. Wilcox County
8. Pelham
9. Marion County
10. Clinch County
The Westlake girls lead Class AAAAAAA again this week after a 78-30 victory over host Parkview in the Parkview Tip-Off Classic over the Thanksgiving break. Cherokee is No.2 ahead of Collins Hill, Roswell and North Forsyth. Pebblebrook, previously No. 4, slipped to No. 7 this week.
Lovejoy leads Class AAAAAA again this week and is 7-0 on the season after its 57-35 victory over Mount Zion on Tuesday. Forest Park is No. 2 this week, up from No. 3, after a 66-48 victory over Newton in the Parkview Tip-Off Classic on Nov. 25. Dacula, Glynn Academy and Valdosta round out the top 5 this week.
Buford leads Class AAAAA and is 6-0 on the season. The Wolves are coming off a 50-49 victory over Wesleyan in the Dacula Tip-Off Classic and a layup by senior guard Tate Walters was the difference for Buford. Carrollton is No. 2 this week ahead of Wayne County, Villa Rica and Statesboro.
Carver-Columbus stays on top of Class AAAA despite a 66-61 loss to Class AAAAAAA No. 6 McEachern on Nov. 30. Rounding out the top 5 are Luella, Spalding, Woodward Academy and Americus-Sumter.
Savannah programs Johnson and Beach are at the top of Class AAA this week. Johnson is coming off a 61-22 victory over Savannah on the road and Beach is looking to recover from back-to-back losses to Bradwell Institute 49-45 and Glynn Academy 52-35. Jefferson, Dawson County and Lumpkin County round out the top 5.
Early County is the team to beat in Class AA ahead of Laney, Rabun County, Putnam County and Douglass. Early is 2-2 but has victories over Class AAAA McDonough 62-61 and Class AAAAAA Lee County 44-34. Laney, Rabun County, Putnam County and Douglass finish out the top 5.
Wheeler County is 7-0 and coming off an 80-54 victory over Dodge County as it sits at the top of Class A-Public. Greenville, Clinch, Central-Talbotton and Bowdon are in the top 5 this week. St. Francis is the top program in Class A-Private with Hebron Christian at No. 2. At No. 3 again this week, Holy Innocents' leads Mount Paran and Wesleyan in the top 5.
Class AAAAAAA
1. Westlake
2. Cherokee
3. Collins Hill
4. Roswell
5. North Forsyth
6. McEachern
7. Pebblebrook
8. North Cobb
9. Woodstock
10. Campbell
Class AAAAAA
1. Lovejoy
2. Forest Park
3. Dacula
4. Glynn Academy
5. Valdosta
6. Stephenson
7. Grovetown
8. Creekview
9. Richmond Hill
10. South Cobb
Class AAAAA
1. Buford
2. Carrollton
3. Wayne County
4. Villa Rica
5. Statesboro
6. Jones County
7. Southwest DeKalb
8. Veterans
9. Griffin
10. Kell
Class AAAA
1. Carver-Columbus
2. Luella
3. Spalding
4. Woodward Academy
5. Americus-Sumter
6. Druid Hills
7. Troup
8. Marist
9. Cross Creek
10. Flowery Branch
Class AAA
1. Johnson-Savannah
2. Beach
3. Jefferson
4. Dawson County
5. Lumpkin County
6. Greater Atlanta Christian
7. Sonoraville
8. Rutland
9. Fannin County
10. Ringgold
Class AA
1. Early County
2. Laney
3. Rabun County
4. Putnam County
5. Douglass
6. Southwest-Macon
7. Bryan County
8. Washington County
9. Union County
10. Fitzgerald
Class A-Public
1. Wheeler County
2. Greenville
3. Clinch County
4. Central-Talbotton
5. Bowdon
6. Calhoun County
7. Marion County
8. Wilcox County
9. Turner County
10. Pelham
Class A-Private
1. St. Francis
2. Hebron Christian
3. Holy Innocents'
4. Mount Paran Christian
5. Wesleyan
6. Calvary Day
7. Stratford Academy
8. Eagle's Landing Christian
9. Trinity Christian
10. Galloway